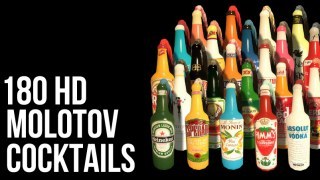 180 HD Molotov Cocktails
You are downloading as a guest.
The extended gallery contains images from all community members.
This mods adds 180 HD Molotov Cocktails skins in L4D2 (that are random per map*) with HD Light Reflections for each one of them.
It also adds 30 new rags skins that are also random and glowing in dark texture fire effect for the rags.
This mod is compatible with Molotov Reanimations Mods and also includes bonus HD textures for bottles that you can see on shelves in the world :D



*this is a RNG System I developped in June 2015, that picks a random Molotov skin for each map. It uses Material Proxies (Texture progamming) and works on any server :D

It includes the following alcohols : 

Absinthe 
Absolut Vodka 
After Shock 
Alizé 
Amaro 
Amstel 
Argyle (Wine) 
Aviation Gin 
Bacardi 
Bailey's 
Ballantine's 
Bavaria 
Beck's 
Beefeater 
Birra Moretti 
Bleue 
Blossom Hill 
Blue Moon 
Bogle (Wine) 
Bombay Sapphire 
Brahma 
Brennivin 
Brugal 
Brunett's 
Buchanan's Scotch 
Bud Light 
Budweiser 
Bundaberg Rum 
Busch 
Bushmills 
Cachaça 51 
Calico Jack 
Campari 
Captain Morgan 
Caravella 
Carling 
Carlsberg 
Château Elan Wine 
Château Grand Rouge 
Chivas Regal 
Cîroc 
Clausthalter 
Cointreau 
Coors Light 
Copperhead 
Corona Light 
Crown Royal 
Cynar 
Desperados 
Dewar's 
Don Julio Tequilla 
Dos Equis 
El Charro 
Famous Grouse (The) 
Far Niente (Wine) 
Fernet-Branca 
Fever Tree Ginger Ale 
Fireball 
Firefly Bourbon 
Frankenmuth 
Fugu Vodka 
Glenfiddich 
Glenlivet (The) 
Goji 
Gordon's Dry Gin 
Gosling's 
Grant's Scotch 
Grey Goose 
Guinness 
Havana Club 
Heinekken 
Hendrick's Gin 
Hennessy 
Hpnotiq 
Indio 
Isaac's Cider 
J&B 
Jack Daniel's 
Jägermeister 
Jelen 
Jim Bean 
Jinro 
Johnnie Walker 
Jose Cuervo 
Jupiler 
Kahlua 
Ketle One 
Keystone Light 
Kingfisher Beer 
Knob Creek 
Knockeen Hills 
Kopparberg 
Lighthouse Gin 
Limoncello 
Liv Vodka 
Macchu Pisco 
Malibu 
Martell 
Martini 
McDowell's 
McGuiness Curaço 
MD 20/20 
Michelbob Ultra 
Michter's Bourbon 
Milagro 
Miller High Life 
Miller Lite 
Modelo Especial 
Moët&Chandon Champagne 
Monin (Sirop de) 
Mount Gay 
Naked Jay 
Newcastle Brown Ale 
Nolet's Gin 
Old Crow Bourbon 
Old Monk Rum 
Ouzo of Polmari 
Pabst Blue Ribbon 
Pama 
Peach Tree 
Peroni 
Pimm's 
Plymouth Gin 
Presidente 
Pусский Стандарт 
Rain City Vodka 
Red Stag 
Remy Martin 
Reposado 
Ricard 
Rittenhouse Rye 
Rolling Rock 
Rue 33 
Samuel Adams 
San Miguel 
Sapporo 
Sauza 
Seagram's 
Select 55 
Senior Curaco 
Sierra Tequilla 
Silver Patron 
Skinnygirl 
Skol 
SKYY Vodka 
Smirnoff 
Snow Beer 
Southern Comfort 
Speight's 
Spirit Vodka 
St. George Pear Brandy 
St. Pauli Girl 
Stella Artois 
Strongbow 
Svedka 
Tanduay Rhum 
Tanqueray 
Tatratea 
Tecate 
Three Olives 
Triple Rock 
Trojka 
Tsingtao 
Tuborg 
Tyku 
Veev 
Vida 
Wild Turkey 
William Lawson's Whiskey 
Woodpecker Cider 
X Rated 
Yuengling
03/08/16
========

I forgot to include the mod :P
This is true stuff for t0nk burger

This mode make gameplay very enjyoable.

''Oh molotov here'' Hlauurggg ''Let's see da label'' :)

Thank you for uploading this
File Details
180HDMolotovCockt...
(68.7 MB)
View Changelog
Version 0.1 Final