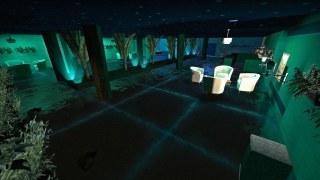 Complex Course
You are downloading as a guest.
The extended gallery contains images from all community members.
UPDATE:
This campaign now has 6 maps with a new additional map: AI. Basically in this map, you will, as promised in Map 4, fight against one of the AI Core who runs the course. Remaining bugs and new stuff that has been added will be detailed in more depth under the Changelog.



This boss fight is balanced for Single Player Normal Difficulty.

Campaign Information:

Survivors have found themselves trapped in a sadistic course created by an AI. Can you brave through all the traps and shenanigans to leave this "Complex" alive? Or play the Survival Map to experience a new "What If" path where the AI decides to leave them for dead in the final map...

SURVIVAL MAP DIFFERENCES:
- Instead of 30 second rotation of turrets and lasers, that amount has been raised to 60 seconds
- NEW: Friendly Turrets!
- Much more supplies scattered around the map
- 3 Boss Hunters will spawn every 3 - 5 minutes instead of spawning just once
- PLUS a Mini Scavenge Reward System that activates itself every 4 - 5 minutes after last scavenge round. Basically this is an added 'Scavenge' where you're tasked to fill up 4 gascans. If you're successful in doing so, it will spawn 4 random items (At the spot where the 4 respective gascans spawn) + 2 Medkits & 2 Pills/Adrenaline at the end of the turret corridor, you can also refuel your Friendly Turrets as well!

Highly inspired by Questionable Ethics campaign, but harder and smaller in scale because time constraint is a thing. Highly recommended to play CO-OP Only as bots will do everything in their power to die in this campaign. Now possible and hopefully not so frustrating on Expert! Made for fun.

YOU MUST PLAY WITH INSTRUCTOR HINTS ON!
Teamwork is an absolute essential to survive! Don't leave any survivors alone!

NOTE:
- In the 4th map: There is a Mini Scavenge finale on a ledge where you have to power up the bridge. I recommend someone hold a Sniper Rifle so they can destroy gas cans that they dropped so it can respawn.

- The Survival Map is SEPARATE from the Normal Finale Map. So theoretically this has 6 Campaign Maps and 1 Survival Map as unfortunately due to the new additions and changes made to the survival version it can't coexist on the same map.

Campaign Finale map name: l4d2_cc_escape
Survival Map Name: l4d2_cc_escape_sr

It will be the FINAL update for now. Unless there are major issues, this should be it! It was definitely fun making this map!
05/04/17
========

New Additions:
NEW MAP!
This will be the last map I'll be adding to finally complete the Complex Course
Not Bad

I'm sure this is a copycat of Questionable Ethics but what I don't like is there are death traps everywhere. Even when I play with actual players, they still complain about turrets that deal a punishing damage. And in every finale, there's only one sole survivor who's gonna get out alive because pretty much the rest die from the traps instead of the zombies. One thing I want is reduce the number of turrets, it just makes the game frustrating when they shoot you at the choke point
File Details
complex course.vpk
(102 MB)
View Changelog
Version 3 Complete