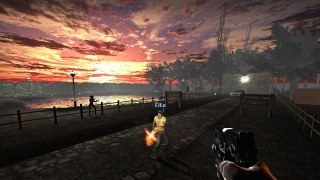 Getting out
You are downloading as a guest.
The extended gallery contains images from all community members.
Brand new 5 map campaign that I spend 10 mounts working on it.  I'm not a mapper, never do anything like that but I now that community or what left of it need new map so we can continue playing this beautiful game. 
Map is complete, tested and playable. First 2 chapters are inside bunker, 3rd and 4th are outside, 5th is scavenge finale. Campain got 3 custom tanks, custom music, custom melle weapon and ammo.


Please turn of consistency in console on local server (sv_consistency 0), so other players can join.
Weapons, ammo and throwables are scarce so save it.(gonna need it on some spots in game).
Gnome at start which you can carry to 3rd chapter to open special door for rewards (only way to get a laser and AK in this campaign).
For now it's only campaign, no versus or survival.
If people think this map it's ok I will start making one more.
Special thanks to my good friend Ramm.asmiette who dedicated his time and did all custom stuff for this map and making this campaign better (if anybody wanna custom tanks from this map for personal use in game Ramm.asmiette will be releasing it on workshop next week.
Thanks to my friends who tested this campaign many times.
P.S.
If you liked this campaign or any other put few kindly sentences in comment, if you didn't liked it just delete it from hard disk and play something else. Because being a prick in comments section doesn't do anything good and puts good mappers away from this game. Mappers don't wanna spend 6 months of they life to give us good maps to play and then read silly comments.
Beholder69
10/08/18
========

I make some changes so by adding some supplies so map is not that hard anymore. All meds should now appear for everyone who has trouble before. New version was tested 2 times no issues was found all worked perfect for us.

Review

poorly map design, not much detail 
» the house does not look like a house it look like a big square box block (especially chap 2 the design are so weird)
» interior just a few simple object and most look empty
» Boring final. You just need go around collect gas can and shoot few wandering zombie, after open the door fight with a tank and get in to a boat
» stupid endless horde and SI spawn continuous at the wood on chap 3
File Details
View Changelog
Version 1.2 Complete