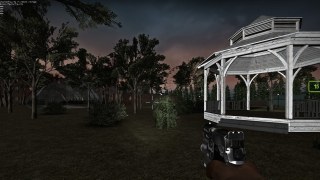 Final escape
You are downloading as a guest.
The extended gallery contains images from all community members.
Brand new 4 map campaign. As I promise when relised Getting out campaign that I will make one more, if the comments are mostly positive.  I now that community or what left of it need new map so we can continue playing this beautiful game. 
Concept of the campaign was that I want to include all 3 possible finales on 1 campaign.


So 1 map is standard (safe room to safe room with few crescendo on the way there). Map 2 got at the end standard finale (horde,tank,horde,tank and escape vehicle) and no crescendo events, on the way to that finale (be careful in the middle of this finale and prepare to fire howlitzer when handle start to glow . Map 3 got at the end Gauntlet (running) finale and escape vehicle and no crescendo events, on the way to that finale. Map 4 is scavenge finale (12 cans) with outro camera and funny escape scene there. (at end scene all survivors will have conversation even dead one (if there is one). Not a mistake, it was make like that intentional so it's more funny.).
Map is complete, tested, playable and quite possible final version. Campaign got custom music.
There is secret room on one of the map (laser,bile……), you just have to find it.
Please turn on instructor messages when you playing this campaign 1st time.
Resources on maps are plenty, but map is still very hard. None of 3 finales are easy so if you play on your normal difficulty level expect to restart quite few times. There are spawn rooms on every chapter.
Please turn of consistency in console on local server (sv_consistency 0), so other players can join.
For now it's only campaign, no versus or survival.
Special thanks to my good friend Ramm.asmiette who dedicated his time and did custom poster and some additional stuff for this map.
Thanks to my friends who tested this campaign many times.
P.S.
If you liked this campaign or any other put few kindly sentences in comment, if you didn't liked it just delete it from hard disk and play something else. Because being a prick in comments section doesn't do anything good and puts mappers away
11/23/18
========

No revision notes have been added by the developer.
Very mediocre campaign

Pros:
-A little more challenging campared to some campaigns
-Not too boring
-Unusual ending

Cons:
-(Kinda) Disappointing map detail
-Only a few props in an area (most time)
-Terrible lighting and color correcting
-Repetitive design
-Two tanks spawn at the same time on map 4
-Nothing attracting
-In saferooms, you won't see enough medkits or T2 weapons
-The styles of different maps are mostly the same, you can only see drains or flat grounds

Conclusion:
Play it if you have no choice
File Details
finalescape.zip
(65.1 MB)
View Changelog
Version 1.0 Final