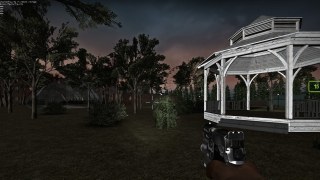 Final escape
You are downloading as a guest.
The extended gallery contains images from all community members.
Brand new 4 map campaign. As I promise when relised Getting out campaign that I will make one more, if the comments are mostly positive.  I now that community or what left of it need new map so we can continue playing this beautiful game. 
Concept of the campaign was that I want to include all 3 possible finales on 1 campaign.


So 1 map is standard (safe room to safe room with few crescendo on the way there). Map 2 got at the end standard finale (horde,tank,horde,tank and escape vehicle) and no crescendo events, on the way to that finale (be careful in the middle of this finale and prepare to fire howlitzer when handle start to glow . Map 3 got at the end Gauntlet (running) finale and escape vehicle and no crescendo events, on the way to that finale. Map 4 is scavenge finale (12 cans) with outro camera and funny escape scene there. (at end scene all survivors will have conversation even dead one (if there is one). Not a mistake, it was make like that intentional so it's more funny.).
Map is complete, tested, playable and quite possible final version. Campaign got custom music.
There is secret room on one of the map (laser,bile……), you just have to find it.
Please turn on instructor messages when you playing this campaign 1st time.
Resources on maps are plenty, but map is still very hard. None of 3 finales are easy so if you play on your normal difficulty level expect to restart quite few times. There are spawn rooms on every chapter.
Please turn of consistency in console on local server (sv_consistency 0), so other players can join.
For now it's only campaign, no versus or survival.
Special thanks to my good friend Ramm.asmiette who dedicated his time and did custom poster and some additional stuff for this map.
Thanks to my friends who tested this campaign many times.
P.S.
If you liked this campaign or any other put few kindly sentences in comment, if you didn't liked it just delete it from hard disk and play something else. Because being a prick in comments section doesn't do anything good and puts mappers away
11/23/18
========

No revision notes have been added by the developer.
Thank you, but this can't work for me. Review + Hints

I do appreciate how much work you put into this campaign just like what you did in "Getting Out" or any other campaign you released, but I haven't played yet. But for Expert Single Player Mode, this is hell, not a game. All I wanted was to get notified by you on the description that this campaign can't be played on Single Player Expert or it will be almost impossible or will be hard if we do it alone with bots, but nothing was mentioned other than telling details about  how your campaign will  go from chapter 1 to chapter 4. We will see it while playing so no need to tell us lol.
---------------------------------------------------------------------------------------------------------------------------------
Chapter 1: It's really long in a very bad way! I counted them and they are 3 panic events with nasty spawns of special infected and hordes. Why do hordes come along with special infected once we move out from safe room? Game is supposed to start when we leave safe room, not before leaving it. The first campaign I play encountering the spawn of 3 different special infected at the same time. Why?! Why are you doing this? I restarted this chapter 4 times. Your campaign is lagging at certain spots. The lag period is so tiny and short, but it's still a lag. I don't shut down the game till I get all campaign done whether it's done on Expert or I convert to easier difficulties if it's full of insanity and illogical horde events, but this will be followed by such a review on my end and 1 star rating because it means I got a really bad experience playing it with bots on the highest difficulty. You even gave T1 weapons instead of T2 and we have to go on searching to find all T2  weapons on the way which will be only 3 weapons along the whole chapter starting with sniper before the first panic event and it's located in a spot that not all are going to get to because I have to skip jumping or shooting that hole to get there going downstairs. The second T2 weapon is far after the second nasty panic event of howitzer and it's combat shotgun on the right by the playing field before we move to the electricity section.The best spot was to camp inside one of tents, but the lame movement of bots underneath the broken trailer screwed it all and it was instead of going with me to the tent as the lame bot moved towards the tent, but had to move first below the trailer which made it slow down. It was really annoying as once it falls, all bots would go and help to fall one by one and I stay alone, yes a spawning closet is up ahead where the 3rd T2 primary weapon shows up which is M16, but none can guarantee any surviving during this madness. You are even tricking survivors by those wooden planks that they should shoot to get through, but they will find themselves shooting an exploding barrel that can kill them all and there is a tiny blocking thing by that hole that makes it a little it annoying while getting through. I saw the train coming by railway and the custom sounds with music was really good, but it's so long chapter. The last panic event was a real pain in a$$ because you will have to keep up your HP all that way to survive another panic event that hosts 3 different special inffected along with crazy hordes. I know there are 3 pills locations, one inside the rescue plane once we open the door from the sunken facility and move out to the open air, another by the bushes once you face the horse statue, the same statue that is found in the first chapter in the insane "Getting Out" and this is as far as I remember and you go to left between bushes. The third location is by that electrified sunken area. I did it and reached the safe room area inside that house and again, you want players to suffer getting inside that room by setting more wooden planks blocking the way to make some time for another horde wave to come along with 2 nasty special infected if not 3. Why?!! After all of the hell we went through and we can't just get inside the safe room easily? This is bad. I had to kill bots to get them on better HP for next chapter. Why are you putting two heavy machineguns in the wrong spot where not many zombies are going to spawn or shot? After I passed that chapter I was playing on chapter 2 to find my Left 4 Dead game crashing or stopping and I was out in steam which really ****** me off because I lost track of how many hours I spent on first try and I decided to restart again. It's sick and painful, but I wanted it to be like that. I restarted that chapter 3 times. One of them was because the lame bot that went underneath the broken trailer and another try was just beside the house where the safe room was as a zombie wave came along with a charger, a hunter and a jockey. Imagine dying after moving there while playing on expert!!! This is crazy! 
----------------------------------------------------------------------------------------------------------------------------------
Chapter 2: Restarted that chapter only 4 times. Why do we have to move all the way back to half of the way where we started to get back to the railway over again? At the day, we shot the gates and moved while everything was messy, but by the night, gates are fixed, a plane landed and lights switched on? No, come on! Make it logical please. You could just make it another way to another place, not going back all the way. It was all good and bots picked up their T2 weapons that were out of the house after their death on first chapter. Generator was supposed to be shut down, but no, it's On again, why?! Bots wouldn't walk on the wooden plankets and walk into the electrified water if they got interrupted by a zombie that are supposed to be electrified to death too, but no, it doesn't happen. Bots were my eyes in the field of corn as they could shoot any moving thing. It was really dark like after sunset and I managed to find that defibrillator by the dead end of that field area because I was firstly expecting to move in the opposite way to where I came from. One will have to encounter a tank and a witch on the way to the final spot on that chapter. I just wonder why players have to go all the way back to where they came from? It doesn't seem logical at all because in day, the gate was destroyed by the howitzer and there was only a train coming and leaving while in the night, the gate was fixed and lights were switched on besides a plane is waiting for us? Why?! Why do we have to play a pure finale while we are still on the second chapter? The way in the cornfield was so bad, but bots were my eyes there. I did love the hiding hunter inside that wooden box which was a really nice touch from you and none would ever expect it. It was when that chapter crashed and got me out of the game after all of these tries. That was typically like the finale on "Dead Air" campaign. I took the tent as my camping spot and it was really good spot, but why zombies always show up from nowhere when I just press E on the talky walky? It doesn't make any sense and it's really annoying as I can hardly move quickly to my camping spot inside the tent. While fighting those crazy hordes, bots were moving out of the tent in a very nasty annoying way..Why? Why were we attacjed by 2 smokers at the same time? You didn't only make it 3 different special infected spawning for us, but you made 2 of them of the same type? Why? And when tank comes, it just spawns from so close area and it's the same area it spawned everytime I restarted. Again, I have to shoot the howitzer to destroy the gate I destroyed a day ago, but military or whoever fixed it, why? At least you could make players move to a new spot or a new area. you also let ****** hordes come along with tank? Also special infected are around? What are we to encounter all of these creatures at the same time and while it's screwed pitchblack? It's literally a standalone finale, not just a tank coming with hordes, then a resuce, we will have to encounter another tank. Are kidding me? I found a spot where none can get to me and I guess you forgot to include it in that chapter and that finale spot which was inside that ambulance car as no zombie or special infected could get to me or even sense my existence. I did it until I heard the door of the plane opened and once I stepped inside while all bots were dead, the chapter ended as if I closed the saferoom door, why? Because it's called "Final Escape"? After I got to chapter 3 and during the gameplay, the game crashed and it brought me out of the game. Just imagine, I decided to restarted the whole campaign again to start from A to Z to count how many hours & restarts I had to go through. I didn't restart 2nd chapter and I did it from the first time the same way and I even managed to keep my bile for the next chapter. Bots were leaving the tent for no reason while I was sweeping away hordes with my axe. This caused them to die quickly and this is a bug on this chapter.
-----------------------------------------------------------------------------------------------------------------------------------
Chapter 3: First time playing it I restarted it 8 times and later it got me out while pausing the game. It's the worst chapter on this campaign after the finale. I loved that custom voice of that guy inside the cabinet getting bitten. It was really cool and yes, it was a sign of a coming tank that I managed to make it die even before it reached us by standing behind the sunken tree trunk as tank would get stuck in a way and die before stepping closer to us. It all went so great till the screwed panic event by the end of this chapter. Yes, that smoker would show up inside that cabin waiting for us to pass by it and it's easily noticed if there are no spawning tank or witch outside waiting for us. I don't believe anyone would do it with bots or with real players if they are not going to meet tank before they do while the ****** panic event of running to the rescue truck. I found that secret room you spoke about from the first time and I even forgot that I was going to have it on chapter 3 and this is thanks to the fact I search each and every corner on first time trying a chapter or a campaign in general. Yes, it got laser sight, Bile bomb hidden in the wooden box which I loved just like how it was with hunter on second chapter and with those pills on that plane on first chapter that were hidden inside a wooden box too which made me search every spot carefully. I expected more than just opening the door with the computer up there, but it was all fine. On the second time playing this chapter after restarting from the first chapter when the game crashed I played that chapter restarting it 7 times. I managed to have two biles on that chapter but due to the fact that screwed bots used bombs badly, I almost had only 1 bile, but having two biles in general with me is better than only 1 as hordes will be busy for a while which made me any time unless it was with a tank attacking us in those sewers of sunken tight tunnels to the rescue vehicle. Another tank will show up right after switching on generator coming from ceiling? It's hardcore map that can't be played alone with lame bots whose best feature is they don't friendly fire you. A bot on an attempt used Molotov and burned all bots to death because it wasn't thrown to the tank down there. Insteadm it hit the metal handle of the flying short metal bridge over the sunken floor. On one of attempts, a witch was waiting after that opened door with generator that was so close to the panel before the rescue vehicle. Why man?! Why are you doing this to us? Hordes are literally super crazy at that spot which requires high focus and strong weapons kicking their butts. At that time when I managed to pass that nasty chapter, I used sniper rifle & chainsaw before passing through that door opened by generator. I decided to do it although I strongly hate chainsaw because once it is out, I can't use it by away or another unlike pistols or manual melee weapons like machete or axe. But I decided to do it at that time to kick as many zombies as possible and I really did although some nasty zombies passed through it and the were hitting from behind and I just fell in front of the controlling panel before I switched it off. Bots were still alive and they were luckily not attacked enough by hordes to stay alive, but they were dying. I even expected I was about to meet a nasty tank again because of the way your campaign works. It wall went well and I jumped to the car while hordes were coming after us even after I switched the panel off to stop hordes. So bad! A bug on chapter 3 was that when a bot was stuck in the room where we started the last panic event as it was behind for no reason and it wasn't moving. Another bug was before entering that narrow tunnel where we find a pipe bomb as the spot to the wall was inactive for zombies to be able to get you if you are standing there. If tank doesn't spawn before the last panic event, you will not be able to do it on Expert Single Player Mode.
-----------------------------------------------------------------------------------------------------------------------------------
Chapter 4: Luckily, the game didn't crash again while I was on chapter 4 because I would have to restart the whole campaign all over again to count it just like the screenshot I uploaded to my review. It went well moving on the way to encounter two witches that were there every time I restarted and playing that chapter. I restarted that ****** chapter 27 times. They would be just 17 times If I noticed one thing about finishing finale even without starting it. A mistake you made while designing that chapter. It was all ok for witches as I set them on fire and retreated till they were down. Even if they bring all bots or even me down or dead, anyone would be able to spawn again before the start of one of the nastiest finales. Why do I have to do it for 12 gas cans? You distributed them in a really annoying way making each 2 together, except for 1 gas can behind the room where we start finale. I did all my best to pass that chapter, but doing it while constant hordes spawning from ****** spots like behind small bushes and while two tanks are chasing us along with spawning hordes, this is impossible. The worst spots for gas cans are inside that bar where we have to move in and out through the same door. You didn't even make it possible for us to move up that hole, but only to jump through it. I found many spots where hordes can't get you, but bots won't respond to such a trick to use the map creator's mistakes to pass such a challenge. Another nasty spot of gas cans where bothrooms are which is on the far left as zombies just spawn from their in a really annoying way. Zombie waves were so many, why? Why don't we fight tanks alone without hordes and specials? No, we must suffer? You should have let us know about the game mode it's preferred to be played on and if it's possible to do with bots or so hard so that no bad reviews are given from someone like me. 3 spots on that finale are unreachable for 99% of zombies except for tanks rocks and smoker's nasty tongue and they are the reasons why I decided to restart over nad over again hoping I could survive while all bots are literally dead. These spots are the statue spot between 4 garden seats where a melee weapon and one gas can exist. No zombie can get to you except for tank rocks and smoker's tongue as tank once incapacitated me while hunter and jockey were literally behind me and managed to hunt me in the air while jumping inside that glitchy spot. The second spot is by standing over that fenced place where plant pots are placed inside the greenhouse. The third spot is over the fenced place where plant pots are placed inside both tents. I, by mistake, jumped behind that fence inside that tent and I was stuck and I had to use some commands to spawn props to jump over and move out of that spot. The best time I did it all on that chapter while all bots were dead was when I had a total of 10 gas cans thrown beside the car and I was in that statue glitchy spot while the last two gas cans were inside the bar which was so so so bad spot to go to alone which made me set another order of which to pick up first while bots are alive, but still didn't work and it was so hard on further times. At one time, I thought of jumping over those spawning rooms before the room where we start finale and that was by rightclicking the exploding barrel to that spawning closet to jump over it, then into the garden and it really worked. I thought I would find any easy object to bring me the way back to the room to start the finale and be able to leave that chapter, but after I grabbed all barrels to the car, I searched for all possible objects to move, but noting was there except for chairs outside the bar that didn't work for me as they were literally invisible when I jumped on them as they didn't form a space to make me in the air. The tables didn't move an inch while I found one table upside down and I believe it was for a tank or a special that moved it. I entered the bar to find those stools that got broken by the second right click or if I stepped on them. Never found any other objects to grab and I had to kill us all to restart and try to it the proper way with the lame bots using those glitchy spots. At first I was just running all around the garden shooting zombies and grabbing barrels all the way around till I get to the Jimmy Gibbs Jr's car. It was so tough and hard because nasty zombies were spawning from everywhere while tank was chasing. Finally, I decided to do it again and work on finale without starting it and that time I filled the car with gas cans and my character was counting the gas cans used saying how many left. So I decided to hopelessly use them all and see and boom! it worked and the car moved. It was such a relief! And even the car crashed into the bus XD you don't want this to be over by a way or another lol. I finally saw Jimmy Gibbs Jr.
--------------------------------------------------------------------------
I am so thankful for such a challenge, but can't stand those intentional spawns and tricks of making it super hard for players who already do it on Expert. One day I will upload my gameplay and how I did it on Expert. Thank you!
File Details
finalescape.zip
(65.1 MB)
View Changelog
Version 1.0 Final