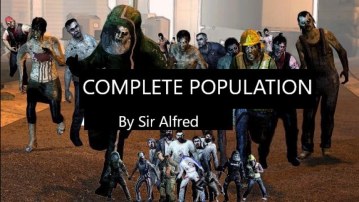 Complete Population.
You are downloading as a guest.
The extended gallery contains images from all community members.
ENG: Complete population its a new population mod that includes all common and uncommon infected from l4d1 and l4d2 in all campaigns. for expample now you can see formal infected on dead center,riot,ceda,regular infected from l4d1 and l4d2, workers, cops, military and more...all together! BUT in a realism way. you will have more civilian infected and workers than cops, military or nurse infecteds.



More improvements:bikers fans of midnight riders on dark carnival, jimmy gibs on dead centre, pilots and workers on dead air, nurses and surgeons on no mercy, fallen survivor on all campaigns. ps mudmen and clown are restricted to their respective campaigns.

This mod is compatible with common infected skins! (works in multiplayer only if you host a local server)

ESP: Complete Population es un nurvo mod de poblacion que incluye todos los infectados comunes y poco comunes del l4d1 y l4d2 a todas las campañas. por ejemplo puedes ver infectados formales en dead center,antidisturbios,ceda, infectados regulares del l4d1 y l4d2, trabajadores, policias, militares y mas...todos juntos! PERO de una forma realista. tendras mas civiles infectados y trabajadores que policias, militares o enfermero infectados. 

Otras mejoras: motoristas fanaticos de midnight riders en dark carnival, jimmy gibs en dead centre,pilotos y trabajadores en dead air, enfermeras y cirujanos en no mercy, superviviente caido en todas las campañas. pd embarrado y payaso restringido a sus respectivas campañas.

Este mod es compatible con skins de infectados (funciona online si hosteas el servidor)

texture mod used : Realistic Common Infected (fixed)
01/30/23
========

Improved stability with custom campaigns

08/08/22

File Details
complete populati...
(6.5 KB)
View Changelog
Version 2.3 Final