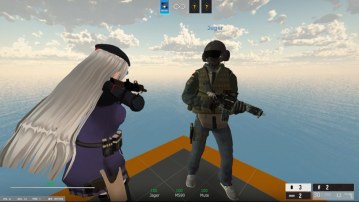 [Girls Frontline + Rainbow Six] MOD - (少女前线+彩虹六号 MOD)
You are downloading as a guest.
The extended gallery contains images from all community members.
【介绍】这个是少女前线+彩虹六号 MOD,里面包含8个人物的模型+语音包,以及彩虹六号的动态主菜单,图标,载入界面,枪械MOD


[introduction] This is [Girls Frontline + Rainbow Six] MOD , It contains 8 models of human characters + voice package, as well as the dynamic main menu of Rainbow Six, icons, loading interface,gun MOD

【游戏MOD群】加群请到MOD作者的个人简介里找到群号,群文件有MOD下载,并且下载速度比百度网盘还要快

【注意】使用这个MOD的时候,不能订阅其他二代和一代人物的模型MOD,以及二代和一代人物的语音MOD。还有其他的主菜单图标,载入界面等,枪械,音乐MOD等等。这些是不能订阅的
[Note] When using this mod, you cannot subscribe to the model MOD of other second-generation and generation characters, and the voice MOD of the second-generation and generation-generation characters. There are other main menu icons, loading interfaces, etc., firearms, music mods, and more. These can't be subscribed

【注意!!!】这个MOD文件包里面放置有MOD的安装教程视频,请认真观看视频,并学会如何安装MOD
[note!!!] This MOD file package contains the MOD installation tutorial video, please watch the video carefully and learn how to install the MOD.

【注意】不好意思,由于这个网站只能上传2G大小的压缩包,所以我把动态主菜单拆分成另外一个文件包,如果你想要下载完整的动态主菜单,请在我的主页找到它们
[Note] Sorry, because this website can only upload compression packages of 2G size, So I split the dynamic main menu into another package. If you want to download the full dynamic main menu, please find them on my homepage.

【少女前线+彩虹六号 人物替换对应表】
二代人物的替换说明,Mute替换的是Ellis(带帽子的机械修理师)M590替换的是Rochelle(穿红衣服的女性黑人)Jager替换的是Nick(穿白色西装的男人)HK416换的是Coach(体型很大的男性黑人)
一代人物的替换说明,Maverick替换的是Bill(带帽子的白发老人)m4 sopmod ii替换的是Zoey(穿红衣服的单马尾女孩)UMP45替换的是Francis(有纹身的猛男)Pulse替换的是Louis(穿西装的光头黑人)
[Girls Frontline + Rainbow Six character replacement correspondence table]
A replacement for the second generation, Mute replaced Ellis (mechanical repairer with a hat) M590 replaced Rochelle (female black in red) Jager replaced Nick (man in white suit) ) HK416 replaced Coach (a large male black)
The replacement of a generation of characters, Maverick replaced Bill (white-haired old man with a hat) m4 sopmod ii replaced Zoey (single-tailed girl in red) UMP45 replaced with Francis (tattooed man) Pulse replaced Louis (the bald black man in a suit)

【关于MOD授权】非常欢迎大家来移植或者改造我这边的MOD,你可以用它做各种改动和上传,移植到各种游戏里,比如GMOD、CSGO、还有其他很多游戏。希望你们能够将这些MOD传播到更多地方,请记得备注MOD的原链接。
[about mod authorization] you are very welcome to transplant or transform my mod. You can use it to make various changes and upload, and transplant it to various games, such as GMOD, csgo, and many other games. I hope you can spread these mods to more places. Please remember to note the original link of mod.
05/27/22
========

No change notes have been added by the publisher.

12/10/20

File Details
[Girls Frontline ...
(1.9 GB)
View Changelog
Version 1.3 Final