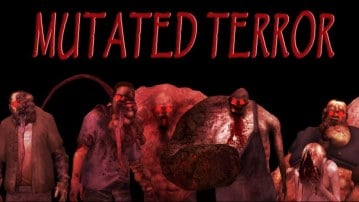 Mutated Terror (Deadly Special Infected)
You are downloading as a guest.
The extended gallery contains images from all community members.
Well, I made this mod for preparation of an even bigger mod that might greatly change L4D2 default mechanisms. As that mod still takes quite long time to make, so, let's do the much simpler one like this mod first.

This mod, just as the title describes, is about a new terror. Special infected are greatly boosted to the point that even in Normal difficulty, it still feels like hell. Even boomer & spitter  can wipe out the whole team if the team is too careless. Survivor bots are slightly improved, but even that's still difficult to handle these mutated SI.

Well, now here are the new abilities of the mutated special infected:


1. Sharpshooter Smoker


- He becomes sharpshooter, one shot, one incapacitation
- Grabbed by his tongue means instant incapacitation in any difficulty.
- When grabbing a survivor, the tongue leaves acid on the ground.


2. Demolition Boomer


- The vomit can cause instant incapacitation.
- When exploded, it can cause damage depending on how near survivors
to the boomer (a melee range means instant incapacitation).


3. Hunter Yuck


- When successfully jumping on a survivor, he leaves acid on the
pounced survivor (it's a 'yuck' when you're covered by green goo when
he's pouncing above you :D ).


4. Radiation Spitter


- Any attack of this spitter trigger explosion that deals high damage
- Her acid trigger explosion per second that deals high damage.


5. Stinky Jockey


- When successfully riding on a survivor, he leaves acid &
at the same time vomit at survivor.


6. Terror Charger


- Getting charged by him means instant incapacitation.
- Getting struck by his charge when he's charging another survivor
also means instant incapacitation.
- His charge triggers explosion.


7. Tank The Destroyer


- Each attack can trigger explosion (even in Normal, getting
punched once will make health go from full health to yellow or red)
- His rock also triggers explosion (either high damage if lucky, or
instant incapacitation)


8. Real Witch


- It's a real witch, that can curse a survivor with random curses.
- Triggering/ startling her will trigger 'Blind Curse'
- Killing her has 50% chance to trigger either one random curse of
these curses:
a. Blind Curse= covers survivor in vomit.
b. Inferno Curse= summons flame under survivor's feet
c. Acid Curse= summons acid under survivor's feet
- Killing her also has 10% to trigger either one random curse of
3 fatal curses:
a. Reverse Gravity Curse= throws the survivor high to the sky (has
a chance of no damage in small room with short ceiling, but instant
incapacitation/ death in open areas)
b. Explosion Curse= triggers explosion with either very high damage
or instant incapacitation on the survivor
c. Coma Curse= reduces the survivor's health bar to 1 & make the
screen go black & white.
NOTE: It's better really not to disturb her from now on



Survivor Bot's boosts

:
- Slightly becomes more active/ aggressive.
- Detects special infected automatically when special infected uses
any abilities.
- Has better chance to help captured survivor (but probably still
not as good as Merciless Survivor Bots or Enhanced Angry Bots, or
other elite bot mods)

So in short, if you think that Expert difficulty of the default L4D2 starts to feel easy to handle, you can try this.
Notes:
- huge/ instant-incap damage can be changed via toggle if you want to lower the difficulty.
- This mod can be used on any game modes, & even on mutation modes.
- There are 3 files inside the zip file, as usual
1. mutated terror (deadly special infected).vpk= can't work with
Left 4 Bots
2. mutated terror (deadly special infected) 2.vpk= can't work with
Merciless Survivor Bots
3. mutated terror (deadly special infected) 3.vpk= can work with
most mods
Special Infected with custom skills
Deadly Special Infected
Slightly Improved Survivor Bots
Bots automatically retreat from tank
11/20/23
========

v1.2:
- Added a new toggle in "mutated terror cfg.txt" file: "Ignore Difficulty Level".

File Details
Mutated Terror.zip
(24.7 KB)
View Changelog
Version 1.2 Complete