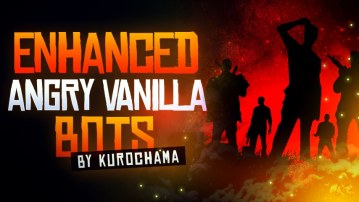 Enhanced Angry Vanilla Bots
You are downloading as a guest.
The extended gallery contains images from all community members.
You can say that this is the "lite" version of my "Merciless Survivor Bots" mod. This mod is another experiment for fun about bots that only focuses on making bots "angry".
.
Just as the title says, this mod makes even the vanilla bots angry & shoot all zombies on sight :D . Even you might lose in competing about killing zombies, as they can even kill zombies that you can hardly see in the woods or swamps. Unlike "Merciless Survivor Bots" that I put tons of complicated vscript functions to make bots merciless, I only put 9 simple main vscript functions here. I didn't put complicated convars about bots inside. The only drawback here is, when you use this mod, the bot's difficulty rises almost to the level of "Terminator Bot Mode" & you can't lower bot's difficulty (you can't revert them back as the foolish bots).
.
EXCLUSIVE FEATURES:
1. ANGRY BOTS: Bots shoot immediately when seeing zombies.
2. SCOPE ON ALL WEAPONS: All guns can use scope (original L4D2 doesn't have this feature).
3. BOT REGROUP WARP: Press "Reload + Shove" to warp bots to your place.
4. ACID EVASION: Bots can immediately avoid acid.
5. TOGGLE FEATURE: A text file, "angrybotstoggles.txt", will be generated in "...\left4dead2\ems\enhanced angry bots\angry bots cfg\" when using this mod for the first time. The toggles inside that file control which features to enable or disable. After changing the value & saving the text file, reload your gun to make the changes take effect.
6. CHAT COMMANDS: Players can use some custom commands by typing in chat box. The list of chat commands can be found in "...\left4dead2\ems\enhanced angry bots\angry bots cfg\chat commands\".


7. *NEW* "Laser Upgrade on Secondary Weapons": A permanent feature that L4D2 originally doesn't have. Secondary guns are now also upgraded with laser sight if you pick laser upgrade for primary gun.


.
This mod works together with other bot mods & admin system mods, so you can use this as a simple "Bot's Brain Expansion Pack" that installs brain on vanilla bots :D . There are 2 vpk files in the zip based on the usage:
1. "enhanced angry vanilla bots.vpk" = this vpk can be used with most bot mods except "Left 4 Bots" (there are some unknown errors on console though normally it's supposed to work as I used different files to trigger the scripts).
2. "enhanced angry vanilla bots 2.vpk" = this vpk can work on "Left 4 Bots" & most bot mods but will conflict with "Merciless Survivor Bots" as it uses the same file as "Merciless Survivor Bots" as the trigger.
.
So, with this mod, everybody will start to figure out that bots are actually geniuses that pretend as fools. As I said before, all settings are based on default vanilla bots. I just put 9 main vscript functions & they're already that "angry" & obsessed with killing zombies :D .
.
Well, enjoy your play with angry bots then.
.
NOTES:
- As bots when in "angry" state are aggressive & keep shooting zombies around them, it's not recommended to set "sb_friendlyfire" to 1. The default L4D2 sets the value to 0 so it's safe using this mod.
.
* Copyright 2022 kurochama. This mod is not authorized for posting on any sites except under my permission.
.
MIRROR LINK (in case if link in gamemaps is bugged): 

Google Drive
Aggressive bots won't hesitate to shoot
Bots shoot while chasing a survivor captured by SI
Custom cfg files containing fun features
Custom chat commands easy to use
Aim/ scope available on all guns
Laser sight upgrade available on secondary guns
07/14/23
========

v7.5:
- Added 2 new toggles in "miscellaneous cfg.txt" file: "Anti Traps" & "Remove Auto Chats".

Good Bots

Thanks. Good bots. Bots now shoot all undead. Now I not worry with bots.

This review was posted before the latest release.
File Details
enhanced angry va...
(133.2 KB)
View Changelog
Version 7.5 Complete