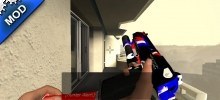 Patriotic Desert Eagle
You are downloading as a guest.
The extended gallery contains images from all community members.
Red, White, Black & Blue.
Look, I'm only 10. And this is my first skin. Don't get mad at me for it looking bad...
If you hate it, then make it look better and make it for yourself. I will report anybody who steals it and doesn't give me and arby26 most of the credit.
Arby26 made the animations.


The side has letters saying: <3 Jesus <3 Loves  <3 You <3 Very <3 True <3
Pros:

-Um... Colorful?
-If it's true that you are 10, then this is pretty good I guess.
-Good for American Patriots and/or Religious People (I think).
-A little better than before. Good job, but needs improvement.

Cons:

-MS Paint Job... But improved.
-Very low quality look... It's like a rainbow
-Seems proselytizing
-Patriotism and Religion in L4D2 guns? WTF!?
-The clips looks like crap... Just plain red.
-Looks more french than american now.
-Definetly doesn't look like a spray paint job but more like an MS Spray Paint Job.
-If ur gonna make an American Patriot Gun... Why mix it with religion? I bet a god would dispise the US due to the serious issues we have today.
-Just plain ugly... I'm sorry if that insults you, but improve a lil bit and maybe it'll be better in the future.


Conclusion:

NEEDS TONS OF WORK! Ask some profesional modders and skinners for help with texture creation. I guess this would be like a 90/100 for a 10 yr old but in Left 4 Dead 2 Mods overall... This would be like a 10/100, but I am going to let it slide and give you a 20/100. Anyway: Please dont use Proseltysing and True Blue American Methods for weapon skins... It just seems wierd. I will rase my rating when this updates and improves, so you have a lot of work to do on the gun. LASTLY: You should perhaps use Gimp 2 for texturing. It can make more high quality textures and it is free unlike the scam program called photoshop.

1/9/12 EDIT: I forgot to update my review for you after the update! So here it is! A 45/100! Still needs some less MS Paint look and more realism though.
File Details
patriotic desert ...
(849.5 KB)
View Changelog
Version 2.0 Complete