Reviews for Moundsville Slammer - Valador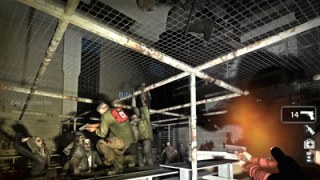 Very Good

My favorite campaigns are those that happen during the day, but playing Moundslille Slammer was really cool.
A campaign where pistols and melee weapons are very effective is great.
Walking through extremely tight and dark places and suddenly finding a Spitter was a super advanced idea.
I have no idea what setting you used in this campaign, but by some magic the Bots walked right next to me, anything they were right next to me, I found this incredible.
The end was cool, 3 Tanks appeared and the expectation of not knowing where the ransom would appear was amusing.
If you think about changing something someday, just add items to the jail cells so the exploited will make the campaign better.
Congratulations and Thank you.

Review

Great little campaign. Had fun
Thumbs up

Review

Nice short little campaign. The map design/concept could be said as being nothing too special, as it's just running through a prison, but I thought it was rather enjoyable. Also a minor issue with the bots not jumping into the helicopter at the finale. But that's about it. The finale could be said as being a bit too easy as well, considering the fact that infected for the most part only come from one direction making it rather simple, only a few infected come from the other direction, so maybe make it a bit more difficult? But yeah, I can't really say much for this campaign as it's rather short and simplistic. I was thinking about giving it three stars, but there's really nothing bad about it. But other than that, it's fine.
End of results.