Reviews for Survivor Bots Stand on Their Own Feet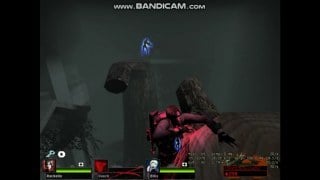 Hahahahaha, yeah :D . Not to mention that this version still has "Limit Break" ability active when health goes very low, lol :D . The only way to finish survival mode is when all survivors get incapacitated at once, like when a tank smashes a box, forklift or car to survivors. Otherwise, as long as there's still one bot standing, there's a chance that other dead survivors will resurrect again & again :D .
.
For survival, the nerfed version is better. I'll probably try to nerf this one a little once the nerfed one completes the "Give and Take" feature with much less bugs & with bomb & medic transfers added.

lol we never lose in survival mode this mod is op as hell >w< can't stop laughing when I died then suddenly revived again

You're welcome. Feel free to suggest some things there in case if there are still some OP features that need to be nerfed or removed.

OK I'm going to try it now

Hello. I just wanted to let you know that I uploaded the alternative version here "/details/23717" or you can check on the linked contents with. I greatly nerfed the health regen on bots there. Let me know if there are more things needed to change there.

I'll take a look into those two effects soon. I have some things in mind. Probably I'll try to "nerf" them first by making the Gunfu work only when bots are incapacitated & reduce the regen value, to see if the bots are still too OP or not. Or maybe I'll make one more mod that completely removes those two OP features. Thanks for the feedback :) .

Pretty nice, but some aspects needs to be improve or change back

Where do I begin... I've tried it, and it doesn't conflict with the "Improved AI" mod that i'm also using. The AI navigation is really improved, they stick with you almost a lot, respond pretty quick, and the catchy part is that Ellis (Blake) and Coach (Haruka) actually want to pick up magnum as supposed to stick to dual pistol as they programmed to be, everyone is basically have a handcannon/magnum all day yay. The "stand on their/your own feet" parts is a nice addition, a great point and highlight of this mod.

And here's the ones that hits hard. I feel like the AI is a bit OP with their added abilities to defend themselves and around you. Mainly the CI/SI counter, Gunfu effect, etc... It makes me literally just run through hordes, which is nice and especially for those... No mercy unlimited horde on many custom campaigns I play. But at the same time, I kinda miss the survival horror aspect and try to keep bots alive, despite they just dumb. The Survival part is like gone because of the buffs they are have. Maybe you can try to improve or make a different version of this script mod. Also, it seems that the script spawn/give like free melee and magnums literally when you just enter a map, a bit out of place/ordinary but i can take it. So, my non-base, non-construtive complaints/review is more of an indifference filled writing/rant/nitpicky.

But all in all, it's a really great, interesting mod to use for fun and I appreciate the work you've put into it, sir modder. Take care and have a nice life.

There is a nerfed one in the linked content now :D hehe tnx for making it kurochama

perfect for people who always play singleplayer

thx ! now the bots response quickly, tougher and more usefull than before plus their navigation is improved

This review was posted before the latest release.

Thanks for the review. I'm glad you like it.

This comment was posted before the latest release.

So helpful in solo mode

Thanks. This mod helps me survive when playing solo without bots. I can climb up after falling from ledge by myself because of this mod. The Limit Break saved me when pounched by special infected & no bot to help until hp below 25. Only Bot Regroup Warp is with some problems. In map Sacrifice or any custom maps with sacrifice finale, bots get warped near sacrificing survivor. Can you do something about that?

This review was posted before the latest release.

Thank you for the review. I'm glad to see that this mod helps you much. Anyway, about "Bot Regroup Warp", I'm still trying to find the solution. Actually I've been thinking of something, but I think that it's not the solution (might be a solution, but might be not). I've been thinking of changing the mechanism of triggering the "Bot Regroup Warp". I'm aware about that problem in sacrifice type of finale, so I'm planning to make "Bot Regroup Warp" get triggered when a survivor loses certain amount of health instead of waiting for 30 seconds. So, like I said, it will be able to become a solution or not in sacrifice finale, depending on how the players maintain to prevent their health from getting reduced during sacrifice mission. I'm going to update it later after finishing testing it. Again, thank you for the feedbacks especially about the "Bot Regroup Warp" :) .

This comment was posted before the latest release.
End of results.