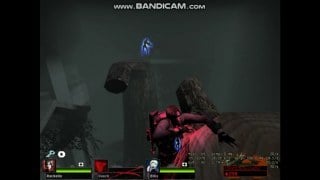 Survivor Bots Stand on Their Own Feet
You are downloading as a guest.
The extended gallery contains images from all community members.
After looking at some vscript functions, I gave a try to make this one. Just like the title, this mod slightly improves bot's ability to stand on their own. Each time they fall, they'll stand again and again until their last breath :D . They also have "self defense" ability called "Gunfu", or more likely a shockwave that damages common infected attacking the bots in very close range.


.
The list of effects (the complete description is moved to the changelog to save some space & make it easier to read.):
1. Bots have slightly more health (max 101) & health buffer (max 102)..
2. Bot Buffer Regen.
3. Gunfu Skill.
4. Bot Small Health Regen
5. Bot Rising from the Ledge & Incapacitation.
6. Survivor Rising From the Ledge.
7. Bot Regroup Warp.
9. Counter SI.
10. Limit Break.
11. Awakening Bullet.
12. Bots Into Position.
13. Bots Lead The Way.
14. Ammo Refill.
15. Solar Dance Festival.
16. Special Detector.
*NEW* 17. Auto Revive Warp
(In short, 1, 2, 3, 4, 5, 7 only work for bot. 6, 8, 9, 10, 11, 14, 15, 16 work for players too. 12, 13, 17 are only for players).
.
This mod is also to anticipate bot navigation error when players are falling from the ledge & bots are just looking at like fools. So, with this, you won't have to worry about being left for dead on the ledge by bots when bot navigation is error :D .
.
Notes:
- This is a vscript mod with scripted mode. This mod works with mutation mods without scripted mode & custom weapon controller, but will have conflicts with other vscript mods that use scripted mode.
- This mod works well with weapon skin mods & modified weapon scripts (like pistol.txt, rifle.txt, etc).
- This mod works on Singleplayer, Coop, Realism, Mutation etc as long as the mode allows a mod.
- Added some optimizations about "Bots Lead The Way". See the Changelog for details.
06/17/20
========

- Fixed a bug on "Bot Regroup Warp" to exclude dead players as the warp location. Now bots are only warped near players that are still alive.
- Fixed a bug on "Auto Revive Warp" to exclude dead bots as the respawn location
Hahahahaha, yeah :D . Not to mention that this version still has "Limit Break" ability active when health goes very low, lol :D . The only way to finish survival mode is when all survivors get incapacitated at once, like when a tank smashes a box, forklift or car to survivors. Otherwise, as long as there's still one bot standing, there's a chance that other dead survivors will resurrect again & again :D .
.
For survival, the nerfed version is better. I'll probably try to nerf this one a little once the nerfed one completes the "Give and Take" feature with much less bugs & with bomb & medic transfers added.

lol we never lose in survival mode this mod is op as hell >w< can't stop laughing when I died then suddenly revived again

You're welcome. Feel free to suggest some things there in case if there are still some OP features that need to be nerfed or removed.

OK I'm going to try it now

Hello. I just wanted to let you know that I uploaded the alternative version here "/details/23717" or you can check on the linked contents with. I greatly nerfed the health regen on bots there. Let me know if there are more things needed to change there.

I'll take a look into those two effects soon. I have some things in mind. Probably I'll try to "nerf" them first by making the Gunfu work only when bots are incapacitated & reduce the regen value, to see if the bots are still too OP or not. Or maybe I'll make one more mod that completely removes those two OP features. Thanks for the feedback :) .
File Details
survivor bots on ...
(13.8 KB)
View Changelog
Version 2.7 Complete