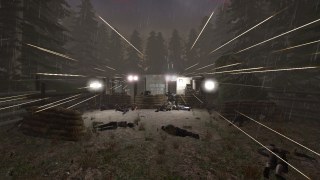 The Final Stand
You are downloading as a guest.
The extended gallery contains images from all community members.
THE FINAL STAND||
----------------
Having heard rumor of abandoned anti-personnel weapons, the survivors took a little road trip up into Trayarc Pinewood Park. Unabated, they managed to reach an abandoned mini-depot where the weapons were located, deactivated. However, before they could make it out with the M134 Auto-Turrets, the moans of a massive

 army of the dead reached their ears. Trapped at the depot the survivors make their FINAL STAND.
----------------

In a Let's Build A Rocket-esque fashion, the survivors must unlock technology and weapons to ensure they make their final minutes count. However, in the end, there is no escape.

----------------

Features:

Custom Waves:
While it is survival, it isnt the standard survival setup. Because the survivors have to unlock their weaponry, I designed a wave acceleration system. As time passes the hordes will get bigger and the tanks will get meaner. Wave upgrades will be noted in chat. 
System is based on "The Last Stand" flash game as well as Killing Floor 1/2. 

Security Upgrades:
You cant shoot every zombie, and later on there will be too many tanks for four people to handle on their own. Because of this, there are security upgrades available, from the humble but deadly "dual m134 miniguns" to the "guardian from above" the security upgrades are worth investing the time in to unlock. Due to the insane power usage that it takes for the power supply to run the security upgrades they auto-shutdown after a given period of time and will need to be rebooted, keeping the security upgrades monitored is key to long-term survival.
Idea based on Nazi Zombie gamemode from COD as well as most zombie flash games that allow base building.

Weapon Unlocks:
The survivors will start out with a few Tier 1 weapons at their disposal, but they must unlock the rest through searching the mini-depot for the necessary utility unlocks. Weapons are available in the weapons closet. While it wont take long to upgrade to the Tier 2 weapons, they wont get you far without other utilities.
Idea based on Nazi Zombie gamemode from COD as well as most zombie flash games that have a upgrade system.

Mercenaries:
The survivors are able to recruit other able-bodied survivors to help defend the mini-depot from the zombie army. More reliable than a security unlock but less deadly, they are a constant medium being that they will always be on but will have less firepower.
02/03/16
========
Added minigun models, attempted to fix laptop texture

02/02/16
========

File Details
thefinalstand.vpk
(63.6 MB)
View Changelog
Version 1.1 Alpha