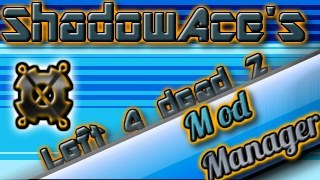 Left 4 Dead 2 Mod Manager (In Development)
You are downloading as a guest.
The extended gallery contains images from all community members.
I am preemptively making this page for anyone who wishes to give feedback during the development process, so that i can receive questions, concerns, suggestions etc... or even just voice your thoughts / interest on the project, but mostly to get feedback from common people who are interested in using it, to see what people might be interested seeing on it, like an open brainstorm, i know i may not be able to please everyone but this will help in improving it before i release

 the first version when its finished and ready for use.

The Download is Project Information not the actual mod
manager.

Feb, 16, 17:

 - With the little free time i had, i decided to add a
small feature for allowing people to quickly edit the
autoexec.cfg file within the mod manager. added it to
the tools section of the settings menu, Auto Exec
Editor. its as simple as open, make changes, and close
there will be prompt whether you want to save changes
just in case for the sake of if someone accidentally
messes up their autoexec or messes something up in it,
it can be discarded and not permanent

Feb, 22nd, 17:

Completion to Alpha Status:

 Mod Manager - 100%
 Mod Randomizer - 100%
 Survivor Name Changer Tool - 100%
 Multi-VPK UI - 100%
 Extra Helpful Tools - 90%
 Final Touches - 90%

 Added a few extra tools and applying some final
 touches and polish while making sure that most
 of the stuff i add and have added are functioning
 the way they are supposed to be, shouldn't be too
 far from first release, i apologize about it taking
 so long and the fact of saying its close to first
 release so much when it's still taking a longer but
 that happens when you add a lot of extra stuff that
 you don't originally intend to, but add them in
 anyway for ease of use and convenience.

 - New Tool - Mod Prefix Remover - Will remove any
 unwanted prefixes in the beginning of mods so that
 mods are a big more organized and aren't confusing
 when they all have the same beginning filename more
 info will be available in the info when released.

 - Open /w Editor - This is merely a shortcut but i
 included it in the tool section, this isn't a stand
 alone tool, it is a settable shortcut that can be
 used in order to open your mods with a preferred
 editor, upon using it will direct you to select the
 exe of the editor and after doing that you select 1
 mod and use it again and it will be opened in that
 editor.

 - Change Editor - Just in case someone needs to change
 the editor for the mods, it will automatically prompt
 you if its not set, or what its set to doesn't exist
 but if you want to change it regardless then use
 that.

 Mar, 1st, 2017 -

Hit a little stroke of bad luck and a Visual Studio Update ruined itself to where it won't start up so
progress will be impeded until i can figure out a fix
to this issue.
01/30/17
========

Added Project Info & Getting User's Feedback and Suggestions 
preemptively before the first release of the Mod Manager.


File Details
L4D2 Mod Manager ...
(4.7 KB)
View Changelog
Version 0.0 Beta