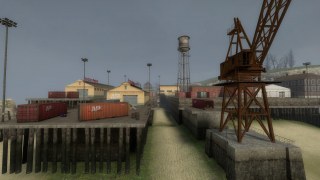 Half Life 2 - Patches
You are downloading as a guest.
The extended gallery contains images from all community members.
本地图是基于《半条命2》完整复刻至求生之路.由于求生之路2和半条命2两款游戏内容不同,作者对原游戏地图进行了部分修改.一共有5个vpk文件,因为上传文件大小限制,分为两个网页下载地址,这是hl2_patches
Map Name: Half Life 2
Version: 2.0
Author: LilSaint
Pure map size: 1.88G


Module size: 2.68G
Total file size: 4.56G
Compressed Packet Size: 1.57G
Total length of map games: about 10 hours
Number of map Levels: 66
Map type: cooperation
Map preview(Delete blanks): w ww.bil ibili.co m/vid eo/a v62585822
This map is based on the complete replication of Half Life 2 to the way of survival. Because the content of the two games is different, the author has partially modified the original game map.Because the size of uploaded files is limited, it is divided into two webpage download addresses, WHICH is hl2_patches.
---------------------------------------------------------------------------------------------------------
More Information(Delete blanks):gi thu b.c om/To nymot/HL2MapsReadme/b lob/master/Ha lf-Life%202%20-English.txt
Maps address(Delete blanks):w ww.g am emaps.c om/det ails/21597
Patches address(Delete blanks):ww w.gamemaps.c om/details/21765
---------------------------------------------------------------------------------------------------------
09/14/19
========

Author:LilSaint
Uploader:嘤喵(TwentyCat)
Review

*REPOST FROM SOURCE Longest Left 4 Dead 2 campaign you will play. Period. A grand total of 66 chapters! 2 campaigns, divided into 33 each. Right off the bat, there's a problem here; for people who don't use Sourcemod, or don't want to use external software to check what chapter corresponds to the map name, you're not able to pick up where you left off as L4D2 only shows 15 chapters maximum in the chapter select menu. Now then, this campaign has some major issues, and I'm gonna start digging into them, as well as minor ones. First of all, the "hl2_sound" vpk file has a bunch of unnecessary files, meaning people who use their own add-ons will have this one overwrite their custom sounds with vanilla ones, and have potential glitchy audio. Now, actually digging into the campaign itself; UNPLAYABLE ON SINGLE PLAYER! This campaign is absolutely not designed with bots in mind, and they will refuse to follow you on many chapters, get themselves killed unnecessarily and mass teleporting. I took down notes of problems I encountered while playing, here we go. On chapter 10, at the water section where you turn a Valve, bots become unresponsive and wont follow you to the saferoom. Chapter 11, bots will not walk on the safe ground and kill themselves in the electrified water. Chapter 12 same thing, but with sewage water and 18.  Chapter 19, bots become unresponsive and wont follow you to the saferoom. When you try to enter the saferoom with them behind you end up drowning underwater because the saferoom is submerged (Why?!) I will admit though that jump into the saferoom from the top of the dam was really cool, but no need to have the entire area underwater. Chapter 22, 24 bots get stuck at some point. Chapter 26, bots couldn't scale down the elevator planks and stayed behind, leaving you to fend for yourself. Chapter 29 (or was it 30?) wayyy too many tanks at the panic event imo, should be less. Chapter 32, bots can't follow you onto the bridge, they will always hang. Chapter 34, bots stay behind in lighthouse, they won't scale down the cliff with you. Chapter 37 has to be one of the most unbalanced chapters I've played. You get: Infinite hordes, boss zombies, and custom combine with a lot of HP constantly shooting at you, this chapter I just could not get past. My server crashed without fail after leaving the elevator on chapter 42. Chapter 45 bots wont jump down into saferoom. Chapter 56, if you didn't bring a grenade launcher from the previous chapter, you'll be softlocked, also bots make the laser section in this level impossible unless you kill them off. The striders on the next chapter have a really precise head hitbox, completely pointless to try and kill them, encourages you to run through the chapter instead. Chapter 61 bots wont follow you to the ride. There's no failsafe or anything if you run out of ammo in the grenade launcher on the last few chapters, where it's needed to shoot open some gates. Now then, all those issues out of the way... this campaign does have some really cool ideas and custom events to take part in. A custom boat ride, filled up by a gascan on some of the water hazard levels! The grenade launcher acting as a replacement for the rocket launcher is pretty cool, you use it to shoot down combine helicopters, striders, barricades etc. Some other custom made panic events and whatnot just for fun! Now all that being said, considering this campaigns broken state in single player, and the aforementioned chapter selection issue, I'd strongly reocmmend you play Synergy instead, which is a Half-Life 2 co-op mod, I think you'll find it more to your liking than this I'm afraid. This is still extremely impressive though and bravo to the author for managing to put this together and making it more L4D2 friendly!
File Details
View Changelog
Version 1.0 Complete