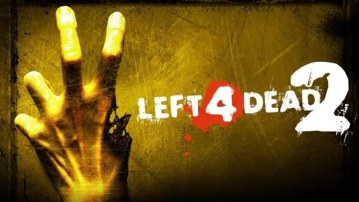 Left 4 Dead 2.75 Version 3.1
You are downloading as a guest.
The extended gallery contains images from all community members.
THE LAST UPGRADE IS HERE!  This mod has won 3 Member Awards and there are over 150 changes (the other mod had over 100.)  It will seem like a different game!  Version 3.1 changes:  There's no friendly fire, the population is completely new, the knife does 250 damage (not 200), there's a Hunter in the Church, damage, range, *********** power, and layers for the SG552, MP5, Scout Sniper, and AWP Sniper were changed, making these weapons the ones to have!  Population changes

:  no Jimmy Gibbs, clowns, CEDA, zombies in suits, Mud Men, or men wearing jeans and dress shirts but lots of bikers, nurses, doctors, soldiers, and police officers and as before fallen in all campaigns.  Bots are no longer morons either so they won't run into fire or Spitter goo or stand there like idiots while a special kills you.  They are far more lethal than before.

The award winning mods M60 Is A Minigun and Fallen Survivors In Every Campaign are still incorporated into it.  I HAVE NO PLANS TO UPDATE ANY MORE OF MY 50 MODS, SO I HOPE YOU ENJOY THIS ONE!

One of the subscribers to one of my my mods once said the following (though I can't verify it is true, I do believe them):

"script mods dont work in multiplayer? yeah they do lol the server host just has to type sv_consistency 0 and bada bing bada boom it wont kick people out any more

So, if you want to try using this or any other script in multiplayer you may want to try the above advice.

Additional changes from Left 4 Dead 2.5:  all weapons have different characteristics making them better (including explosives, gas cans, propane tanks, oxygen tanks, and even fireworks crates), improved melee weapons (even the cola bottles), and arms of original survivors are never invisible.
02/14/22
========

Now there's no friendly fire, so it is not necessary to have a mod from somebody else installed to solve that issue.  I had intended to add that feature before releasing version 3 but forgot, so happy Valentine's Day!  Also, the thumbnail
Overpowered mess

- Breaks other script mods that have BETTER common/uncommon infected selection - seriously, are the riot cops too hard for you?

- completely ruins any challenge the game might've had by grossly overpowering pretty much every weapon.


This mod was made for noobs who want every shot to instakill everything. Avoid like the plague if you don't play with God Mode turned on.

This review was posted before the latest release.

Well I guess I should have stayed retired.  You are of course entitled to your opinion but I'd like to point out the following:  you can't have script mods installed at the same time that conflict with one another because they are both trying to make changes to the exact same file.  If you have script conflicts they will, on average, always cause trouble whereas other types of conflicts MIGHT cause trouble.  It is very important to look at the Addons section and see if mods that are scripts show up in red because unlike conflicts among mods that changes models for example, if two script mods conflict you are ALWAYS going to have trouble instead of sometimes.  Sometimes conflicts with models for example are just caused by similarities in models names  and the mods actually work fine together.  That said I'm planning an update of this mod, it will be version 2.0 so I'm planning a lot of changes and one of them will be a new population file because you are not the first person to tell me they don't like the population.  I might release it on Halloween when I'm releasing other new mods, but I can't guarantee it will be done that soon as I must test if obviously.  However, since you obviously don't like overpowered script mods you probably won't like that one either but I'm sorry because I can't please everyone!

This comment was posted before the latest release.
File Details
Left 4 Dead 2.75 ...
(18.2 KB)
View Changelog
Version 3.1 Final