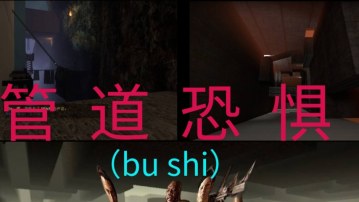 管道恐惧(bushi)
You are downloading as a guest.
The extended gallery contains images from all community members.
第一次做图,学了很长时间还是半吊子样。3个关卡流程都不长,长了就是又臭又长,现在顶多臭臭你们。这张图包含了我对自己做图目标风格的简介。


	第一关是管道系列的图,也是地图名字的由来,本来想设计得又臭又长有压抑,玩家玩完恶心得上吐下泄,奈何技术不行,所以无疾而终,有时间真的要做一张很难的管道图,让玩家只能在暗无天日的管道里面蹲着走。
	第二张是魔幻风格的地图,这类地图难度比管道图还要大,事实上第二关的机关设计的确差点让我吐血,魔幻风格大佬作品参考复刻作品,《指环王》,他的环境音效场景塑造都极其牛逼,我反正是做不到,但是也想试试中国修仙,前辈有嘻哈冲锋做过一张单章节地图《太极》,那终局出现的修仙挺不错的。
	第三关是自然风景图,风景图在求生地图里的比重很大,好的风景作品数不胜数,没有一百也有八十,中国好的风景图也有那么多,都是我看得见的前辈做的,我也希望能够望其项背。现在有大佬一直在用起源引擎做求生特效,研究一大堆我闻所未闻的东西,那些大佬还没有出图,是在憋一个大招,也许等到他们出图了,我也淹没在人海中了。
	然后再次感谢在我做图困难的时候帮助我的大佬,大康,ty以及一些不厌其烦回答我没有技术含量问题的大佬。
09/27/22
========

The first map for me ,if you have any questions or comments,you can bring them to me
Review

Yeah this campaign is pretty broken. So on chapter 1 you pickup a large crate which completely blocks your view, I tried turning down the FOV but that didn't help either, so it was impossible to see anything, In retrospect *maybe* thirdpersonshoulder would've helped but that's besides the point; what kind of design decision is this? At first I thought the saferoom was broken, but no you do indeed move this large crate which the game doesn't tell you to do btw, very, very silly. The saferoom transitions are extremely janky. The bots sometimes spawn out of bounds, I spawned hanging on a ledge in chapter 3 and the bots couldn't get to me.. Speaking of bots the navmesh is pretty bad, especially on chapter 1, in fact bots are pretty much useless on this campaign, don't play with them. Now there is clearly some effort put into this campaign with the design of the levels, but unfortunately it's extremely unpolished which really holds it back. It's a pretty short campaign as well clocking in at 20 minutes maximum, 15 minutes if you're quick.
File Details
View Changelog
Version 0.1 Complete