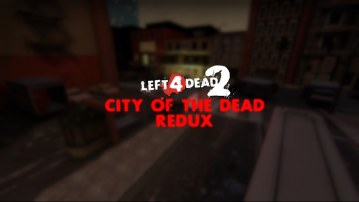 City of the Dead Redux (L4D2 Version)
This item has not been released yet.
The extended gallery contains images from all community members.


City of the Dead Redux is a remake of City of the Dead originally released back in 2016, from the ground up. It incorporates the same general ideas of the original, while improving upon them. 

The Survivors must make their way through an abandoned city and end up in a mall, eager to escape they climb to the rooftop for a potential evacuation.

The rooftop finale from the original City of the Dead is available in this as a bonus Survival map. 



 Gamemode Support: 


Campaign: 4 Maps
Versus: 4 Maps
Survival: 5 Maps
Scavenge: 1 Map



 Console Map Names: 


Apartments - cotd01_apartments_redux
Streets - cotd02_streets_redux
Mall - cotd03_mall_redux
Rooftop Escape - cotd04_rooftop_redux
Bonus Survival Map: cotd05_rooftopsurvival_redux



 Credits: 


KingDavid213 - Mapper, Level Design
Bianca - Playtesting, Ideas
Loading... - Playtesting
TimelordMagnums357 - NAV help
dani1341 - L4D2 Jukebox for L4D1
File Details
Unreleased
No file available
View Changelog
Unreleased
Feedback
Be the first to post a comment!