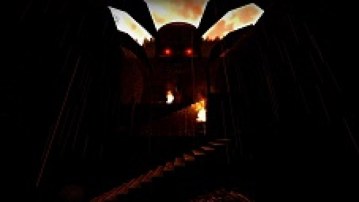 A Qualia Macabre
You are downloading as a guest.
The extended gallery contains images from all community members.
(Cold, just like a tombstone


Flies buzzing around my head
Everything is covered, in thick smoke
Is this a dream, or am I dead?

- A Qualia Macabre)

The overlords of these grim places do not want you to leave, but you have no plans of staying. Fight your way through hellish pits and nightmares to find a way out.

// This campaign is based around exploring different levels of a nightmare. The coloring and geometry is a bit exaggerated to emphasize this //

[ENABLE THE GAME INSTRUCTOR SO YOU CAN SEE HINTS]

=========================

- Contains 7 maps
- Multiple finale types (4 standard variants + gauntlet)
- 2 outro scenes
- 6 unique melee weapons (each map has a unique weapon)
- New event stuff
- Tons of unique assets (90% of build content is unique to this)
* Compatible with Right 2 Live

- Unique common infected models
* Pumpkin creatures
* Eye monsters
* Tar men

- Unique tank skins
* Gore monster
* Fever monster (with 4 rng skins)

- Weeping Angel from R2L makes an appearance

==========
(Music credits)
Level end: Cemetera - Ouroboros
Tank Music 01: Cemetera - It Came From the Morgue
Tank music 02: Rituals In Pain - The Forgotten Place

M1 intro: Cemetera - A Qualia Macabre // Horror Apparatus - Welcome to the Abattoir
M2 start: Horror Apparatus - Tonight the Ghosts are Restless
M3 start: Horror Apparatus - Cinerarial
M4 start: Horror Apparatus - The Shape of Nothing
M5: Slayer - South of Heaven
M6 start: Resident Evil 1
M7 escape: Cemetera - The Strange Case of Mr. Gordy
M7 outro: Cemetera - A Qualia Macabre

==========
(Model credits)
Shedmon - "Death Worm" (https://skfb.ly/o88pF)
biol260 - "Femur" (https://skfb.ly/GXFD)
RomanGurd - "Gibbet" (https://skfb.ly/6TRur)
baxter_night - "Jack-O-Lantern" (https://skfb.ly/oqpMV)
Unique common infected models
Unique tank skins
Unique melee weapons
Randomized finale type
02/19/23
========

- fixed missing model issue
- fixed crash bug in map 2
- updated hints in maps 2 and 3

Good map

Good Map. Very Creepy Atmosphere. It feels like you are dropped into a Doom Map. Great work.

This review was posted before the latest release.
File Details
aqualiamacabre.zip
(256.1 MB)
View Changelog
Version 2.1 Beta