Reviews for Defense Double Pack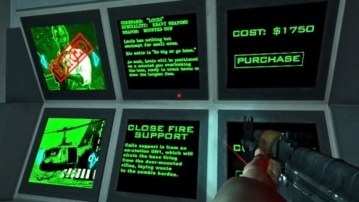 Pros:

love having tower defense in L4D

Cons:

In base defense:

-fences and things don't always place correctly
-sentries don't seem to fire at things

Conclusion:

Very creative, 10 for innovation alone.

Pros:

Good Ideas

Shots are cool and useful (base defense)

Good functional level design

Good action and pace with breaks in waves



Cons:

Bots are useless (base defense they walk in front of supply truck shoot it, and then the rest of the bots jump into fire and die)

Bots in Sandbox always walk in front of turret, die, and the rest follow.

Sandbox- laying down structures is buggy and doesn't always work right.

Good luck getting past 2mins in Sandbox

Conclusion:

Great ideas and good job on getting everything working. Just needs some polishing to be a great download. 

Pros:

-Very well made system for building
-Everything appears to at least work
-Intense action


Cons:

-Sometimes when hiring a survivor on Sandbox defense
the tower they are in will tip over
-Not enough to build on Base defense
-No infinite resources button on Sandbox Survival, which
calling it sandbox survival made me assume it would at
least have an infinite resource button
-Too many tanks

Conclusion:

This is a good pack with the best defense and barricade system I have seen yet, but it's still missing some things and as said it's not finished so I can't really determine if base defense is lacking things on purpose. For example there seem to be a few places that mounted turrets could fit but just aren't there. And to add on to that it's not very easy to barricade either. It's a fun mode to play for a while.

Pros:

My style of gameplay
Sandbox!
money! >_>


Cons:

The gunship of doom!

Conclusion:

Thank you for this map! DuffCreeper Approves

Pros:

very nice so well love it a must have !!!!!!!!
- so many stuff  to build 


Cons:

- my mates couldnt see how much money they had because it was so blurry i dont had the prob possible you are playing lfd 2 with a 2560* 1600 resolution like me ??? 
- dont call the gunship it will crash the game !!!!

Conclusion:

hope you will finish it soon would be nice if you can place the objects with e and remove them with - or smth if they got missplaced. and fix the gunship or take it out that it wont crash the game. i would gave it 1000/10 points if i could 

played that map nonstop till yesterday if i find out more bugs i will report goood job !!!!!!!!

Pros:

-Almost everything you can think of.
-Challenging. 


Cons:

_missing skybox
-numbers on meter are imposable to read.
-sentrys and auto-ninjas will hurt players and bots.
-no fun alone
-I WANT GUNS AND UNLIMETED OPTION ON SANDBOX!

Conclusion:

GET IT! JUST FRICKEN GET IT!

Pros:

-Very Unique, both of them.
-Sandbox has a lot of variety, very fun to plan and work on tactics.
-Base has a good layout.

Cons:

-Base likes to lag very easily, it seems.
-Both are very hard to survive on, we had to resort to a Tank Only mutation just to get anywhere on them.

Conclusion:

I'd absolutely love to see more maps like this, honestly. Keeps the teamwork and combat while adding planned defense for a whole new game.

Pros:

building stuff
very tactical
super fun

Cons:

theres a bug here: the sky is like violet chess. pls. help here :(
there needs to be at least one available primary weapon when u start the base defense for points.

Conclusion:

ok, the map was SUPER FUN. But, the violet-chess sky is distracting and ruins the game-play. If u can, pls. tell me how to remove this.And if all it needs for it to be removed is an update, please do so. thanks.




Pros:

Building stuff
Hilarious
Constantly pressured
Easy to pick up
Very fun

Cons:

That darned tutorial button close to start button
Things can end up underground (adds to the hilarity :D )
Zombies teleport spawn instead of running in from outside

Conclusion:

This is a fantastic map. I play the sandbox survival with my friends for hours. It's got a great difficulty and the number of options have us still looking for a good build order. The best map I've played since LOTR helms deep

Pros:

• Creative ability
• Old survivors
• Fairly easy to understand
• Challenge to create a good defense

Cons:

• Turret + Bots = Chaos
• We just ended up killing ourselves with the special powers and auto ninja, haha
• A little buggy

Conclusion:

Definitely something you want to play with friends. Make sure to plan before you buy. And crouch when placing the objects, they will tip over so easily. But good fun. 

Pros:

Cool abilites
Creative buildings
You can buy survivors from left 4 dead 1

Cons:

Turrets attack survivors
Bots sometimes get stuck


Conclusion:

Its fun to play, fun to build, fun to kill.

Pros:

+Awesome building idea in sandbox.
+Mutigen idea is the best.
+The bases coming up were fun.
+Jimmy Gibbs Jr.!

Cons:

-Cant build high in sandbox (want to be in the tower with louis and survive)
-Building in sandbox is hard.
-Turrets attack nothing exept survivours (one killed francis in his tower).
-You can survive the base attacks with players by jumping on top of the tower of the command base (hiring, etc).

Conclusion:

These maps are fun to play, and challenging at the same time. I liked the idea of Jimmy Gibbs Jr. with his car, and the heli of helicopter dude was awesomesauce. I had a lot of fun with the mutagens in the base map.

I only want you to fix that building stuff, and that if you place it wrong, you can replace it and that the defencive props and all that stuff gets "welded" so you can build in heights too.

The building idea can also be found at a new (not yet released) map called "lets build another rocket" which has the same building stuff, but you can build towards the sky.

Conclusion: Very, very nice maps!

Pros:

Fun and Original
Awesome Programing
New Weapons
New Powers
This is a freaking Awesome Survival PACK

Cons:

Some things Difficult to figure out "Auto Ninja" Killed me the first time I used Very cool item though

Taking damage during tutorial bits

Conclusion:

Fun and Original
Awesome Programing
New Weapons
New Powers
This is a freaking Awesome Survival PACK

Pros:

Cool maps and forces new strategies to survive.
Awesome upgrades, love the Anti-Tank gun :D
Gunships makes the world go round.
Support players are quite useful.

Cons:

Sandbox:
If I'm facing downwards when placing items, it falls through the map.
Base:
The cannon above the entrance should let me know where it is pointing to in some other way then pressing the fire button.
Mutagens have no way of being controlled and often go off at the worst time possible. 
Multiple items do not appear after being purchased, many times over and over.

Conclusion:

I love both maps, just love them. However several problems is annoying, the items going through the map if not deployed properly in Sandbox is a game-ender. In Base, All support upgrades worked well, however with the exception of Mutagens, very few of the weapons, health and bombs would show up after purchasing, and that's just depressing. I'll review again after any of these problems are fixed.

Pros:

Awesome Maps
Epic Mutegen
Hiring Is Cool
Nice Building Level Touch

Cons:

Some Mutegen Kills You Or Teammates Near Explosives
Small Map
Bots Get Stuck On Some Areas
Some Hired Survivors Dont Spawn
Skybox

Conclusion:

All n' All This Is A Good Map I Like It Its A One Of A Kind.

Pros:

Original
Works
building map 
Like the Boomer gib's 

Cons:

Heli leaves some time with people still in it and then they plum it to there death with a early death.

Hired Survivors barely do anything francis Stands there in the sniper tower doing nothing.

Bill when i bought him disappeared.

Conclusion:

Nice custom map that is original and new. But Sometimes the heli leaves with bots still in it. And Hired Survivors barely Do anything other then that i like it. i have no lag and it is kinda easy even with 500-0 "Money" in less then 6 mins i built everything. So 85 for heli and hired survivors not working other then that i like the idea.
End of results.