Reviews for Warcelona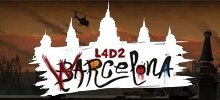 This map made me like sPain

and spanish people.

masterpiece !

one of the best europe theme maps in l4d2 (vienna calling2 and bloody moors is another one) and never get tired to replaying this map with my pal, it has challenging but fun event and finale and very good scenery zombiepocallypse of barcelona plus easter egg

Just awesome & the finale is thrilling but fun

I can't say anymore. This campaign is just awesome. The scenery is great. Bot navigation is fine in overalls. The guides are well provided too. Some escape events are thrilling because of the length & how the special infected ones often blend into the horde & give some ambushes. Melee weapon is a must, at least one player must carry it. Some areas are wide, but they're not confusing because the paths are clear.
.
& the finale is sure thrilling. It's just an escape finale in the beginning, like The Parish bridge. Once survivor is close to the rescue team, there comes the thrilling event, a tank challenge. Tank only comes one each time a tank is killed, & it stays that way until survivors reach the rescue team on the roof. I'll play again later with friends, because I think it will be really interesting & fun if played with friends, especially the finale :D .

Brilliant and beautiful with a tough finale

Needs no introduction, hands down one of the most unique and beautiful campaigns. Very cool church with other survivors (and not those L4D1 survivors!), a gnome-style easter egg, and even custom zombies! Even though the Dropbox links are dead, the campaign really shows the team's hard work and dedication. The finale is random-generated which leads to bot navigation issues: they went the long way around to kill the Hunter eating me, and after that, instead of picking me up, they went around AGAIN and naturally the game was over. But the most brutal part is a way up to the helicopter, where Tanks run towards you and there isn't much space to evade them. There's that one corpse in the swimming pool shower, which looks more like something out of Resident Evil than Left 4 Dead, and it's just nasty in general.

Great in small spots, good to jumbled in others

The fantastic: the start of the first map, from the church to the destroyed apartments.
Then you drop into a bizarre blue spa, which seems really out of place compared to the destruction one floor away from it.  It is immaculately clean except for a couple of blood splatters.  It was that point when this campaign went from immersive and effective to jumbled.  There are some really nice locations, like the finale, but to get there you run through a couple of cut-and-paste gauntlets ripped from stock campaigns.  So this was a mixed bag for me - some moments of brilliance and inventiveness, mixed with some really disappointing areas.  The spa and the shooting of the cannon to reveal the next passage were particular low points, and having two  stock gauntlets back-to-back was unfortunate.

Great Campaign

Late Review. Almost Perfect Campaign. Finale is a killer though, extremely hard even on Normal or Easy. I barely made it, barely.

Challenging but fun.

Good: The design of the campaign was detailed & there were no errors.
           Good atmosphere.
           Interesting ideas for the map.
           Plenty of supplies.

Bad: The bots have trouble navigating through some parts of the map,especially the finale where they either stay on the ladders or try to jump over barricades.
         The finale is very difficult & frustrating,it's one long trek through a never ending horde with specials on your back. It took me a lot of attempts to finish with myself & bots. Managed to reach the helicopter before a Tank punched a bot off the ledge to their death.

The finale needs some adjustments to make it less frustrating,maybe add more bile jars or other supplies. Its awkward searching the tents to see if there's anything when you got hordes coming after you.

It was fun to try & I'll give it another go sometime.Adding a video of my run once I have some time. Great work.

I tried 10+ campaigns and this one is my FAVORITE

No botnav issues.
Awesome atmosphere.
Great finale.
Balanced SI spawn.
Moderate spawning of supplies for each chapter.
WHOLE CAMPAIGN FEELS LIKE YOU ARE IN AN INTERACTIVE MOVIE.

Great Campaign!

Awesome campaign, very challenging, very pretty.

I got stuck in the scaffolding right at the exit from the church at the start, but apart from that I did not experience any bugs. 
It looks like there are no respawn closets, so if you die, you will only be rescued in the next saferoom.

Was Alright

Non stop hordes isn't my thing 
But didn't experience any bugs, glitches or botnav issues

Review

Perfect campaign. Great map design. No botnav errors. No glitches/bugs. Amazing work.
End of results.