Reviews for Master Chief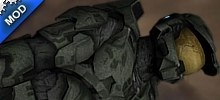 Pros:

- It's master chief!
- Cool texture custom + HUD
- Awesome just awesome

Cons:

- None

Conclusion:

I simply love it, there's no bugs no glitch no nothing, this skin is simply awesome~<3

Cheers mate!

Pros:

It's the Badass Master Chief
Combines with other Halo skins
FPS Arms

Cons:

Crashes Swamp Fever (is that just me?)

Conclusion:

PLEASE! I BEG! FIX THIS CON SO I CAN PLAY IT ON SWAMP FEVER!! PLEASE!!!

Pros:

-Fantastic Detail
-It's the Chief!
-Proper Arms

Cons:

-Wish there was some phrases of the chief

Conclusion:

Great addition to your Left 4 Dead Squad and it is the Master Chief!

Pros:

Master Chief
Great quality in appearance and detail
No bugs or glitches
Goes perfectly with ODST survivor pack

Cons:

Coach's voice is still there but that doesn't devalue the experience at all

Conclusion:

The best mod I have. Never going to play as anyone else again.

Pros:

-Well done and detailed
-No glitches to be reported
-Detailed Visor
-Looks very close to the actual Master Chief
-Has FPS arms! 

Cons:

-None, although I could say his armor might be able to be modified to be slightly more clear, or fps arms to be a bit more detailed. But this is nothing. I extremely recommend this if you're reading the reviews.

Conclusion:

I'd like to have coach stay with this skin. Its absolutely amazing! You won't be disappointed for any Halo fans out there XD

Pros:

Reflective face mask looks like real glass.
Close to the actual size of the MC in Halo.
Armor does not clip at all and is proportional. 

Cons:

None

Conclusion:

Best one so far in 2012 detailed wise on here.

Pros:

Master Chief!
Look! A Mark Five!
Good to have you with us, Sir!
Looks fitter and more ready for this than Coach.
For once, a lack of facial animations is perfect.

Cons:

The CI don't run away like terrified Covie grunts.
I kid. There are no cons.

Conclusion:

Definitely keeping this one selected.

Pros:

great detail, shine off visor, lights on armor ,best mod ive downloaded

Cons:

when holding the m16 or army sniper rifle he is missing part of his arm

Conclusion:

even tho he has a glitch with his arm hes the best model ive ever downloaded

Pros:

Best mod for Coach ever.
FPS arms
Awesome model

Cons:

Bug actually fixed now, so none.

Conclusion:

Not going to remove points for this, but runtime errors. Any help here? Just keeps popping up in middle of the game saying 'Runtime Error!'. Need help? <3

This review was posted before the latest release.

Pros:

+ Master Chief!!!
+ Amaizing Model/Textures
+ Fits Perfect on Coach
+ Custom HUD/GUI/Down Pics
+ Makes You Want Play With Coach
+ DAMMIT Just I Love this!

Cons:

- Absolutely NOTHING

Conclusion:

Best Masterchief Mod EVER!. Really, thanks a lot for this!!!! this mod is just PERFECT. Thanks Splinks!!!!! thanks a LOT!. Keep that amaizing work!. For a lot of ppl your work is really appreciated :D

This review was posted before the latest release.

Pros:

Doesn't waste any bandwidth
A good prank to play on friends when they see your add-on list
FPS arms if you use your imagination

Cons:

Can't find anything (I really can't, though).

Conclusion:

Good effort.

This review was posted before the latest release.
End of results.