Reviews for Back to school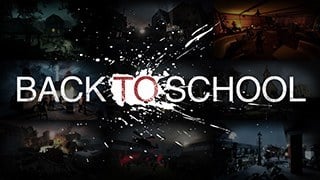 Amazing and unique campaign

Only if I completely forgot about countless times the game closed on me after 1st chapter.

awesome map

+ very cool map with unique finale.
+ bot navigation is servicable.
+ population is balance.
+ some of the maps are designed very life like, it feels like an official campaign. 
+ unique events
+ many maps

the many maps is a downside but really the camapaign's only one, its exhaustingly long. it feels like some of the maps could've been left on the cutting room floor. but other than that, its a very cool campaign.

i love it, but little less of buggy

well, when i play all of the chapter, it gave me a chopper ending, and the game crashes, so I pick chapter 2, then I got the nuke ending, I love this map, 10/10

Great potential, but killed by a flaw.

To be honest I think this campaign could overall be pretty good. However, I wish more than anything that I could actually finish it. On the third map where you get to the theatre, you have to get the axe and cut the power cable by pressing E (instead of just swinging it, but no big deal), only one BIG problem, you CANT cut the darn cable and go anywhere and eventually everyone dies, stuck in the theatre from the hoards. Pretty dissapointing. 

So..........yeah...........unfortuantely thats about as far as Ive been able to go on this campaign. This could have been great campaign if it didnt have that issue and was able to complete it. Hope it gets fixed.

The cable can be cut. However, somehow the mechanism to press E while holding axe (sometimes switching to primary to solve the bugged axe) seems to make some problems. It would be better if the mechanism were just swinging axe/ melee to the cable & the cable had some health. Maybe if the author gets online again someday, he could change the mechanism to damaging the cable using melee (axe).

Great Campaign + New Elements

Pros:
Mini-Quests in some of the maps
Driving in Truck + Scavenge Section
Cutscene at start and end

Cons:
As nice as the details are, Bots get stuck between objects often and will sometimes stay stuck until restart (or using server cheats)
Long Walk to Finale Area

I really like campaigns like these that add new elements/interactions even if they do still just require you to "hold E". Nice work.

Buena Critica

Muy buen mapa Igualito al Original

masterpiece !

one of the best epic campaign in l4d2 ! love all the stuf in this campaign
avoid to use custom tank mod in this campaign or you will encounter ghostly invisible tank

Excellent campaign, just like the official maps

PROS
+ Long, challenging maps
+ Interesting and fun finale
+ Non-linear
+ Easy to navigate
+ Plenty of supplies to be found if you explore
+ Outro and intro
+ Custom voice

CONS
- Long walk to the finale area

OVERALL
A classic campaign that should be played by all!

Top tier custom campaign

Really great quality to the details and flow of the map.  I liked the final escape mechanics a lot, and really appreciated the intuitive paths and great pacing.  My criticisms, which are few and if addressed, might make this the greatest custom campaign of all time, are these:
- The movie theater cut the cable part was frustrating the first time, because I already had an ax and it took a long time to try the one in the room.  Could be fixed by making sure the ax does not spawn on any of the maps preceding it.  Also, it is a bit unintuitive to have the USE command do the cutting of the cable, instead of just attacking with the ax to try to chop it (which doesn't work).  Hiding the saferoom behind the screen was tricky as well.  Something more intuitive or direct could keep things from being too frustrating the first time (the difficulty level is tough as it is).
- the ride shooting out the back of the moving truck is the greatest idea that I have seen in any campaign, but the truck starts going too fast with crazy erratic turns.  There is no time to enjoy it.  It is the best idea of all time, but it misses the opportunity in execution.  Just slow it down to even the running speed of the infected, which would make for a great and fun set piece since it would last longer.
- The collection of items in the cases misses some points in realism - those cases are huge.  To keep it more grounded, maybe we could be searching for critical but small items in the cases - it take time to search, but more realistic.
- I wasn't a huge fan of the floating bars and icons to alert me of certain areas.  It takes the immersion away and may not be entirely necessary.  Also, I might of just missed it, but I was not sure as to why the front of the grocery store exploded.
Overall, though, this is a tremendous effort.  I would love to see an update.

On Theater fiind and pickup AXE near ladder, then cut cable in rooms on left where you use computer. (Press E / Use button) then break the ! mark wall.

Agreed with car speed, but make more realistic with that speed, just wish longer to enjoy the momentum.

Yeah - it is a shame.  I think this campaign is really close to being the greatest custom campaign of them all.  But a few nagging problems hold it back.

I have played this campaign several times, one of my faves. I have NEVER been able to cut the cable. I don't know why but it never works. I get to that point and it's over. I just have to move on to next map. other than this I love this campaign. I wish the cable part was taken out

Tons of custom stuff and high replayabilty

So many custom assets from models to voices, even Tank skins. The panic events and some paths are randomized. Good use of Survivor dialogs, which are also a little randomized, lots of custom events (though some are a bit unintuitive). The maps are annoyingly dark most of the time, though they do have the classic Left 4 Dead flow. Playing this with the notoriously bad imbecile bots is not recommended, unless you're lucky enough to always have a bile bomb for the panic events. Also, I couldn't access the secret room in the church, even though I carried a "gnome" the whole campaign before that, but maybe I'm just wrong.

Amazing but jesus...

Love this campaign but god that finale is incredibly hard (on expert) also not a big fan of slow water sections (i really love the school section and all the details but it could definitly do without the slowing you down water) overall i had alot of fun, just got a bit fustrated in the last level.

Get out'ta school and killing some walkers

I like this map, especially chapter 5 on moving trucks.. To bad only for short play on that truck..
Thanks for this awesome map.


Oh, right... almost forgot..

On theatre you need pull axe to cut the cable.. and my secondary weapon disappear.. maybe you can make that secondary weapon we use droped than dissapear?

And need more tank and witch.. XDXDXD

School's out, for the outbreak

Good 
         The various panic events,I liked the idea of collecting supplies,destroying car engines & the vaccines.
          Areas were detailed & it was challenging but entertaining to play. 
          Custom models for infected. 

Bad    The water areas really slowed down progress which was made worse when Tanks spawn in those sections or Witches. 

It was pretty confusing to find the way around & the bots had trouble navigating a few places which caused them to get stuck into things like the bus in the finale. 

The part where you need an axe to cut the cable,why can't you use the axe you already have on you if you come across one? 
Sometimes a panic event would start even before we got to it,such as the part with the jail,the horde came before we got near.
Aside from that great work.

Pretty damn cool but barely any school!!

Pros:
-Cool C4 explosive thing in safe room
-Interesting new skins for infected models
-Very detailed environment
-Very creative panic events - destroying car engines, mini scavenge, finding vaccines in CEDA tents

Cons:
-Spent very little time actually in a school, misleading name
-Sooo much water and sewage, slow moving sections frustrating
-Confusing paths, spent a while not knowing where to go

thanks russians

Great Campaign

The only issue I've had with this campaign is that even with "Valve's Missing Content Fix" some walls show the pink & black checkerboard texture (in other words they show the missing texture texture, instead of what the wall should have). (it only happens in one section of the campaign) So thankfully it doesn't appear throughout the whole campaign.

Awesome!

Perfect map,Sick but long campaing,anyway this custom map is perfect!
End of results.