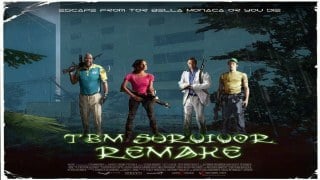 TBM Survivor Remake
You are downloading as a guest.
The extended gallery contains images from all community members.
A virus has struck Tor Bella Monaca, outskirts in Rome surviving only 4 people confined in a room, they now have a new problem the shortage of food and therefore they decide to go to the search passing for some apartments but not finding very they decide to leave the outskirts passing in a school cretendo that at least they will find them the necessary resources...
18/05/23
========

- Added resources
- Added signage and chat messages
- Balanced the difficulty

Not bad, just with some annoying horde at certain areas

At first, I thought that this was a survivor mod when reading the title without seeing the number of map listed on the thumbnail. Well, there's no serious problem in this campaign except the horde, I guess. Oh, & the key in map 1 could also become a problem, because most of the time, players will go down the stairs first to reach the locked door, to find out that they have to go back to certain upper floor to pick the key. Well, fortunately the key is at the fixed location. It would be a real headache if the key location is randomized as well.

As for the annoying horde, it shows up in map 1 near the end of map. The problem is that it's without a hint, so players have no idea whether they have to wait until the horde stops coming or rush, at least until they figure out that it's an endless horde. Map 2 also has one near the end of the map. As for map 3, the annoying horde starts from the beginning of map, at least until survivors reach the radio. I think a hint like "Find your way/ run to the train station" just after survivors exit saferoom would be helpful. At least that would make players know that they need to keep running without waiting horde to stop coming.

Though the beginning of map 3 could be difficult with the restless horde & fast special infected spawn interval, the finale is kind of easy, at least until the rescue time. The problem in the finale is the hints/ arrows about where to go, & also a glow on the rescue train. Most people usually defend near the radio, & when the rescue time is triggered, they try to look around. As there's no arrow or glow on the rescue train, they would take more time to find the way while tank & horde start chasing.

Aside from the problems I mentioned above, it's good to play. It would be better if the horde is balanced someday on the next updates.

This review was posted before the latest release.
File Details
Tbm Survivor Rema...
(146 MB)
View Changelog
Version 2.4 Final