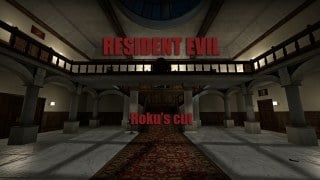 Resident Evil 1
You are downloading as a guest.
The extended gallery contains images from all community members.
An incident with the chopper forces the survivors to get into a big house in the middle of Raccoon Forest...

-THINGS YOU HAVE TO KNOW:

Important: Enable the instructor hints in Options>multiplayer. This campaign

 use custom hints to help you with items and puzzles

1. This addon IS NOT AN EXACT RECREATION, it is a campaign based on Resident Evil 1 (PlayStationOne version). Contains 1 survival map.
2. I made several changes to addapt this campaign to the L4D2 gameplay.
3. MO Disks are placed in different maps, if you miss one of them the campaign can be finished but the finale will be different.
4. EAGLE and WOLF medals are placed in chapter 4 (Underground). 
5. The "V-JOLT" poison is not necessary to kill Plant 42, but it will help making the "plant" weaker.
6. If you've never played Resident Evil before, there are pushable objects that are used to solve puzzles or obtain items.
7. There are doors locked by numeric codes (put them in chat)
8. All infected are able to open doors and 99% of them are unbreakables. Infected also can block doors, so if you can't open one, shoot trough it to kill the zombies behind.
9. This addon contains custom models (made by me), custom textures, replacements for medkit, adrenaline, pills (textures) and replacement for safe room music. If you have another addons with replacements for these things and get errors or game crashes, deactive those addons (conflictive addons will show red letters)
10. The paintings in the mansion are a selection of antique paints by Kalu.
11. The campaign has some easter eggs, I hope you find them

This campaign was made using music, sounds and textures from the original game Resident Evil/Biohazard, owned by CAPCOM.

ACHIEVEMENT LIST:
-Escape from the ceiling trap
-Find the secret herb
-Rescue Bill from the lab
-Obtain the V-jolt poison
-Headshot a hunter with a magnum while is jumping

-SPECIAL THANKS TO Rectus who helped me with some scripts and thanks to "TopHATTwaffle Hoogland" for the waterfall texture tutorial


*If you like my work you can support me. 
I want to develop my own game, so every penny is a big help for Roku. 

---------o---------o---------o---------o---------o---------o---------o

My testers are the best!

-Vagunrath
-Psyphix
-Airikzis
-Artemisia
-rAm
-Recycle Bin
-BOCHA80
-Kalu
-Daroot Leafstorm
-Mr Funreal
-Bianca
11/26/20
========

-Improved lightning
-Updated animations for melee weapons
-Fixed some audio files

Many complicated puzzles but fun

It took me 4 days to finish this campaign. The 1st day, I got stuck on map 1 because of some puzzles were hidden without instructions. 2nd day, I got stuck on map 2 because one key was without glow/ highlight & I thought of the key as just a common object. 3rd day, I got stuck on map 5, lab, because I tried to decipher the code without the switch (I didn't think that turning on the switch could change something. I could only read "birth" & "kiss" (I deciphered the "kiss" without the switch, just by looking at the interraction on the picture). The 4th days, I started from map 1 & finished the campaign with all three MO Disc & Bill on my side in 1 h 28 mins.
.
Though some codes were hard to understand for the first time, I enjoyed deciphiring the codes, especially the pattern code to unlock the v-jolt room. It took me more than 1 hour to figure out the pattern of each number. Then, the hidden quests to collect the MO Disks are also interesting. I got all in one go on 4th day when I searched thoroughly in every map. & the most challenging one is...the giant spider. Because I used Spider Venom's skin, the spider looked really fun & dangerous :D . Never shoot it, ok... Better safe than sorry :D . Btw, some tank traps on some maps are kind of dangerous. Player can get one-hit-incap in expert mode if not prepared when interracting with certain objects because the tank will come so close that one mistake can be deadly, like when running backward but suddenly hit a wall. But, there are few seconds (about 2-3 seconds) before the scenes appear, so, those few seconds can be used for the trick :) .
.
So, in overalls, although some of the maps are revisited areas, this campaign is lots of fun. The bot navigation is fine & no texture errors. The supplies are also enough & most maps are explorable. I had no regret in having several tries in few days until I finally finished the campaign. So far among other resident evil campaigns I've played (Side A, Side B, & Nemesis), this one gets 2nd rank as favourite Resident Evil Campaign. The most favourite is the Nemesis. I'll keep this in my addons folder to play with friends later :) . Nice campaign.

This review was posted before the latest release.
File Details
re1_arklay_2020.vpk
(157.3 MB)
View Changelog
Version 9.1 Final