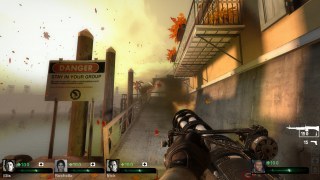 Explosive M60
You are downloading as a guest.
The extended gallery contains images from all community members.
This mod makes weapon M60 shoots an explosive bullet. also makes m60 to spawns along with other weapons(random)
_______________________________________

***Explosion bullet will not explode if shot too close.
\\


***Explosive bullet in this mod isn't same as vanilla explosive bullet. I used env_explosion as an effect***
\\
***This mod doesn't add any ammunition into the weapon such as vanilla explosive bullet. M60 ammo still decreases when fire*** Note. You can use command !g to get infinity ammo
\\
_______________________________________

This mod uses vscripts/vslibs, and compatible with any other m60 scripts. except vscripts/vslibs driven mods.

Only works on local and official maps. works on all modes except versus on official servers.

Explosion effect can apply to all weapons by typing !explode in the chat
Note: If you use !explode, there maybe a chance to crash a game. but i tested it and no crash occurs.
use on your own risk.
Added Table

.

03/19/19
========

Apocalypse time for zombies! Cool!

Ok, now that I've checked the newest version & it has totally worked, I think I'll give some stars :) . "Explosion bullet that doesn't damage survivors", this is what makes this mod cool. With this type of explosion bullet, you don't have to worry when shooting a survivor who is getting caught by SI. Normally, the explosion will deal very high damage in close range or even instantly incapacitate any survivors close to it. But this mod nullifies the damage. But again, just like what in the description, use at your own risk because the explosion may hit gascan during scavenge finale on certain campaigns or propane & oxygen tanks. & some objects can fly when hit by the explosion.
.
Well, good job on the hard works of fixing this several times until it finally worked :) . I look forward to the next mods :) .
File Details
View Changelog
Version 1.2 Complete