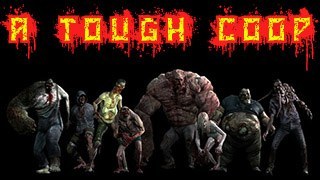 A tough coop
You are downloading as a guest.
The extended gallery contains images from all community members.
Cooperative mode mutation configurable via a few chat commands.



All the information for the configuration is accessible by writing in the game chat: !show_cfg
Chat text also appears on the game console.

Options in version 1.6:

A: Messages in Spanish. If not indicated, the messages will be in English.
B: Additional Special Infected abilities:
- Jockey can deal damage by pouncing on a survivor, like the Hunter.
- Jockey can get dizzy and vomit on the survivor if he rides him for 4 to 10 seconds.
- Jockey can explode shortly after grabbing a survivor.
- Charger can move objects after a charge, such as some cars or containers.
- Charger has a chance to release his pummel victim and attack another survivor once he incapacitates the first.
- Survivors temporarily slow down after being hit by a Charger.
- The Smoker deals damage when grabbing with the tongue, like Versus.
- The smoke cloud from the Smoker causes damage if you stay inside it.
- Spitter deals bonus acid damage when scratching Survivors.
- Spitter's acid can destroy propane bombs, gas cans, fireworks boxes, oxigen tanks and explosive barrels (in a limited radius).
- Spitter's acid pool when she dies is just as big as when she spits.
- Boomer causes damage when exploding near survivors.
- Boomer can be a Leaker type (it approaches the survivors and explodes).
- Leakers can perform a high jump to explode near survivors.
- Hunter, Smoker, Jockey and Charger cause residual damage to their victims after they are released, more damage the longer they have been held.
- Tank's roar knocks back and damages nearby survivors. It also affects other Specials.
- Tanks run more when burned.
- If a Witch is not eliminated with a single shot, a horde is called.
C: Specials spawns equal to Versus mode.
- Also reaction time and other effects of the Versus mode.
D: Messages about aditional damage (ignored if B is not active).
- Most additional damage is indicated by chat.
E: Aditional damage stats (ignored if B is not active).
- From time to time and at the end of each level a statistic of the damage received per survivor is shown.
F: Smart Bots Cvars (for survivor bots).
G: Competitive-Bots+ Cvars (for infected bots).
H: Activate Hard eight mode.
I: Activate reward system.

Except for Hard eight mode, the number of infected dynamically adjusts to the number of survivors.

Commands:
* Coop: map <desired map> +mp_gamemode toughcoop
* Realism: map <desired map> +mp_gamemode realtoughcoop
* Cooperative + United we stand (see changelog): map <desired map> +mp_gamemode toughunited

This mutation uses VSlib library in a custom subfolder to avoid conflicts.
09/25/23
========

- Error fix: Reward messages were not displayed if option D was disabled
- VSLib library updated to last version dated 2021-07-13. (Crash on map change fix)

File Details
View Changelog
Version 1.8 Final