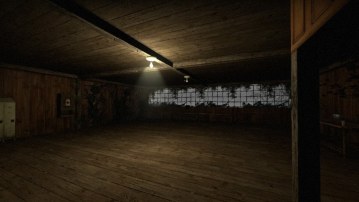 Frail Tourniquet
You are downloading as a guest.
The extended gallery contains images from all community members.
It is believed this place hides a dark secret, that the infamous Dr. Malroy has a lab somewhere nearby.
Some say they've heard screams from beyond the walls, others say those sounds are merely loons calling out from the darkness. 
(Note: This isn't the same version as the steam addon)
---------------------------------


OVERVIEW:
- This is an escape room type campaign that uses a modified version of the 'bleed out' mutation.
- Found survivors will guide you forward and unlock certain doors for you, but they also rely on you to help them too.
- Survivor puzzles range from using melee weapons for objectives, to finding hidden objects, to working with found survivors to use environment objects to help you.

MODES:
Coop / Escape: Find a way to escape
Survival / Duck Hunt: Shoot birds to spawn health to survive as long as possible

NOTE:
This uses a modified version of the 'bleed out' mutation in a background coop script, THIS ADDON MUST BE DISABLED TO TURN OFF THE AFFECT
05/01/21
========

- Health decay updated
- Secondary item glows added
- Coop weapons updated

Good one, but it would be better to make it as a normal campaign

Tested this campaign several times to figure out few things. Actually this campaign is unique, as it's still kind of rare to see custom campaigns with melee weapons as the mechanism to open the paths or turn on the switches that can't be opened by any kind of attacks except melee weapon. Even certain blockades can only be removed only with specific melee weapons. Few old custom campaigns did this kind of feature, like "Back To School" at the movie theater, "Fall In Death", but not on all of the maps. This campaign uses this mechanism on all of the maps, so bringing melee weapon is a must in this campaign. & now on the new version, zombies spawn normally so it's not lonely anymore when trying to solve some puzzles with melee weapons.
.
The bot navigation is actually fine. Even there's a feature about L4D1 survivor support just like in "The Passing". campaign. Some highlighted melee icons on some objects to use melee weapon on are helpful enough to figure out where to smash the melee weapon at, but some places has no highlight so players need to think & figure out on their own. As this is a forced "Bleed Out" campaign, probably players need to restart few times to figure out where to go & what to do if they can't figure out where to go, but once they remember the objectives of each map, they can clear the map fast enough. Some objects have glow so that can help players find something they need. The supplies of pill seem enough, & survivors get pumpshotgun & magnum pistol in the beginning of map. However, somehow it lacks grenade supplies on map 1 & 2.
.
Map 1 is about figuring out where to go out from the closed room. There's a hidden melee weapon. As long as players know where to find the melee weapons & where to use, there's no problem. Some objects are highlighted to help players find something. There's a challenge here when survivors have to defend the escorting L4D1 survivor when he is trying to find a way out. The challenge depends on the mode the players is playing. If they play normal coop with the forced "Bleed Out" mode, they have normal challenge, but if they use mutation to play this map, they have a different challenge. But I won't tell the different challenge on mutation mode. There are some clues about certain traps. but they are visible traps so players can anticipate them if the observe the clues & move carefully enough.
.
Map 2 starts in a cave. Like map 1, players need to collect the melee weapons to open the blocked paths. If they can clear map 1, map 2 would not be difficult enough to clear either. There's a challenge near the end of the map. & remember to pick the melee weapons there, as map 3 still needs melee weapons.
.
Then, the finale is an escape finale, with some objectives to do. The objectives are easy to figure out as there are glows on the objects. There's a tank challenge in the mid way, but the place is good enough to run backward while shooting so it should be no problem. The paths are clear enough, so as long as players follow the paths & still carry a melee weapon, they can head to the rescue location. The L4D1 survivors are also there to do some cover fires near the rescue location.
.
In overalls, this campaign is a good campaign with simple puzzles. It's easier than the "Witch House" by the same author. If players want to play safely, they can trigger another mutation to deactivate the forced "Bleed Out" mutation. For example, using "Gib Fest" mutation will enable the "Gib Fest" instead. The forced "Bleed Out" mode on the new version is still playable somehow, as there are more pill supplies. Btw, sometimes bug of missing melee weapon still happens on map 1 on baseball bat, though it's now rare to happens compared to the previous version. On my 4 tries on map 1, I couldn't find the baseball bat once. Probably, there might be some solutions that could fix this thing permanently. If it's possible, maybe it can use the mechanisms to trigger the melee spawn, like for example, when pressing the switch on the control room, not only it opens the locked door but it also spawns the melee weapon randomly in that area.

This review was posted before the latest release.

看了你的回复,我打算下载地图试试,虽然你的回复我也没有看完........

I see... It's kind of relief to see that you took my review in positive way. & sorry for my mistranslation on the "inciteful" part. As I'm not a native English people, so I when I saw that "inciteful" word, I thought some contents of my review might have offend you, so I clarified myself with apologize to avoid misunderstanding if there was any. Well, I'm looking forward for the next update of this campaign. I'll also revise my review after testing the new upcoming update. Hopefully there won't be any bugs on the next update.

This comment was posted before the latest release.

I think the context of my comment didn't come off right. I really do appreciate you taking the time to detail all of this. It gives me a solid place to start with making improvements. I've taken what you've said into account and have made quite a bit of changes. I don't want to give too much away but bleed out is gonna be removed and zombies spawn in all maps now. Plus the other issues like the melee weapon bug is fixed (and several unseen issues linked to the same mechanic). Still finishing off the changes but I expect this will be posted today.

This comment was posted before the latest release.

Well, my apologies before, as I didn't mean to be offensive or something like that, because all I did was just reviewing & at the same time reporting some bugs. & the missing melee bugs still happen on map 1 & 2. & about the shooting target, probably that was active when I used other mutations to play this campaign, because well, I usually preferred solving puzzles while fighting zombies without a time limit. The "Bleed Out" mode made me lose focus when the health kept depleting when I was trying to figure out the puzzles, so that's why I used other mutations to test. Probably you could see the "triggering mutation mode to avoid Bleed Out" as a bug too.
.
Probably if it's possible, adding multiple choices for the mode would be better, just like the "Witch House". For example, easy mode without "Bleed Out" but with normal infected spawn, normal mode with "Bleed Out" but without common infected or just very few (like current version), & hard mode with the combination of easy & normal modes (normal infected spawn + "Bleed Out"). Probably it could be possible by triggering via vscripts, like for example, if players choose normal or hard mode, the health will be set to 1 & healthbuffer to 100 (using "SetHealth()" & "SetHealthBuffer()" vscript functions). That way, the "Bleed Out" will still happen even in other mutation modes if players choose normal or hard mode. But maybe a map maker could find more effective ways to make such mechanisms happen
As I only know how to put few vscript functions, not how to make a map, so I only put vscript functions as examples. Probably this campaign would be more fun if players can choose the modes (normal or "Bleed Out") during the play, as not all players like solving puzzles under pressure of the slowly depleting health buffer.

This comment was posted before the latest release.

This is very inciteful. I believe I've found and fixed the issues with the melee spawns you described. I'm curious about what shooting target you mean in the first map. I'm pretty sure that stuff should only appear in survival so there may be another issue it seems.

It may be possible to change this to a normal campaign but I think this would require removing at least half of the level mechanics through out. Mostly because getting hit by infected while looking for stuff gets irritating really quick. I could probably add spawns in the lower area of map 1 and have them spawn earlier in map 2 without needing to change anything though.

Personally I like the bleed out part but I don't think the reason for it happening was portrayed enough. Plus it adds a different kind of tension. I'll end up removing it if it's generally undesired though.

This comment was posted before the latest release.
File Details
frailtourniquet.vpk
(63 MB)
View Changelog
Version 1.1 Complete