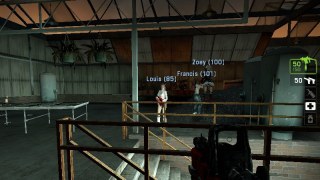 The Regen Ability
You are downloading as a guest.
The extended gallery contains images from all community members.
During the prolonged zombie war, survivors found mysterious drug shots abandoned in a laboratory by scientists. Once they used it, miraculously they started to have a regen ability, just like the special infected.
.
In other words, this mod enables health regen for both survivors & special infected including tank, except a witch. Unlike my previous mods "Survivors Stand on

 Their Own" & "Survivor Bots Stand on Their Own" that provide various abilities for survivors, this mod only focuses on regen ability & some previous features that help players take care of the bots that act foolish during crisis. The regen ability for survivor players are reduced to give balance to the game, because based on some feedbacks in my "Survivors Stand on Their Own", the regen was kind of op.
.
Here is the details of the effect:
1. Health regen ability for survivors: in 1 minute, survivors can regen hp in total of 10 points.
2. Health buffer regen ability for survivors: for players, they only get healthbuffer regen as many as 30 points in 1 minute, while bots still have the normal healthbuffer regen as many as 1 point each second.
3. "Bot Into Position" ability: players can use pills or adrenaline shot to command bots to go to pointed location at the crosshair. Click fire button & quickly swap into other weapons to avoid the use of pills & adrenaline while executing this command. Reload any weapons to reset the command.
4. "Anti SI" ability: in this mod, this ability is only trigerred when survivor is incapacitated. When the survivor is incapacitated, he will spontaneously release himself from the special infected & make the special infected stagger.
5. "Rise from falling on a ledge": in 1 minute, survivors have few chance to climb up after falling on the ledge.
6. "Rise from incapacitation": in 1 minute, survivors have few chance to stand on their own from incapacitation.
7. "Bot Regroup Warp": every 30 seconds, bots left behind too far will be teleported automatically near the players. This also works on the finale.
8. Special infected regen ability: (based on normal health value)
a. Special infected only: all special infected have health regen ability around 5% per second of their total health
b. Tank: tank has 50 points of hp regen per second (tested & still possible to kill), but if survivors leave him too far, he will regen 5% of the total hp per second.
9. Crawling is enabled. Press "W" to crawl when incapacitated
10. Health point is now visible in the brackets after the player name. (haven't tested yet as special infected).
.
Notes:
- This mod is automatically activated in Singleplayer, Coop, Realism, & other modes that allow addons.
- This mod is seen as custom weapon mod, so it will conflict with other custom weapon mods, or other mods that use "scriptedmode.nut" & "custom_weapon_controller.nut". But normally it won't conflict with other script mods that modify "gamemodes.txt" or weapon scripts like "weapon_smg.txt".
12/31/19
========

- Removed "Gunfu" effect due to a bug causing it to be too OP.

12/10/19

File Details
the regen ability...
(11.1 KB)
View Changelog
Version 1.1 Complete