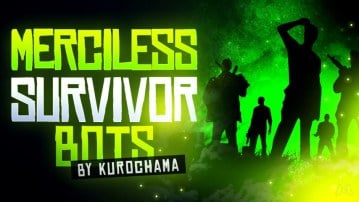 Merciless Survivor Bots (Complete Version)
You are downloading as a guest.
The extended gallery contains images from all community members.
This time, I took some experiments by improving bot's aim ability, and... Well, just as scary as its title, the survivor bots here are merciless. If I can put in difficulty level, probably they're equal to hard or advanced difficulty. The bots here have quite accurate aim. They can take most special infected for themselves. They're also merciless to common infected.
.
And for this time, I tried another method to make the vscript mod via "mapspawn". So, this mod will feel more like an "expansion pack". You can combine this mod together with other mod with scriptedmode in it & it won't conflict. This mod can be used in both Last Stand & the older versions.
.
Aside of the merciless bots, I added some abilities for survivors. Here's the list of abilities:
1. "Bots Lead The Way"= They will walk on their own to the saferoom. This one is available on chat command feature, toggle in "mercilesstoggles.txt" & when a player dies.
2. "Auto Revive Warp"= 10% chance to revive the dead survivors if killing special infected, & 100% chance if killing a tank.
3. Bots start with magnum pistols (bot only) & pills (all).
4. Survivors get full ammo when leaving saferoom.
5. Survivor rescued from closet has a random Tier 1 weapon.
6. "Healthy Jump" = when jumping, survivor can boost +1 health buffer if their health goes below 50.
7. "Hanging From The Ledge Prevention" = during combat state, bots can't hang from the ledge.
8. "Zombie Kill Morale Boost" = (bot only) 5% chance to get small health buffer when killing zombie when hp is low.
9. "Zombie Headshot Morale Boost" = bonus small health buffer for killing a zombie with a headshot.
10. "Credit System" & "Buy System" = these will allow survivors to buy items with their exp points.
11. Chat Command Feature. This feature has some helpful commands within.
12. Toggle features in "mercilesstoggles.txt" file located in ".../left4dead2/ems/mercilessbots/mercilesscfg/". Many useful toggles are put inside it, including Friendly Fire, Weapon Swap By Shoving, etc.
13. "Burst Fire Mode" toggle in "mercilesstoggles.txt".
14. "Automatic Fire Mode" toggle in "mercilesstoggles.txt". Dual pistols, snipers etc can shoot rapidly when enabled.
15. Bots now will retaliate against any attacks from zombies with barraging shots.
16. "Grenadier Mode" toggle allows to carry all types of grenades.
17. "Medic Slot Item Switch" toggle allows to carry all types of items of medic slot.
18. "Gun Collectors" toggle allows survivors to carry many guns at once.
19. Bots can avoid Spitter's acid.
20. All guns can use scope (write "scope" in chat box).


21. *NEW* "Secondary Weapon Laser Upgrade"...!! Now when picking laser upgrade, secondary guns also get laser upgrade.


.
Notes:
- This mod works on official & custom campaigns.
- This mod works on all modes as long as it allows addons & mapspawn.
- This mod can work together with mods that use scripted mode & modified weapon scripts.
- More update info is written on comment section due to the limit of characters on mod description.
- See the Changelog for details.
.
* Copyright 2022 kurochama. This mod is not authorized for posting on any sites except under my permission.

MIRROR LINK (if gamemaps link is bugged): 

Google Drive
Smart & aggressive bots
Custom cfg files containing many fun features
Custom chat commands easy to use
Free pills when leaving saferoom
Full ammo when leaving saferoom
Cfg files to make bots use grenade & defib
Aim/ scope available on all guns
Laser sight available on secondary guns/ pistols
09/08/23
========

v27.8:
- Added a new value on "Normal Mode" toggle in "mercilesstoggles.txt" file: value no. 2.

great mod

I truly appreaciate your mod. it helps my single player game better than ever because of default bots have slow respond. I don't use all features in the mob because I don't want to ruin my experience and enjoyment about the game, so I only turn on some features to let the bot survive and support me through out custom campaign.

This review was posted before the latest release.
File Details
merciless survivo...
(445.6 KB)
View Changelog
Version 27.8 Complete