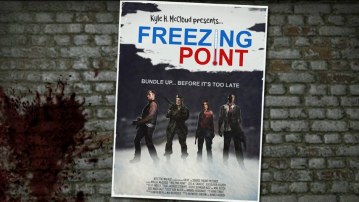 Freezing Point
You are downloading as a guest.
The extended gallery contains images from all community members.
The Survivors Explore the Frozen Wilderness! (1.2)
- - - - - - - - - - - - - - - - - - - - - - - - - - - - - - - - - -
Heading northwest seemed like a good idea to the Survivors, but the harsh winter has strained their supplies, and they can't stay holed up in their cabin forever. As they prepare for a supply run to the nearby Irons Family Mansion, little do they know its decrepit halls contain far more than they bargained for...



Disclaimer & FAQ
Freezing Point is a campaign-exclusive add-on that may have compatibility issues with other mods. If you're experiencing crashes or other problems, please try disabling some of your add-ons (including other campaigns) and restarting Left 4 Dead 2.

4-Map Campaign
From the creator of Time to Die, explore the frozen wilderness of Minnesota in this full-length campaign! Search for key items to progress, but don't worry -- these environments are still easy to navigate.

Freezing Point is a campaign made entirely by one person (Kyle the Walrus!) over the course of a year and some change. The difficulty and average completion time is on par with what you'd expect from an official Valve campaign, but with an extra layer of weirdness added on top.

Randomized Replayability
While Freezing Point is not the longest campaign out there, clocking in at 45 minutes max if you explore every room, many events and items have been randomized to make each playthrough unique. I highly recommend playing through this campaign multiple times to see everything it has to offer.


Custom Survivor Conversations
Do you ever think it's awkward when you play a custom campaign and the survivors never talk to each other? Freezing Point has got you covered, with over a dozen new conversations made by remixing survivor dialogue into natural-sounding exchanges. NPCs with new dialogue are also included!

Survivors will call out directions, they'll update each other on events, and they'll have a chat in every safe room. Many lines also have multiple variations thanks to the power of randomization. In particu
06/30/22
========

-Fixed a bug where screen overlays (specifically, custom HUD elements) would stay on your screen even after players died and restarted a chapter. You should now respawn with a clean HUD.

Good campaign to play

It's a nice campaign. Just as expected of the author of "Time To Die", this campaign has no problem from the beginning to the finale. Supplies are enough. Directions & hints are clear. Bot navigation is good in overalls, as the only bot navigation bug happens when bots are trying to enter the rescue unit. Some bots find it difficult to get in. There are also some funny talks between survivors that make the play more fun. Randomized paths are also good things as this can give players new challenge on each play.
.
Map 1 is exploration to get into a mansion. It's kind of short campaign to explore the snowy path leading to the mansion. There's a simple objective to collect some items. The hints are so helpful so I don't have to tell where the items are.
.
Map 2 is exploration inside the mansion. The mansion has many explorable rooms. Supplies are scattered on some rooms so it's worth exploring if you want to get some supplies. There's an objective to turn on an elevator by turning on some switches on highlighted locations.
.
Map 3 goes into a lab. There are also explorable rooms in the lab & some objectives to collect a key & turn on power. Every hint is clear so there's nothing I can say.
.
Map 4 has the futuristic devices just like "Time To Die". There's an advanced generator that looks like a teleporter/ time machine. Unfortunately, it works only as a generator, not as a teleporter. There's a quite long escape finale here through streets & some buildings. Melee weapon might be needed as the escaoe route also goes inside buildings with narrow paths. The bot navigation bug, as mentioned above, is when survivors arrive at rescue location. Some bots can't enter the rescue unit. Probably it would be better to make it a rescue area instead, like, when all survivors enter area around the rescue unit, the rescue scene will be triggered.
.
In short, it's a recommended campaign to enjoy with bots or friends. Though this campaign has objectives to find some items, they're not difficult as the areas are not too wide to search for the items. Good work.

Edited: March 2022

This review was posted before the latest release.
File Details
FreezingKHMC.zip
(132.5 MB)
View Changelog
Version 5 Final