Reviews for Snow Den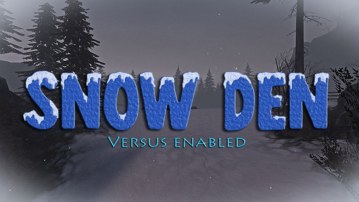 A cold experience, and not in the intended way.

Pros:
* Sufficient scenery and supplies in most areas.
* Scripted dialogue.
* Semi-unique finale style.
* Branching paths.

Cons:
* Names in the loading screen are in the wrong order.
* UI hints are lacking. Some events can come out of nowhere as a result.
* Some inaccessible areas for bots, mostly regarding some ammo piles.
Map 1:
* Coach's scripted dialogue is bugged.
* Bots don't leave the starting safe house until going considerably further from the room.
* Shelf in room has no collision.
Map 3:
* Starting from Map 3 has only the crappy Hunting Rifle.
* Scripted Tank spawns can be outright unfair in difficulty. Consider toning them down.
* Tank run at the end gives little to no chance for escape. Bots are basically dead weight at this point. I would give the survivors a bigger head start to compensate. It doesn't help that there's a large ladder at the end, which are basically Bot killers.

This map has a unique premise and potential, but is bogged down by questionable design decisions.

Good snowy campaign to play

I just got time to play this campaign today. So far, it's an enjoyable campaign with snow theme. Bot navigation is good in overalls, though sometimes one or two of the bots still fall from long ladder. Many areas are explorable. Supplies are enough. Hint & directions are clear enough, except at some places. I'll explain this later. Some of the maps have special challenges, so better be prepared.
.
Let's start from map 1. Map 1 is about an exploration through snowy roads. There are times when survivors go through buildings & sewer. Near the end of the map, there are some surprises waiting near the saferoom. They're witches. They're wandering witches so it's fine to move carefully as long as no one touches the witches.
.
Map 2 is still about exploration through snowy roads. There's an alarm event here that leads to the theater room.
.
Map 3 is an exploration inside mines. The paths are clear enough. However, near the end of the map, there's a special challenge. It's a "Run Challenge". Just like how I called it, the main objective is to run, because 3 tanks will instantly spawn somewhere behind (not too close so players have chance to escape). This reminds me of another favourite campaign of mine "Night Terror" that also has this kind of event. Additional 2 tanks will also fall from some ceiling during this running event, so just keep running. Across the bridge there's a detonator switch to blow up a bridge to prevent tanks from chasing further.
.
Then, the finale probably a little longer but unique. It has 2 parts. The first part can be started when survivor arrives at a big wooden house. During journey, the ground is slippery & there's some deep water. So watch out when seeing some water. The first part is confusing a little, especially because of the directional arrow in the wooden house. The directional arrow points outside the house to the stairs, while actually the first part happens at the backyard. There's a detonator switch near the high wall, but that detonator switch can be missed as there's no pop-up hint when walking close to it. After pressing it, survivors need to wait for few minutes until the detonator timer's up & the wall is destroyed. After that, it becomes escape finale until they reach the gate at the end of the map. Pressing the switch of the gate will start the 2nd part of the finale, a holdout finale. The holdout finale has many good places to camp, especially spots near the gate as zombies come from afar.
.
In short, although some maps have challenges, it's an excellent campaign that can be played with bots or other players. The difficulty is still balanced, so I think players won't have problem in playing it especially in map 3, unless if one or some people are too reckless to challenge the group of tanks. Good work.

Excellent Campaign!!

Great winter style campaign. Graphics are excellent. I played Solo and had zero issues with Bot navigation (well Ellis stood on a lumber pile in the mine until I gave him a nudge). Navigation in fact was so good that they all followed me to my death underwater (you can figure out where <G>). 
I wasn't paying attention so I deserved it. 
End of the mine heading to the safe room when they say RUN you better be moving fast. You'll see why!

Overall I really enjoyed the map. I do not want to say much else as I don't want to ruin it for others. If you don't have a good time with this campaign then maybe you need to go play "Angry Birds". <G>

Thanks for making this campaign!

Dave

Review

Excellent campaign, highly recommended. Creative ideas, good layout, great pacing and a lovely cinematic experience. Definitely a keeper for sure, awesome job on this one author. Just a small exploit I found on the finale, you can stand on the table in the little caravan, it has no navmesh so it's a godspot (see attached image.) No other issues found though. My nitpick is I'm not a fan of the colour correction but I understand what you were going for, the "cold" feeling with the washed out colours, have enough of that from playing Skyrim heheh.
End of results.