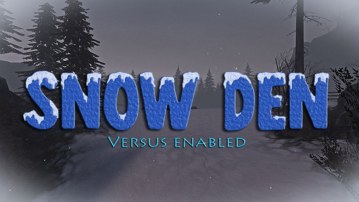 Snow Den
You are downloading as a guest.
The extended gallery contains images from all community members.
From the maker of Haunted Forest, a new campaign set in a snowy landscape. The L4D2 survivors somehow managed to end up somewhere in a Northern European area.
The only way to get out alive, is to reach the harbour but there are some obstacles in the way...
- Features weather that can be a bit different from playthrough to playthrough


- Features alternative pathing
- There is totally not a secret room anywhere. No sir.
- SNOW! WHEEE!


Notes & Disclaimer
--------------------------

- I'm aware that for some people, map 1 crashes to desktop as soon as you leave the hangar and start shooting stuff. It happens to me too once in a while but most of the time it works fine. I suppose it's because of a conflict with some other addon. I'll look into it, but trying to find what exactly causes this campaign to conflict with certain addons is like finding a needle in a hay stack so no promise that I'll find anything.

- This campaign was tested several times with multiple people and several skins or sound mods active and it worked fine. However, I can't guarantee that this campaign is entirely compatible with every mod out there. If the campaign conflicts or doesn't work because of other mods, not much I can do about that.

- Some areas are bot-unfriendly. It's strongly recommended to play with more than one human player

- You're welcome to give me ideas for improvements.

- You're welcome to tell me about bugs or problems you have with this campaign. However, please verify if you still have the problem after you deactivated your other mods.

- Do not upload this campaign to any other website without my explicit permission. It should only exist on the Steam Workshop or on Gamemaps.

- Do not upload copies or modified versions of this campaign on the Workshop or on Gamemaps without my explicit permission

Special Thanks
---------------------
- Stagger Lee for continuous advice and ideas
- Bellirish for playtesting
- Famous Dark for playtesting
- Jasminethecat for playtesting
- Alias for playtesting
- Nameless for playtesting
- Manders for playtesting
- Kyle the Walrus for coming up with the idea for survivor speech on map 4


Copyright 2022 Dr.Boo AKA Snow - This item is not authorized for posting on Steam or Gamemaps, except under the Steam account named Snow or Gamemaps account named Dr.Boo.j2 (this account)
Dynamic weather
Alternative paths
Snowy landcape
04/01/22
========

Full Version 1.0 loaded.  Let me know in the comments if you like it or have any issues!
Review

Excellent campaign, highly recommended. Creative ideas, good layout, great pacing and a lovely cinematic experience. Definitely a keeper for sure, awesome job on this one author. Just a small exploit I found on the finale, you can stand on the table in the little caravan, it has no navmesh so it's a godspot (see attached image.) No other issues found though. My nitpick is I'm not a fan of the colour correction but I understand what you were going for, the "cold" feeling with the washed out colours, have enough of that from playing Skyrim heheh.
File Details
View Changelog
Version 1.0 Complete