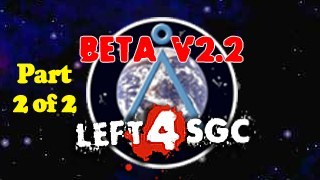 Left 4 SGC Beta v2.2 (Part 2 of 2)
You are downloading as a guest.
The extended gallery contains images from all community members.
Part 1 NEEDED TOO.
Make sure "PART 1 of 2" and "PART 2 of 2" are together inside ADDONS folder to be abble play this ok.

--------------------
English description:


--------------------
If you like this campaign, support me on Patreon (JonatanFoto), i will be honored, and i would spend more time developing custom games for my Patrons!!

I've been working on this campaign for 7 years. Unfortunately not all the time. Anyway, i hope you like this second version of the OFFICIAL campaign LEFT 4 SGC.

The campaign story says:
"After THE SACRIFICE of Bil... Zoey, Louis and Francis sailed to make new life on a beatiful island. 

But the infection reached there too. After this events, they found an strange and special defibrillator with an strange logo (SGC) and mysterious powers on it. It can revive and restore dead bodies without distinction of the time were dead. And they decided try using it with Bill's corpse. Now, the team is already full again.

Days later; after reach to a secured and abandoned house; they discover one new mission thanks to an annoying guy on a radio. Scape out the infection in another planet using STARGATE named misterious object.

Who will trust this unknown guy?"


--------------------
Spanish description:
--------------------
Si te gusta esta campaña, apóyame en Patreon (JonatanFoto), me sentiré muy honrado, y podré dedicar mi tiempo a trabajar en juegos personalizados para mis Patrons.

He estado trabajando en esta campaña por 7 años. Desgraciadamente, no todo el tiempo. Aún asi, espero que os guste esta segunda versión de la campaña OFICIAL de LEFT 4 SGC.

La historia de LEFT 4 SGC es la misma que en la BETA 1.0 y dice así:
"Tras EL SACRIFICIO de Bill... Zoey, Louis y Francis navegaron hacia una nueva vida en una bonita isla.

Pero la infección llegó allí también. Tras estos eventos, encontraron un extraño y muy especial desfibrilador con un extraño logo (SGC) y un misterioso poder sobre ello. Podía revivir cualquier cuerpo caído sin distinciones en cuanto al tiempo que llevaran muertos. Así que decidieron regresar y usarlo sobre el cadaver de Bill. Vuelven a ser un equipo completo ahora.

Días más tarde, tras encontrar una fortificada casa abandonada, se encontraron de bruces con una nueva misión gracias a un molesto sujeto en la radio. Escapar de la infección marchándose a otro planeta usando un misterioso objeto llamado STARGATE.

¿Quien creería al desconocido sujeto de la radio?"
05/23/19
========
Fixed some NAV points of blocked infected areas with obscured spawn zone.

05/06/19
========

Review

*COPIED FROM PART 1 Nearly a perfect campaign. The only problems where optimization issues on chapter 3 and 4. Chapter 3's weren't that bad as the ping returned to normal soon after you leave the starting building. Chapter 4's however was a constant 140 ping (as host!), which, unless you're the host will offer completely unplayable gameplay. Also i think one of the bots spawned outside the saferoom on chapter 4, and it took a while for them to teleport to me, but nothing major, they just couldn't gear up before the adventure began. Other changes I'd recommend are less jumpscares, although funny are somewhat pointless, ahhh you can keep them if you want! And make the finale less generic, because as it currently stands it's pretty bland and could use a revamp. The rest of the campaign though was a lot of fun, and I appreciate the changes/additions since the last version. Plenty of supplies and unique scenarios to go through, worth a go!
File Details
left4sgc_v2_2-2of...
(328.9 MB)
View Changelog
Version 2.2 Beta