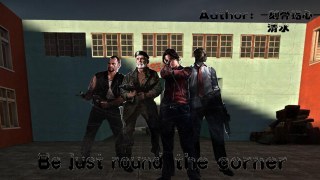 Be just round the corner(指日可待)
You are downloading as a guest.
The extended gallery contains images from all community members.
Survivors came to a small town where they heard that the army had recently set up a rescue site on the river bank, which was both an infected area and a good evacuation point, but some said it had been overrun by zombies a few days earlier. The four people decided to try their luck, all the way to the river bank, but it was too late. The army has withdrawn to the other side also blew up the bridge. Just at the time of desperation they found a radio on the bridge, so they tried

 to call and successfully got contacted with the army on the other side and received instructions to wait for rescue. After a bitter battles, Survivors managed to reach a rescue helicopter and were escorted across the river to a makeshift military base.

What the authors want to say:
-刻骨铭心- :From October of '18 to August of' 19, everytime I look back at this map, I fell  greatly excitement. The first three chapters are adapted from my hometown, which makes me both familiar and unfamiliar. Four and five chapters were completed in just two days with the enthusiastic person's help. Nothing but excitement. This is my first map also the last map. I may not continue to create maps, but if there is, it will definitely be "be just round the corner 2".
Thanks for shimizu to help to complete this map. Thank you very much.

清水(Shimizu): Since I started to play L4D2, it has been ten years. And then, I finally created a map by cooperation. On the beginning, I just wanted to help him solve the BUGs, but then I finished it spontaneously. It is the first time to make a finished map. If you have any questions, you are welcome to put them forward. Thanks for the trust of the first author.
10/12/19
========

Fixed some bugs on map 3.
Changed some things on map 4.
Fixed a bug in the credits.

Thank you. Finished in 2hr, 36min & 6 Restarts on Expert Single Player Mode.

I do appreciate your work regardless of bugs we encounter, but you add more fun to Left 4 Dead experience. My first question is why are you using L4D1 characters on your campaign cover while we are using the L4D2 characters? I am going to leave a short comment on each chapter.
------------------------------------------------
Ch1:  I restarted it 5 times as it was the hardest, especially for the last panic event of running to safe room, which I do hate in this game. The brightness was not good. Maybe because it should reflect the dusk time or something like that and also the spawning of special infected was so annoying and faster than usual. Bots got a navigation issue right before entering the safe room as we all were alive, but one bot fell while the other bot was hit multiple times until it moved and entered the safe room. So bots didn't follow me properly as something was blocking them although we were moving together.
-----------------------------------------------------------------
Ch2: was completed from the first time and it was decent and full of supplies. I encountered some bot navigation issues that can be spotted when I jump down to the sewers from the first manhole, not the second. Bots won't get on both sides or over the white platform on both sides as they will stop following me if I am walking on it till I move to the middle and walk. Another navigation issue is there when you take the left route with the alarm car and two tanks waiting by the field of corn and it's when we climb that ladder bots won't move with you around the house to the ladders. Instead, they will take the shortest way and they will also get stuck down there and won't follow which made me use cheats to kill the only bot left with me to finish that chapter.
-------------------------------------------------------------------
Ch3: was decent and was done from first time too, but still got one navigation issue of bots after we get out of manhole where we find the horse statue, just like "Kurochama" said, as bots won't follow until you are on the roof there about to move down, then a bot after another will join. We can take a short route jumping on that small van to move to the other side.
-------------------------------------------------------------------
Ch4: was done from first time with 0 restarts. It was all about moving to the other side in front of the safe room we entered on the previous chapter, which I loved about moving into the same place, but around the corner :) The only issue was zombies issue that also happened on the previous chapter (ch3) as we may move forward, then backward to find new zombies spawned which is so annoying. It also happened on chapter 2 too while fighting tanks and moving backward to find not less than 20 zombies waiting blocking our way. Another issue found on both, Ch4 and Ch2, which is we could get through something like a fence or a wall. On chapter 2, we could get through the cement block we find after we move out of the safe room. 2 special infected managed to get to us from below or from a wall as we couldn't see that coming as they got through a wall or a floor to us. On Ch4, after entering the underground area, taking the first stairs up to see those underground metros, I could see the tank waiting for us from behind the metro while it couldn't see us and I realized that there is a metro when I approached that area. In the same spot, you can move through the fence you can find up the stairs down. By the end of this chapter, one like me didn't find any hint or guide for how to finish it as I thought it was a dead end as nothing could be found like a button or something until I gave a close look to that green key on the right. So that key needs to be glowing to be clear for other survivors trying this map. The other key is in the opposite position to the right key so it's on the left and it will take you to another finale which is really cool. If one presses one of buttons, the other button will not work. So make up your mind before taking that step. 
----------------------------------------------------------------------------------------------------
Ch5 / Finale was restarted once only and it was easy for me playing with bots. The bridge finale is one of the worst finales ever playing in a tight corner with no place to go and when you believe you can stay in a higher ground or a safe spot, zombies will stop coming and there will be no finale or rescue to come so I had to suicide to restart that chapter and stay in another spot to keep the finale going till the rescue came. 
----------------------------------------------------------------------------------------------------
Yes, I totally get you borrowed places and spots from other official maps like the underground place from "No Mercy", The elevator and gas can finale from "Dead Center" and the bridge finale from "The Parish" adding some editing to each one of them, but these bugs, especially on finale to be like that made the rating move down to 3 stars after it was 4. I can't believe I passed that finale alone while a tank and 2 smokers were waiting. I was somehow lucky to do it. You will see how I made it by watching my video through the link below ;)
-----------------------------------------------------------------------------------------------------
Here is the link to my YouTube list of videos I recorded playing this campaign on Expert Single Player Mode taking all optional routes: the tunnel, the left route, the right safe room to gas can finale and the left safe room to the bridge finale. Just copy the URL and remove (/) from the it, then press Enter so that it works:
h/t/t/ps://w/w/w.youtube.c/o/m/playlist?list=PLOFtKLS6rEvmRz8IcTlS_3KuHwxJEa_b0
File Details
BeJustRoundTheCor...
(40.3 MB)
View Changelog
Version 1.7 Complete