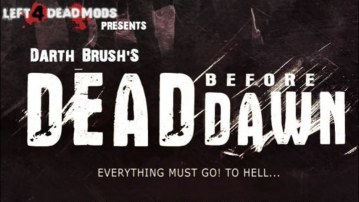 Dead Before Dawn (Uncut)
You are downloading as a guest.
The extended gallery contains images from all community members.
"BrInG mE a BeEr, h'I nEeD a BeEeEeR, mY FaVoRiTe BrAnD iS mUdWiSeR" (c) Hank Kowalski

This is a very first version of this campaign ever released before even Left 4 Dead 2 came out.
It has cut from further versions tasks, randomizations, voicelines, overall maps layout differs.
Now it's fully playable, with No More Room In Hell atmosphere & custom weapons by Rectus.
Few things were changed for a bit more convenience and some of the Input/Output stuff fixed.
Finale map is from L4D1 version but is slightly redesinged to fit the flow of the previous level.


There are not many items for now, and they all static spawns for the most part, use them wisely.


However I don't guarantee that this will work with tons of heavy mods, so keep that in mind.

The "Extended" mash-up is gone, becasue it had outdated vscripts and could affect this version.
The "Too" version also has outdated vscripts, so don't complain here, choose either this or that.
The official DC version and this Uncut version shares the same up-to-date balanced vscripts.

Work still in progress.
09/24/22
========

Overall:
- Told director to not touch weapon spawns
- Few more navigation improvements

Review

You know the saying "some things are better left on the cutting room floor"? I think it applies very well to this campaign. I can say that I personally enjoyed DBD Too, DC and Extended a lot more than this version. It feels like everything in this particular version just exists to annoy the player, the forced infected spawns, the random incaps on chapter 1, the god-awful "don't let 50 zombies in" panic event on chapter 3 is back, and even worse than the DC version (or was it Too?); you have to start the chapter all over again if you fail. This version also I must say feels a lot less traditional than your typical L4D campaign, there's a lot more tasks for you to do, which; once you do once, you'll basically be able to speedrun all of them.
Playing with bots is an absolute nightmare and highly not recommended (the panic event to bring the cooler up is super slow on chapter 3 with 1 person,) you absolutely need human players for this campaign if you want to have any fun. Speaking of the 50 zombies panic event, you have to holdout for about over a minute I believe, and yeah, it's very tough, because even the zombies that spawn inside the mall; I'm pretty sure they can also enter the trigger to add to the counter if they simply run through the door.

Hank is made extremely annoying in this campaign (even though I'm sure that was the intention, and well, he already kinda was heh.) 
With all that being said though, it is interesting to see what could of been, although I think the re-works are far better than this version for sure, and a lot more user-friendly, I think the events on this campaign require a lot more team co-ordination, especially on higher difficulties. Oh and one little issue, the truck model on the finale is missing. So yeah, in conclusion, avoid playing with bots, and play if you have a competent team that isn't afraid to face a bit of trail and error.

Edited: 11 days ago

This review was posted before the latest release.
File Details
dbdbetafixed.zip
(1004.1 MB)
View Changelog
Version 1.16 Beta