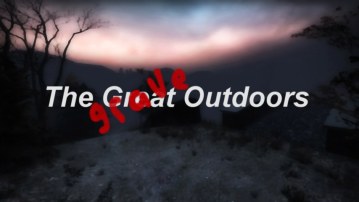 The Grave Outdoors
You are downloading as a guest.
The extended gallery contains images from all community members.
Originally made by Megadude for L4D1 only, later ported by Herbius in L4D2 with different name Dead Military "2", despite there's no "1" exist. Megadude made it pain in the a** to port (becasue he hates L4D2 for some reason), He placed bunch of L4D2 props like swamp trees, baggage cases, army helicopter (only in finale) and screaming oak's roller coaster blocking the way, triggers locking the saferoom door (all of which only affects L4D2 once again), constant horde

 spawn outputs in explosive/breakable objects, and even original textures that used in L4D2 was altered in this campaign to serve other purpose (like train station/bessie sign and parking lot textures on last map).

All path-blocking props and saferoom door-locking triggers were removed by Herbius, but he left all panic outputs in objects and removed "info_map_parameters" entity which director uses to spawn only few items and not all at once. Also he forgot to fix navigation files hence why in his port zombies spawn with delay and mostly not reacting on you.

Now every harmful for L4D2 texture is defused, nav's fixed and all of skipped by Herbius panic outputs along with climbing stuff to get on top of tunnel/cliff he put in finale are gone. Restored "info_map_parameters", added M60/GL/Chainsaw spawns and more various spots for Upgrade Packs (explosive/incendiary ammo and laser sights).

However few things were changed from original version such as Crescendo events since L4D2 doesn't have "PanicEventControlled" output I had to use "logic_timer" entity with "ForcePanicEvent" refire each 15 seconds. on 5th map (The Source aka Outside) metal detector is now unskippable (gauntlet) panic event instead of end saferoom's houldout (like in Death Toll), and Finale's 2nd tank-fight now has 2 tanks (becasue 1 is too ez pz).
04/27/21
========

Replaced few bilebombs on pipebombs, becasue balance.
Fixed exploit (or author's oversight?) when you could lower
bridge by closing safehouse door (yeah, weird output).

Same as Dead Military 2

this is the same map as Dead Military 2  the only thing is Dead Military 2  actually works and I did not have to disable all the other maps on my server to the map to work.  it took me 30 min to figure out that it was conflicting with Dead Military 2  and crashing my server.

This review was posted before the latest release.
File Details
graveoutdoors.zip
(332.2 MB)
View Changelog
Version 3.8 Final