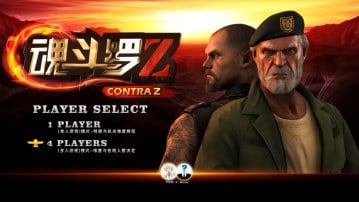 ContraZ v0.5
You are downloading as a guest.
The extended gallery contains images from all community members.
 ContraZ V0.5 



This is a campaign that imitates and pays tribute to Contra.
The campaign has only five levels,more levels are still in development.

Level completed: 5 / 8
===================================

 

 Mod Features: 

 



 Difficulty balance mechanism: 


 The health and damage of all machines change with difficulty and the number of players.



 Player's view in the level 1: 


 The button on the side of the level 1 safe room can switch the player's view to the first person.



 Character's skills: 


Bill: as a Sharpshooter. All equipped weapons add Laser-sight , Sniper gun + 70% damage.
Francis:as a Commando. submachine gun, rifle and machine gun + 50% damage.
Louis:as a Grenadier. Get a random type of grenade every 40 seconds , And grenade has special effects.
Zoey:as a Medic. Get a random type of medical suppliese and add 15 temporary health every 60 seconds.



 Single-player mode: 


 one player and no survivor bot.special zombies and machines have been weakened.



 Mutation: True-Contra Mode : 


In this game mode you will have infinite ammo,faster rescuing and healing speed,and no friendly fire,but any enemies can knock you down with just ONE hit.

if your (Server) crashes in the side-view mode of first level , Please create a txt file called "c3d_fdsj.txt" in " (Game Main Folder )/left4dead2/ems/" on server-side and write number " 1 " , that will force to disable the side-view mode , or write number " 2 " , that will disable somersault jump animation .
the level 5 is released.

02/26/22
========

v041

File Details
View Changelog
Version 0.5 Beta