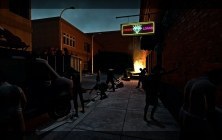 City Center
You are downloading as a guest.
The extended gallery contains images from all community members.
City Center is an urban/close-quarters campaign designed to offer difficult survivor play. Built with Versus in mind, City Center features claustrophobic combat and dynamic item spawns intended to mitigate survivor advantage. 
Updated October 27, details in changelog.
Add-on support required. 
Playable, but map 2 and 3 has extreme difficulty even in Normal mode

This campaign works till the end. However, there are endless panic events on map 1 & map 2 that other players might find them difficult. There are many bile bombs, & there are some ceda zombies too, so the bile bombs can be used for distraction. Unfortunately this campaign lacks good weapons on map 1 & map 2. The directions & highlights are clear.
.
What makes it difficult is the more frequent special infected respawn interval. That happens on map 2 & map 3. The hardest part on map 2 is when survivors are in watery maze with endless horde & faster special infected respawn time. & for map 3 the mini finale with the objective to press switches to open the gate can be difficult. There are many explosive barrels around & there are some forklifts that can fly when a tank smashes them. It's safer to destroy all explosive barrels first before starting the mini finale so that it will be less risky when shooting while running. Then prepare to fight with tank several times (like 3 times). But that mini finale is not the end. After that, survivors have to cross small bridges with chargers & smokers as the most frequent special infected spawned. I died once because a charger took me down to the pit when I was crossing the small bridge.
.
Unfortunately, this campaign isn't ended well. Survivors enter saferoom, the transition screen appears, & then the screen is frozen & players just stand & can't look around. This happens because there's no next map when the script triggers the "changelevel". & it's kind of impossible to wait for the release of the last map, because the author has been long inactive.
.
So, in short, if you just want to feel the challenges on map 2 & 3, you can try to play this campaign. It's not recommended to play in Expert difficulty, because map 2 & 3 are really difficult in Expert. But if you love challenges in Expert, go ahead & try it.
File Details
View Changelog
Version 5.0 Beta