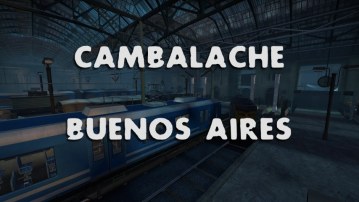 Cambalache - Buenos Aires
You are downloading as a guest.
The extended gallery contains images from all community members.
Steam Workshop ready!

(English description at bottom)

Noviembre, fines de la primavera. La gripe verde ha llegado a Buenos Aires. Los supervivientes deberán escapar de la ciudad de la furia utilizando cualquier

 medio posible...

Esta campaña está basada en distintas partes del área metropolitana de Buenos Aires, desde zona sur, hasta la Capital Federal. Es una recreación lo más fiel posible pero sujeta a modificaciones por cuestiones de gameplay y optimización.

ARGENTINOS LEER:

-Obelisco: es un camino alternativo, no lo van a ver en todas las partidas.
 "che no se puede caminar por el Obelisco?" - NO. Como tenemos la más ancha del mundo (la avenida, mal pensados) me es imposible mapear toda la 9 de Julio sin sacrificar el rendimiento del juego e incluso ni me entra en el espacio del editor (Hammer) así que nada, hice lo que pude

-"Nah, el final tenía que ser en la Casa Rosada y te escapás en helicóptero como el presidente" ... Gente, no tengo acceso a la casa de gobierno así que no puedo mapearla, además de que tiene detalles por todos lados, un laburo insano para hacerlo gratis. Y encima si lo hago por ahí rompo alguna regla constitucional y me nismean o algo, así que no hay final en la Rosada, fue mi primer idea, sepanlo.

-"Che y las villas? Yo quería matar zombies villeros" ... No, nada más que decir. NO.

Contenido de la campaña:

Estos mapas estan llenos de cosas bien argentas, desde música hasta armas tales como un tramontina bien afiladito (no, los de cocina que tenemos todos son muy chiquitos, este es de los grandes para pelear mano a mano con un gaucho). Y tuve la suerte de que un amigo nos hiciera zombies argentos! Así que disfruten ese toque hermoso.

-------------

ENG: November, late spring. The green flu has arrived in Buenos Aires. The survivors must escape the city of fury using any means possible ...

This campaign is based on different parts of the metropolitan area of ​​Buenos Aires, from the south to the Federal Capital. It is a recreation as faithful as possible but subject to modifications for reasons of gameplay and optimization.

Campaign content:
These maps are full of very Argentinian things, from music to weapons such as a very sharp Tramontina (well known knife brand). And I was lucky that a friend made us silver zombies! So enjoy that beautiful touch.

SPECIAL THANKS to my testers who played the maps several times trying to find every possible bug or making suggestions. I have to say that Kevkas, Sergi and Skessler helped me a lot

Sergi and Skessler made the custom deadbodies and skins for this campaign
06/20/23
========

-Fixed anoying sounds looping on the entire map (chapter 3)
-Updated collision model for saferoom van
-Removed some unused textures and updated some others

Good campaign about town reference for collection

Got the time to update the review based on the new update. I finished this campaign in about 1 hour & 30 minutes as I usually explored the areas for awhile. So far, It's enjoyable, with some finding keys features that actually are not that hard, as long as players search the keys carefully. Some areas have random path generators, so the routes can change sometimes. The supplies are somehow enough. Bot navigation is good in overalls, but I'll point some locations that bots might have problems later. & It's kind of great to see a campaign based on a reference of certain town as I also want to collect this kind of campaign. In the old times, there were Yama, Warcelona & some Chinese towns, & now Buenos Aires. There are also some custom skins for common zombies. There are also some custom melee weapons, but I always carried the custom kitchen knife during my play twice as I always preferred sharp melee weapons.
.
I think I'll also give some some pros & cons about this campaign in several points, to make it easier to read in case if the detailed review per map below is too long to read.
PROS:
(+) Reference about the town Buenos Aires
(+) Custom melee weapons are added
(+) There are custom zombie skins like soccer fans & some policemen.
(+) Randomized paths on some areas, so each play may give different experiences of exploration.
(+) Supplies are enough, but many of them are scattered so players need to explore to look for supplies.
(+) Bot navigation is good in overalls (few bugs will be explained in Cons section).
(+) Key-finding objectives on some maps. The difficulty is normal & not complicated so normal player should be able to solve them.
(+) The highlights on objects are clear.
(+) Relaxing Spanish song at certain areas.
(+) There are various events packed in one campaign, like alarmed ambulance car, holdout, scavenge & escape events. The scavenge event also adapts to game mode so if played in Singleplayer, the amount of gascans is reduced.
(+) Some mysteries/ easter eggs. I don't know how many, but there's one I found near the first house of map 1. It's a box with a password. But I still can't figure out the password. Probably it lies somewhere on that map.
CONS:
(-) About bot navigation bugs, there are some bugs. The first one is on map 2 in the beginning. If a player jumps above the cars & climb the bus/ truck & then walks on it, bots can't follow the player, but they have good navigation when walking on the ground. The second bug is on map 2 during climbing down to the sewer. There's a quite high chance that one bot is too confused to climb down & stay on the surface for long time until he finally climbs down or gets teleported back to the team. The 3rd navigation bug is on the finale, near the tower where smoker usually climbs & hangs a survivor with his tongue from there. There's a car nearby to take cover, but when a survivor gets hanged by a smoker near the car, bots seem confused & can't shove the tongue until the survivor is incapacitated or dead as if the car bugs their navigation..
(-) Some events lack cutscenes. For example, map 3 when the train is crashed & derailed, it would be better to have a 3rd view cutscene about how the train finally crashes & gets derailed instead of just putting fade-to-black screen. Also on map 3, after finishing the scavenge, it would be cooler to have a cutscene about the car speeding up through some zombies (like the official "Dead Center" finale, but you could make it in Buenos Aires version) & barricade before entering the transition screen, because when arriving on the finale, suddenly survivors just stand somewhere. Then at the end of the finale during rescue cutscene, it would be cooler if the camera can view in bird view & show the surrounding areas from above, or just show the scenery of Buenos Aires.during the departure of the boat.
(-) Certain events probably lack hints. On map 2 about the alarmed ambulance car, players who play for the first time might get confused about what to do for few minutes during endless panic events of the alarm. On map 3 during holdout event about waiting until the operator (church guy) opens the control room with elevator switch, there's no hint whether players have to defend or do something about the highlighted objects (though just waiting until the highlighted objects turn off by themselves is also fine, as the Spanish song is kind of relaxing). Probably it would be helpful to give some hints like "Alternatively, shoot the speakers to stop the song early".
(-) Some areas lack special infected. Probably it's intended/ on purpose, like on map 3 during hold out event to wait until the operator opens the door to access the elevator switch, there are only common zombies & very few special infected. Then map 3 after going up with elevator, there's no special infected coming at least until the train crashes.
.
Well, for the review per map, let's start from map 1. Map 1 starts in a house with some supplies. The primary weapons are scattered somewhere so survivors need to explore for awhile. There's an objective in the beginning of map 1, to find a key. The location is somehow randomized as I found the key at 2 different location on 2 play tests. Map 1 is still a kind of warming up as survivors only need to move forward & look for the paths that are also randomized at certain location, but they go to the same direction.
.
The challenge starts from map 2. After walking through streets for awhile, there's a special key-finding event. It looks like this event needs something like pop-up hint/ objective, because on my first play, I had no idea about what to do for few minutes during panic events, as the ambulance's door was kind of locked. The objective is actually simple. After that, survivors only need to follow the paths to the sewer. The paths at the sewer are randomized so sometimes the route changes.
.
Map 3 has several challenges. One of them is the event about the church guy, but that one probably also needs some hints. On my 1st play, I saw some glowing objects with red glow on on high places, & at first time I thought I had to use elevaor or stairs to go there, but both stairs & elevator were blocked. So I kept walking around while fighting horde till suddenly the glowing objects disappeared on their own, & the church guy opened the door. On 2nd play, I decided to shoot the glowing objects, & somehow the glows turned off one by one & the church guy opened the door faster than the 1st play. The next one is when the train is derailed. It seems that the bot navigation when entering the train has been fixed (in previous version, one or some still stay outside the train until players push them in). Btw, I still have no idea how the train gets derailed as the screen goes to black for few seconds when that happens. Actually I expected something like 3rd person view of the cutscene to see how the train was derailed. Sometimes tank challenges the survivors after the trains are derailed. I got the challenge on my 1st play, but no challenge on 2nd play. The real challenge happens during scavenge event. In the new update, in Singleplayer, the amount of gas cans is reduced so it's kind of helpful & the difficulty is balanced with the reduced amount of gascans for Singleplayer. For Multiplayer/ Coop, the amount of gascans is still like the original. The horde & special infected here are quite aggressive so players need to figure out the safest route to deliver the gascans..
.
Then, the finale is an escape finale, but with random generator on the first gate & road junctions leading to one way. There's an instant-death river on the left, so beware of chargers. The tank here is kind of tricky, & there's a chance that some troll players would take advantage by making the rushing players as tank's baits, because once a survivor reaches certain location, the path on the back will be blocked (players behind the blocked path can still climb up & proceed, but those in front of the blocked path will have no choice but to fight the tank. Probably it needs something to avoid trolling/ trapping teammates, like all survivors must enter/ pass the location in order to trigger the tank). & about the rescue boat, I think there's nothing wrong. I read a previous comment about survivors suddenly falling into water after cutscenes & then dying, but that didn't happen to my play 2 times. I only found one bot having difficulty in climbing the boat as he's stuck near the ladder (he was Louis).
.
So far, it's a good campaign. The puzzles are simple & way easier than puzzles in Resident Evil campaigns, so I think normal players can also solve them sooner or later. It would be cool if players can also choose the day (like daytime/ nighttime) by pressing something like a switch, or using the bed in the first house to trigger daytime (like choosing to sleep= daytime; while proceed without sleeping= nighttime), as I think the views would also look beautiful when playing on daytime. Well, I look forward to the next updates.

This review was posted before the latest release.

@JeySieGee: I haven't tested on pre-Last Stand yet, but I think it should work, because the melee weapons here are custom melee weapon made by the author, with some of original L4D2 melee weapons like crowbar, fireaxe etc. & many textures also custom textures by the author. based on the town Buenos Aires

This comment was posted before the latest release.

Do this work pre-last stand?

This comment was posted before the latest release.
File Details
cambalache_jun20.zip
(361.4 MB)
View Changelog
Version 6.2 Complete