Reviews for Cambalache - Buenos Aires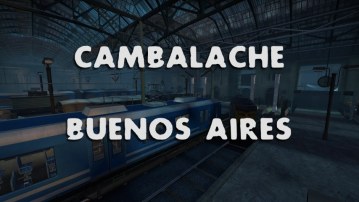 Map are perfect environment and detail

nothing complain in this map . it's very good and beauty . I am fascinated with Agentina's beautiful houses and gardens . when i'm taking down all infected but i dont want to leave and i just watching them for while before i complete the map.
However. the textures bug happen on custom burning zombie . when i shoot them with fire bullet it's turn to purple . im surely installed the missing textures path earlier and it work fine in other maps or custom map

This review was posted before the latest release.

Exciting Campaign from the beginning to the end!

What can I say, added more lights to map1 and map 2, the levels were exciting to play and enjoyed.  Lots of creativity and the environment was realistic.   I give this game a solid 10!

This review was posted before the latest release.

thanks <3 It was hard to balance between environment and player visibility but worth it xD

This comment was posted before the latest release.

This comment was posted before the latest release.

CINDER MAP

One of the best maps ever made.

The design of the steps is extremely excellent and there are no flaws in them.

The weapons added to this map are also of high quality.

And graphically, this map is one of the best.

And in stages 3 and 4, the graphics and creativity in creating the environment reaches its maximum and creates a very beautiful and amazing plan.


Of course, the idea of ​​eating coffee was also interesting and lovable, and it affected the gameplay mechanism.

And finally, it was interesting to re-use the character of the priest and meet him again.

Conclusion/

1_Environment design and map graphics.10

2_Creativity in using gameplay elements.10

3_Design of challenges and traps.10

4_Length of steps and their fun.10


The result is perfect.

This review was posted before the latest release.

Im so glad you enjoyed the map! Keep playing it, there are random paths to explore e.e

This comment was posted before the latest release.

Un mapa digno de Roku

Ahora que se corrigieron algunos errores, se puede hacer una valoración óptima de esta campaña:

Pros:
- La jugabilidad es muy buena incluso jugando sólo con bots
- Buen equilibrio entre armas y munición que se va encontrando a lo largo de los mapas
- Cosas diferentes por hacer, no sólo matar infectados sin más

Ahora vienen los contras pero en realidad son muy light:

Contras:
- En el evento de la ambulancia, los infectados especiales spawnean con demasiada frecuencia (quizá eso sea fallo del juego, no lo sé seguro)
- Los bots, muy ocasionalmente, se quedan atascados en algunos sitios por ejemplo cuando tienen que intentar pasar por dentro de la ambulancia. De todas formas, una vez que el jugador avanza ellos se teleportan fuera de la ambulancia asi que tampoco es un problema grave
- Aun siguen faltando indicadores de dirección en el mapa, no obstante una vez que se juega varias veces terminas por aprenderterlo

Sin más, mi nota es de 9,5. Se agradeceria que para los easter eggs y puzzles, hubiese alguna que otra pista más en el futuro pero por lo demás este es un mapa para jugarlo y disfrutarlo por mucho tiempo. ¡Grande Roku!

This review was posted before the latest release.

gracias NepPH! Ahora mismo estoy actualizando, intentando que la Capital sea mas ligera para el juego y arreglando pequeñas cosas. Creo que en la ambulancia puedo poner menos especiales con un comando.

This comment was posted before the latest release.

el mejor mapa que juge.

yo ya no juego left 4 dead, pero mi viejo es re fanatico y le encanto este mapa, te animas a hacer uno de SAN MARTIN? veia el mapa mientras jugaba y estaba buenísimo, quería regalarle una campaña de donde vivimos o laburaba pero para mi que no se nada es quilombo apenas pude hacer un cuarto con el programa, te hablo al privado y me decis cuanto me saldria masomenos?

This review was posted before the latest release.

This comment was posted before the latest release.

pasame tu steam que te agrego o el codigo de amigo, nose donde puedo ver tu perfil de steam

This comment was posted before the latest release.

si queres busca mi Discord que esta el link en mi perfil de Steam, no puedo linkear aca

This comment was posted before the latest release.

si, lleva tiempo hacer esto... y conozco Sanma pero dependeria de mi tiempo libre y de que area hacer

This comment was posted before the latest release.

Great design with a few minor bugs

El diseño del mapa y el nivel es muy agradable y se siente muy extraño. Disfruté de los mapas y la estética común infectada fue agradable. La dificultad general es fácil.

Insectos:
El tercer mapa NO tiene latas de gasolina, así que tuve que usar la consola.

This review was posted before the latest release.

No problem. I made the event clearer this time

This comment was posted before the latest release.

@kurochama @rodry_metal, sorry for the spanish I just used Google Translate for that. It is a bit confusing with the counter appearing, but the gascans are not highlighted. Upon rechecking, I forgot to get the Hazmat ID. Other than that, there are no bugs.

This comment was posted before the latest release.

on map 2 still the same I can't open the ambulance door and the key for me can't use it, because the progress of finding the key appears, how do I fix it

This comment was posted before the latest release.

yeah I think the problem is the CEDA ID, Im about to update the map, this time gascans will start glowing when the counter display appears. In worst case scenario player will see the gascans, go there, find out that the door is locked and then they will look for the key card

This comment was posted before the latest release.

Map 3 no gascan? What game mode did you play? I tested in Singleplayer & Coop, & the gascans were there. Or did you probably not know where the gascans were? If that's the case, you could try to take a walk back to where you climbed up. Or probably you didn't pick the hazmat keycard so the gascans didn't show the glow?

This comment was posted before the latest release.

oh yeah, thats a bug, gonna fix that... it was on normal coop or singleplayer mode?

This comment was posted before the latest release.

Good campaign about town reference for collection

Got the time to update the review based on the new update. I finished this campaign in about 1 hour & 30 minutes as I usually explored the areas for awhile. So far, It's enjoyable, with some finding keys features that actually are not that hard, as long as players search the keys carefully. Some areas have random path generators, so the routes can change sometimes. The supplies are somehow enough. Bot navigation is good in overalls, but I'll point some locations that bots might have problems later. & It's kind of great to see a campaign based on a reference of certain town as I also want to collect this kind of campaign. In the old times, there were Yama, Warcelona & some Chinese towns, & now Buenos Aires. There are also some custom skins for common zombies. There are also some custom melee weapons, but I always carried the custom kitchen knife during my play twice as I always preferred sharp melee weapons.
.
I think I'll also give some some pros & cons about this campaign in several points, to make it easier to read in case if the detailed review per map below is too long to read.
PROS:
(+) Reference about the town Buenos Aires
(+) Custom melee weapons are added
(+) There are custom zombie skins like soccer fans & some policemen.
(+) Randomized paths on some areas, so each play may give different experiences of exploration.
(+) Supplies are enough, but many of them are scattered so players need to explore to look for supplies.
(+) Bot navigation is good in overalls (few bugs will be explained in Cons section).
(+) Key-finding objectives on some maps. The difficulty is normal & not complicated so normal player should be able to solve them.
(+) The highlights on objects are clear.
(+) Relaxing Spanish song at certain areas.
(+) There are various events packed in one campaign, like alarmed ambulance car, holdout, scavenge & escape events. The scavenge event also adapts to game mode so if played in Singleplayer, the amount of gascans is reduced.
(+) Some mysteries/ easter eggs. I don't know how many, but there's one I found near the first house of map 1. It's a box with a password. But I still can't figure out the password. Probably it lies somewhere on that map.
CONS:
(-) About bot navigation bugs, there are some bugs. The first one is on map 2 in the beginning. If a player jumps above the cars & climb the bus/ truck & then walks on it, bots can't follow the player, but they have good navigation when walking on the ground. The second bug is on map 2 during climbing down to the sewer. There's a quite high chance that one bot is too confused to climb down & stay on the surface for long time until he finally climbs down or gets teleported back to the team. The 3rd navigation bug is on the finale, near the tower where smoker usually climbs & hangs a survivor with his tongue from there. There's a car nearby to take cover, but when a survivor gets hanged by a smoker near the car, bots seem confused & can't shove the tongue until the survivor is incapacitated or dead as if the car bugs their navigation..
(-) Some events lack cutscenes. For example, map 3 when the train is crashed & derailed, it would be better to have a 3rd view cutscene about how the train finally crashes & gets derailed instead of just putting fade-to-black screen. Also on map 3, after finishing the scavenge, it would be cooler to have a cutscene about the car speeding up through some zombies (like the official "Dead Center" finale, but you could make it in Buenos Aires version) & barricade before entering the transition screen, because when arriving on the finale, suddenly survivors just stand somewhere. Then at the end of the finale during rescue cutscene, it would be cooler if the camera can view in bird view & show the surrounding areas from above, or just show the scenery of Buenos Aires.during the departure of the boat.
(-) Certain events probably lack hints. On map 2 about the alarmed ambulance car, players who play for the first time might get confused about what to do for few minutes during endless panic events of the alarm. On map 3 during holdout event about waiting until the operator (church guy) opens the control room with elevator switch, there's no hint whether players have to defend or do something about the highlighted objects (though just waiting until the highlighted objects turn off by themselves is also fine, as the Spanish song is kind of relaxing). Probably it would be helpful to give some hints like "Alternatively, shoot the speakers to stop the song early".
(-) Some areas lack special infected. Probably it's intended/ on purpose, like on map 3 during hold out event to wait until the operator opens the door to access the elevator switch, there are only common zombies & very few special infected. Then map 3 after going up with elevator, there's no special infected coming at least until the train crashes.
.
Well, for the review per map, let's start from map 1. Map 1 starts in a house with some supplies. The primary weapons are scattered somewhere so survivors need to explore for awhile. There's an objective in the beginning of map 1, to find a key. The location is somehow randomized as I found the key at 2 different location on 2 play tests. Map 1 is still a kind of warming up as survivors only need to move forward & look for the paths that are also randomized at certain location, but they go to the same direction.
.
The challenge starts from map 2. After walking through streets for awhile, there's a special key-finding event. It looks like this event needs something like pop-up hint/ objective, because on my first play, I had no idea about what to do for few minutes during panic events, as the ambulance's door was kind of locked. The objective is actually simple. After that, survivors only need to follow the paths to the sewer. The paths at the sewer are randomized so sometimes the route changes.
.
Map 3 has several challenges. One of them is the event about the church guy, but that one probably also needs some hints. On my 1st play, I saw some glowing objects with red glow on on high places, & at first time I thought I had to use elevaor or stairs to go there, but both stairs & elevator were blocked. So I kept walking around while fighting horde till suddenly the glowing objects disappeared on their own, & the church guy opened the door. On 2nd play, I decided to shoot the glowing objects, & somehow the glows turned off one by one & the church guy opened the door faster than the 1st play. The next one is when the train is derailed. It seems that the bot navigation when entering the train has been fixed (in previous version, one or some still stay outside the train until players push them in). Btw, I still have no idea how the train gets derailed as the screen goes to black for few seconds when that happens. Actually I expected something like 3rd person view of the cutscene to see how the train was derailed. Sometimes tank challenges the survivors after the trains are derailed. I got the challenge on my 1st play, but no challenge on 2nd play. The real challenge happens during scavenge event. In the new update, in Singleplayer, the amount of gas cans is reduced so it's kind of helpful & the difficulty is balanced with the reduced amount of gascans for Singleplayer. For Multiplayer/ Coop, the amount of gascans is still like the original. The horde & special infected here are quite aggressive so players need to figure out the safest route to deliver the gascans..
.
Then, the finale is an escape finale, but with random generator on the first gate & road junctions leading to one way. There's an instant-death river on the left, so beware of chargers. The tank here is kind of tricky, & there's a chance that some troll players would take advantage by making the rushing players as tank's baits, because once a survivor reaches certain location, the path on the back will be blocked (players behind the blocked path can still climb up & proceed, but those in front of the blocked path will have no choice but to fight the tank. Probably it needs something to avoid trolling/ trapping teammates, like all survivors must enter/ pass the location in order to trigger the tank). & about the rescue boat, I think there's nothing wrong. I read a previous comment about survivors suddenly falling into water after cutscenes & then dying, but that didn't happen to my play 2 times. I only found one bot having difficulty in climbing the boat as he's stuck near the ladder (he was Louis).
.
So far, it's a good campaign. The puzzles are simple & way easier than puzzles in Resident Evil campaigns, so I think normal players can also solve them sooner or later. It would be cool if players can also choose the day (like daytime/ nighttime) by pressing something like a switch, or using the bed in the first house to trigger daytime (like choosing to sleep= daytime; while proceed without sleeping= nighttime), as I think the views would also look beautiful when playing on daytime. Well, I look forward to the next updates.

This review was posted before the latest release.

@JeySieGee: I haven't tested on pre-Last Stand yet, but I think it should work, because the melee weapons here are custom melee weapon made by the author, with some of original L4D2 melee weapons like crowbar, fireaxe etc. & many textures also custom textures by the author. based on the town Buenos Aires

This comment was posted before the latest release.

Do this work pre-last stand?

This comment was posted before the latest release.

Beautiful and unique map

From a mapper to another, this is one of the best maps I have played in a long time! Really a fun and unique experience. Sometimes it felt like I was revisiting Warcelona again. Fun puzzles that are not unfair and fits both new and old more experienced players. I was glad to see some of the props used from Resident Evil also! I liked the thunder/lightning effects in map 1, they added a nice spooky vibe to the map. In map 1 I noted a small error near the beginning. There is a white van that sits next to a house which takes you to an area players should not be able to go. You can see nodraw on buildings and where the world geometry ends. The van is probably meant to block the player from going in there, but it has it's collision set to [Non solid]. Just a small fix :) I also reported it on the steam bugs and error page.

I also want to mention the beautiful shadow work you had in the sewers as well. I personally love to work with shadows myself, and the shadow of the zombie leaning towards the fence looked really dope! Nice work on that.

I for one, did not think map 3 was boring at all. The designs are very well made and you can see love has been put into the architecture. Not just plain 90 degree angles etc. The color corrections adds a lot to an already nice atmosphere as well! And the fact that all saferooms are vehicles, makes you feel like you are traveling around. This is something most mappers don't do. 

My favorite map was the finale, I love a gauntlet and running through that beautiful vegetation was a pleasant experience. Well made designs and the world look realistic. I give you a full 5 star for this campaign. Had a blast and will def play it again sometime soon :)

PROS:
- Beautiful and advanced designs
- Decent overall length on the campaign
- Good transitions between maps
- Amazing atmospheres

CONS:
- I don't understand spanish (Not your fault :D)
- Some minor nav problems with the bots here and there
- The campaign is not infinite

This review was posted before the latest release.

lol, thanks for this review <3 Im slowly fixing bugs (like the van, this one is already fixed and will be updated tonight)

This comment was posted before the latest release.

Very Fun and Very Well Designed

Pros:
Cutscenes
Custom Healing Tea
Well Designed Locations
Fetch Quests here and there
Custom Weapon - Skateboard (and maybe some other thing. Can't remember)
I really liked that the tank crashed the train and that you had to climb out from all the rubble
.
Cons:
Well, I guess as others have pointed out there could be more lighting in earlier maps
If possible it'd be nice to make the gas cans 1 item as opposed to 4. After fighting three tanks the scavenge thing (although short) felt annoying as hell (with bots)
.
Summary: Great Map. Interesting locale, love the little quests.

This review was posted before the latest release.

Yeah. I agree with Kurochama.

This comment was posted before the latest release.

Yeah I kind of agree about the gascans. the 4 gascans with far enough location might be too many for Singleplayer. I tested twice & even after keeping juggling the gascans by throwing-picking other gascan-throwing-etc, I got much struggle against the horde & special infected that keep coming. But 1 gascan is too few & might make the scavenge event too easy. Probably in my opinion, 2 gascans are still playable in Singleplayer, as player can use "juggling" technique I mentioned above, & the difficulty with 2 gascans is still balanced - not too easy but not too hard.

This comment was posted before the latest release.

and even on singleplayer I could lower the gascans to 1, only for singleplayer, what you think?

This comment was posted before the latest release.

thanks for the review! <3 ... In map 3 I just want 2 tanks, the one infected with the music event and... case A: the scavenge area ... Case B: the second train terminal. I dont know if you played more times, you can get two different areas after the metro. But resuming, I need to tweak that, max tanks must be 2

This comment was posted before the latest release.

finale?

we finally got to the boat at the finale but when the cutscene started, we fell into the boat and died. is this a bug?

This review was posted before the latest release.

i tried it the second time and it worked we didn't fell off the boat, that one time was totally weird idk why it did that, anyways i would like to appreciate this campaign, it was fun nonetheless

This comment was posted before the latest release.

will try again if it happens in finale soon

This comment was posted before the latest release.

thats really odd, none of my testers reported that... have you tried again? like, to see if happens consistently

This comment was posted before the latest release.

Fun with the variety

It's good to see you're hard at work on making more puzzle maps.

Good

Various locations on each map, never been to Buenos Aires myself.

Difficulty wasn't too easy or hard

Balanced supplies

Puzzle solving

Music fit the atmosphere

Custom skins 

Bad

Bot nav & pathing was a bit wonky in some places, they'd get stuck or not move at all until I shoved them etc.

Keep up the good work. Also did you decide on working on Resident Evil 4 or another Resident Evil themed campaign like Survivor?

This review was posted before the latest release.

Thanks for replying Roku, I'm thinking my issue might be the bots mods I'm using, which can make the bots do weird things on custom maps. 

I understand about not working on another RE map, you mentioned before that finding the time to work on it was a problem as you're busy with stuff like work etc, understandable. I've been  looking into working on custom maps but I also need to find time to make it.

This comment was posted before the latest release.

Thanks LilG <3 .. Bots are odd, some people including myself never got a problem with bots, and some others say that they get stuck on different spots, Im checking that. About RE, I dont think on another campaign, Cambalache is probably my last work

This comment was posted before the latest release.

Not bad map details and optimizations but poor and unfriendly map design

Overall map details and optimizations are really good, but map design is not very friendly because of several puzzles such as finding keys(Which normally doesn't include on usual L4D2 campaigns) and complex map designs... Also third chapter's length is very long and it's boring. If you make map design very simpler just like l4d2 campaigns it should be awesome campaigns of L4D2!

This review was posted before the latest release.

I know, I like puzzles, and this time I thought I was making a simplier map and easy puzzle, but at the same time I know some people just want to play a "custom default" campaign. Anyway, thank for playing <3

This comment was posted before the latest release.

Well, not all people like puzzles, & not all people like normal campaigns either. & fortunately this makes me want to play sooner, as I kind of love puzzles. The author has been known for long time for his campaigns with puzzles, especially the famous Resident Evil campaigns. I still don't know which one is more complicated, this or RE campaigns as I haven't had time to play this one though I already marked this on my watchlist to be downloaded later.

This comment was posted before the latest release.

Excellent Campaign!!

Just completed this a few minutes ago. It's an excellent campaign laid out logically and with good graphics. Four maps make up the campaign. They are #1 Barrios (neighborhoods). #2 Adrogue (must be a place as I couldn't translate it), #3 Capitol Federal, and #4 Ecological Reserve. You do not need to understand Spanish to play it as author makes it fairly intuitive.
Although there are no arrows or guiding lights it's not hard to find your way. A few dead ends but that's the fun as I like is to explore and find my way. I don't need a guide
with direction arrows, flares, or some other source to follow. I like that the author used Safe Room variations at end of each map. Same can be said for the final transport for the escape.
Overall I played it solo. I had no issues with the Bot navigation. They stayed in tight and made their shots count. Picked up needed supplies along the way. Louis at the start of the final map did not pick up any of several first aid kits that were spread around the area. Other two did. Further along Louis did spot and grab a first aid kit.
Overall 1 hr and 18 minutes to complete.
I appreciate the effort made to build this campaign. Thanks for posting it to play!

This review was posted before the latest release.

so happy to read this :D I tried my best to make it not a straight path and intuitive... And dont forget to play it again, its full of alternative paths

-Adrogue is the name of a town (almost city we can say)

This comment was posted before the latest release.

glad you enjoyed it :D <3

This comment was posted before the latest release.

very good

+ very good campaign.
+ beautiful map. 
+ balance spawns 
+ unique layout. the layout in the first two maps can be weird and confusing if you're not used to moving through winding non grid streets. but you can follow the end of the street as a guide.
+ beautiful textures
+ custom models
+ cool mechanics
+ easter eggs.
+ good balance length. at only four maps, the campaign maintains a good theme and direction and doesn't get boring or exhausting. 




- bot navigation for the first four maps is good. but the finale has a lot of places the bots can get stuck on. 
- missed opportunity to include more music, the map would be such more immersive with custom music.
- lighting is not very good, not a lot of spot lighting or atmospheric lighting to guide players along and set the mood



if this map gets an update I'd highly recommend the creator add more lighting to guide players along, until then if you're having trouble just follow where the infected spawn. the jockey always spawns in front of the survivor's path.  good luck, have fun and stay hydrated and be responsible in public!

This review was posted before the latest release.

OP, thank for the reply. I played a few more times, and on navigation i think only the last map has some issues. i think there are some invisible walls or play clip walls that were forgotten or not high enough, sometimes we can fall down into the "swamps" on the side on the road or we can get thrown down there by a tank. and there isn't a path to go back up the road.  

i see it happens mostly in the run near where the grenade launchers always spawn. because that's when the tank mostly knocks us down there. 



you've done a great job with this campaign. i really like it. hope to get an update sometime with all the feedback.

This comment was posted before the latest release.

thank you Peanut! I tried to make the map realistic and dont over use the lights as a path marker, on the playtesting my players said that is well balanced, but I can improve this... Also, Im gonna check the navigations, never got a problem on finale, only when bots are surrounded by infected

This comment was posted before the latest release.

Review

Quality campaign and highly detailed, with confusing layouts and a requirement to do some searching for key items! Honestly I couldn't find any problems with this campaign, everything is very well balanced, plenty of supplies for players who struggle, no bugs or glitches either! A tip for people who don't know: follow where the special infected spawn/come from (excluding the smoker) they'll at least point you in the right direction. Great campaign, give it a try; you might struggle on your first playthrough!

This review was posted before the latest release.

as intended, the first play can take a bit, but I tried to make it as easy as possible to find the way out :P thanks for playing and keep doing it! ... the map has so many alternative paths

This comment was posted before the latest release.
End of results.