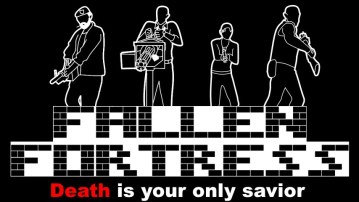 Fallen Fortress
You are downloading as a guest.
The extended gallery contains images from all community members.
DESCRIPTION





Campaign available in coop and versus mode



This is the first L4D2 campaign I've ever worked on and I learned about everything along the way, I've worked on this map for over a year (October 9th, 2020 - November 19th, 2021), and texturing took an extra few months, and I hope that all my work made at least a decent product

Fallen Fortress was inspired by a trope I've seen in most fiction involving zombies, where survivors or the military set up this big base or fortress where they live in, sleep in, and defend from the outside zombies, and in some zombie video games, there's a base-building element where you're the creator of the fortress and you have to manage it to survive the apocalypse. This campaign flips that concept on its head and instead of living in the base and defending it from zombies, the zombies are inside the fortress and you're breaking in and seeing what happened to all of the survivors who previously occupied the area, finding weapons, materials, and secrets from within the fortress walls.



Questions, comments, and constructive criticism are welcome





STORY



It's 2008, the Green Flu has ravaged across The United States and survivors everywhere are preparing for when the virus eventually arrives at their front doorstep, a quarantine zone is set up to contain the infection not too far from your city, but it failed to contain the infected subjects, and a horde of zombies break out and ambush the city. Bill, Zoey, Louis and Francis find themselves stranded in the city now overrun by zombies and lock themselves in an office building, which provides them some temporary safety, but they can't stick around, they need to find a real place to stay. Word spread that out in the industrial part of town, survivors had already fortified a power plant and turned it into a zombie-proof fortress in preparation for the inevitable spread of the Green Flu virus to the city, maybe this could be the last beacon of hope for survival? After going on city rooftops, through zombie-infested streets, and going in and out of an underground facility, it turns out that it wasn't as zombie-proof as they say, but hope hasn't died yet, there's a train station on the other end of the fortress, and that could be the way out...



CONTENT




Campaign


1: The Rooftops
2: The Streets
3: The Facility
4: The Fortress
Finale: The Escape



Survival


The Park
The Hardware Store
The Storage Complex
The Coal Processor
The Railroad
The Train Station



HOW TO INSTALL


For windows:
1) Download the .zip file
2) Right click the .zip file and hit "Extract all" to whatever file you want it to put the extracted files in
3) Take the "fallenfortressbetapublic.vpk" file and put it in 
C:/Program Files(x86)/Steam/steamapps/common/Left 4 Dead 2/left4dead2/addons

It should appear in your "ADDONS" when you boot up Left 4 Dead 2
05/14/22
========

Fixed a missing texture in level 2

05/11/22

One of good campaigns to enjoy

Played this textured version, & I got satisfied. I ever played the orange version before, & left some comments here too. Now as the textured version is done, it's time to put a review.
.
So far, I have no complaints on most maps & areas. The supplies are enough, directions along with object highlights are clear. This campaign is about exploration through streets, buildings & industrial areas. The routes are not confusing as at some explorable areas players can choose to walk to the main route or go into building & alternative route to check for supplies. There are some objectives, but they're simple objectives so players won't have problem in clearing them.
.
The only problem I found is the bot's behavior during holdout finale. I ever put this too on the old comments when it was still orange version. Bots have strange behavior if players camp at a closed area behind the ladder near the radio. If players camp there, bots will keep moving around like jumping down & then climbing up ladder, & jumping down again etc. This could be dangerous for bots as their strange movements will make them easy targets for zombies & special infected.
.
Other than one problem I mentioned above, everything is fine & fun to play.
File Details
fallenfortresspub...
(167.4 MB)
View Changelog
Version 2.3 Complete