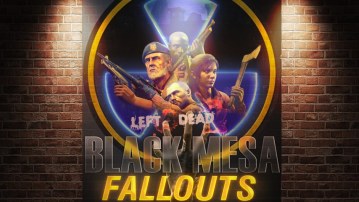 BLACK MESA: FALLOUTS
You are downloading as a guest.
The extended gallery contains images from all community members.
Steam version: https://steamcommunity.com/sharedfiles/filedetails/?id=2817067970

Welcome back to Black Mesa, this time you'll be joining the L4D1 survivor on their way to find evacuation.
From the last Half-Life campaign port, Undertow, I've made more use of the func_instance entity, which allow me to place group of prop like explosive barrels, health charger and land mine that's more functional with the extra touch of sound and particle effect. 
One more improvement is that the horde spam and backtracking has been reduced, but you'll still likely die to some random bsht that I place here and there.  
Like the previous campaign, the bots can't navigate by themselves (for the most part), most event requires human player to be able to proceed.

Has basic support for Versus, but untested.



Map 1: C5A1 - Danger Zone


Traverse from the crash site to a safe house on the side of the cliff. Watch out for land mines buried within the sand.



Map 2: C5A2 - Low Light


The sky cries out for the victims of the Resonance Cascade. Find the next safe house through the rain storm while avoiding any obstacle within the way.  



Map 3: C5A3 - Blast Pit


Entering Black Mesa's Power Reactor through a long tunnel, the survivors must now activate the reactor and make their way to the next safe house within the facility.
The train car in the tunnel will start automatically once all players are on it and stop if anyone dropped out, however, it can be started manually with the lever attached to it.  
  


Map 4: C5A4 - Surface Tension


The survivors now move through the war-torn facility with mild alien infestation and get to the garage where an armored vehicle is stored.  
Watch out for the alien launch pad, they'll toss you up into the sky and it could be insta-kill if you dont land on some high place. In my play through bots often walk into it and jump to their death (which is hillarious) 
  


Map 5: C5A5 - Fallouts [Gauntlet Finale]


The armored vehicle crashed near the tunnel entrance, word in the office is that they military is about to nuke the facility so they will now be running for the train at the end of this wasteland, wading through overwhelming zombie horde and escape before it's too late.
Super deadly proximity mines is placed scarsly in the area, watch out for them.



Credit:


Valve
Crowbar Collective (Texture)
Half-Life Source Update team (Base map and fixed textures)
The Mafia (providing some textures from Black Mesa)
Tom Holkenborg (Fury Road OST)
Kenny Loggins (Danger Zone)

TO DO:
Specialize CI population
Add talk script, remarks, etc...
Extend map 2's length
12/15/22
========

[b]Map 1:[/b][list] 
[*] Added more melee weapon/items spawn
[*] Add a rescue closets  

Review

Pretty good campaign, intense experience overall. I will say it's just a flat out unpleasant experience with bots, and I understand that nothing can be done about it, but I just wouldn't recommend playing this solo, the bots cannot avoid the landmines and will get themselves killed easily, so unless you want to go at a super slow pace and get far back, and snipe out the landmines if ya can, it's just not feasible. There's also a lot more special infected which I mean, come on, if I wanted more special infected I'd play a mutation, i don't need this in regular campaign. Either way if you've played Half-Life the maps are super familiar, you complete menial objectives to progress most of the time which require you to explore a little bit. Pretty fun though if you're a Half-life fan, not a bad take on the maps included, worth a play.

This review was posted before the latest release.
File Details
blackmesafallout.zip
(192.8 MB)
View Changelog
Version 1.7 Complete