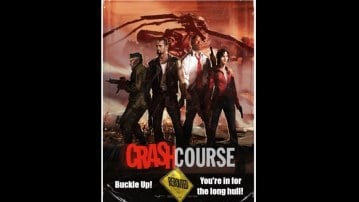 Crash Course ReRouted
You are downloading as a guest.
The extended gallery contains images from all community members.
This is a recreation of Crash course called Crash Course ReRouted that has 5 chapters. I made this map for Zonemod Config competitive versus. ( NOT CAMPAIGN)


You can play this map on campaign but there will be no ending and no end credits with stats.  The reason for this is finale style maps are not good for competitive play. If I figure out a way to get the finale to roll credits ill do it.
So know that before downloading this map. 
I will be updating the map later with an ending and custom safe room text. 
This is also the first map I ever made and most likely may still have a few issues. 
But i'll fix them as the issues are brought to my attention. 
This will be the first of the trilogy of maps that i will re-make.

Parkour Arena - you will need cheats active to complete this or on a server with zonemod loaded. The Arena has 3 rooms get the present to complete it. There will be invisible ladders, tricks and things that don't make sense. trail and error. The parkour can be accessed by climbing in the ambulance in the saferoom on map 1. if you leave the saferoom area it is blocked off. post video if you complete it. best time so far is 49 minutes Good Luck Enjoy!!!
11/25/23
========

Small Nav fixes for map 4

07/27/23

Review

I went ahead and played the updated version (I wanted to wait for the updated, presumably final version but whatever,) and even without a finale this campaign is honestly a lot better than Crash Course lol. This campaign is quite long, unfortunately I didn't keep track of how long I played for since I usually leave it to the game to keep track, but there's no credits screen yet, but I would estimate I was playing for around 30 minutes even without a finale, so it's well lengthed. If you're looking for a classic style campaign, this is a pretty good one, although there's only a single panic event in the entire campaign (and it's pretty meh,) I think it could've benefited from more. It can still be a bit confusing where to go at times if this is your first time playing, in particular, chapter two has a warehouse with a little ladder tucked away in the corner, arrows would've helped here, and also a game instructor hint on how to start the panic event on chapter three. Pretty solid campaign overall though worth a play, unless you're disappointed by the lack of a finale.

This review was posted before the latest release.
File Details
View Changelog
Version 3.1 Beta