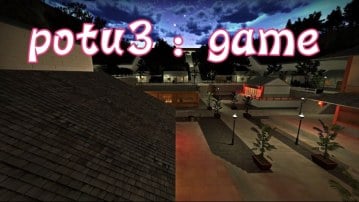 potu3:game
You are downloading as a guest.
The extended gallery contains images from all community members.
这是一张以一个个小游戏为主的地图,主要成分为坑,趣味,不喜欢坑图的不建议尝试


此外如果进不去的话,大概率是和插件冲突!!
推荐人数4-8人,难度高级



This is a map mainly composed of small games, with the main components being pits. It is fun and not recommended to try if you don't like pit maps

In addition, if you cannot enter, it is likely to conflict with the plugin!!

Recommended 4-8 people, with high difficulty level
05/07/23
========

No change notes have been added by the publisher.

05/03/23

Not recommended for normal play

I just gave a try because there's one average review with 6 score, but well, I got disappointed in the end as it's a "it's a trap" thing & I jumped on it. This is basically a trap & troll campaign, though it's still not as extreme as "Hehe" series or other custom campaigns with punishing & unreasonable traps. In terms of campaign with traps, "Cave Tour" is still tolerable than this. As this campaign teleports survivors quite often, bot navigation is not that good & they're left behind so often. Supplies are not provided either in almost all saferooms.

Now, let me explain what makes this campaign not recommended for normal play, like if you want to play without "sv_cheats 1" or other custom cheats, you'd better skip this campaign. Here are some of the reasons:
----------

- Map 1, once you press a button in the beginning, you'll be greeted by lots of chargers ready to bring you down to the pit. There are also moving block traps (these shouldn't be difficult). Then, after you pass the moving block traps, you'll be thrown away to somewhere from very high place & you need to land on water, or you know what will happen.

- There's an unavoidable trap that once you enter an area, all items in inventory are gone & you'll have to escape from several tanks' pursuit (I hated such unfair trap that removes weapons so I just used a chat command to instantly kill all tanks). 

- Map 3 has some frustrating events & it can't be completed in Singleplayer (it requires 8 players, with at least 2 players are standby on each of two posts). The first event is "Punishment Scavenge Event", like, if you pour a gascan on a certain fuel filler, certain special infected listed on the fuel filler will spawn on the other side, & it also works from the other side. The next frustrating one is an unavoidable minigame about finding 2 keys with the camera view from above (bird view) like viewing a map. The survivors look very small like ants, while at the same time there are witches to avoid (imagine how you'll avoid a witch with such tiny view). I couldn't clear this one because one key was missing, & I was already tired of controlling some ants looking for a key so I skipped this map when entering this minigame.

- Map 4 is even more frustrating. You become a fast runner faster than a car & you need to keep running while avoiding obstacles. At first, it's simply just avoiding obstacles. Then, later, you'll have to avoid some armored vehicles coming at you in high speed. After that, you'll have to avoid all objects thrown at you from the front, from trunks, dumpsters, anything. I got so frustrated that I activated custom god mode instead as this map is basically filled with troll traps.

- There are also multiple door traps that you need to choose one of three doors to proceed to the next set of three doors. Wrong choice will send you to face several tanks at once, or lots of wandering witches, or a closet that shoots, or simply a trap to throw a pipe bomb to a hole on the wall.

- There's also a holdout event that you need to defend for 10 minutes (kind of waste of time as it's simply just a holdout event without any other objectives to do).

- The only easiest thing is the finale, as you only need to run back to the military base camp, but with several tanks & horde pursuing. It's very short if you can arrive to base camp.

----------
In short, prepare "sv_cheats 1" if you want to play this campaign, except if you're patient enough against the odds of the whole traps, tanks, & witches thrown at you.

This review was posted before the latest release.
File Details
View Changelog
Version 1.4 Complete