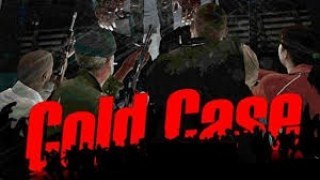 Cold Case (including Forsaken) by RF
You are downloading as a guest.
The extended gallery contains images from all community members.
Cold Case pits the survivors in yet another impossible scenario. Their ride to safety has mysteriously crash landed on a remote island somewhere in the northwestern United States. After hours of waiting, they decide they are the only four survivors from the terrible crash, and they need to find help. However, quickly they realize there is something terribly wrong with this place. The survivors must traverse a large and expansive island. Their goal? To meet up with fellow survivors and

 get to the only known safe zone; a small military base located on the opposite shore of the island. Only there can they finally find the salvation they desperately are searching for…. or will they?

During their journey, the survivors solve many strange mysteries that surround them. Why did their transport suddenly crash? Why are the infected on this island so quickly mutating? Who is "The Mayor" and what role does he play on this island? Who is Agent Orange? It is up to them to find the clues and escape from the zombie infested island.

This isn't exactly 1:1 port, but RF tried his best to replicate it.
There are issues like text being too large, he might've missed stuff since there was so much to do.
Campaign is long and can be confusing.
Maps were not recompiled
Improved NAV
L4D1 infected
Contains Forsaken maps
Based off original source material
An actual person involved granted permission to RF
Unique/original port with no association to others
09/25/22
========

Merged with "Forsaken".
Also, this is now a new version of a port courtesy of "RF".
It is also the one and only properly authorized port as I was actually involved
Nice campaign pack to play

As I mentioned on the title, this campaign is special as it's a campaign pack consisting of 2 campaigns: "Cold Case" & "Cold Case: Forsaken". The latest updates fixed most problems that the previous reviews complained about, so now it's guaranteed to play without those major problems in the past. The "Cold Case" still has some to fix but not serious problems (I'll explain later) while "Cold Case: Forsaken" is good to play in overalls. While "Cold Case" has missions about finding items & solving puzzles, "Cold Case: Forsaken" is free from complicated missions so players can choose based on what they prefer, like if they prefer a normal campaign, they can try "Cold Case: Forsaken" with much simpler routes. But if they want some challenges with missions to clear & puzzles to solve, they can try "Cold Case".

Well, as it's a campaign pack, I'll start from "Cold Case" first & then "Cold Case: Forsaken" later.
----------
COLD CASE

This campaign is an old but well-made campaign. It has existed since few years ago, but as it had many bugs to fix, it took long enough time to fix until it's finally playable now. This campaign is not like vanilla campaigns where players only need to follow paths to clear each map, but it's a campaign with some missions to clear before proceeding to the next maps. Thorough exploration is needed in order to find some switches & items.

In overview, bot navigation is no longer bugged & now it's good. There are enough supplies scattered on explorable areas. Every map is fully explorable (that's why I said that thorough exploration is needed), so running randomly will only result in getting lost of confused as some items or switches might be missed to check. There's a special stealth mission here about "Special Witch" that survivors need to sneak carefully to do some missions in order not to startle the special witch that could kill all survivors at once when she's triggered. As there might be some difficulties in solving this mission, I'll give some little clues later.

& now, I'll give some little clues on each map, in case if some players get stuck & have no idea what to do after getting lost somewhere:
***
#Map 1:
- Inside the jail area, explore carefully & look for tiny light on items or switches.
- After entering a tunnel & reaching junctions to the left & right, if you play for the first time, choose right path instead of the left, as it will make you find the route more easily.
***
#Map 2:
- As the switches only have tiny white light as the indicator instead of glow, check carefully.
- The main objective inside the building is to turn the power on to operate the elevator. The route to the power switch is fully explorable so it's better to memorize the route you take.
- The elevator can take 2 floor above. After reaching upper floor, press once again to reach the next floor, which is the route to proceed.
***
#Map 3:
- Most missions here are about collecting keys & items.
- The stealth mission to sneak around the "special witch" is a bit tricky. There are 4 objectives in total: find a key/ item to open a locked door; find a doll; trick the "special witch" with the doll; pick a key to open the locked door on the other side to escape from the "special witch" area.
- A location to place the doll is on witch's left. Walk slowly or crouch during approaching "special witch" to avoid startling the witch. A key can be found near it.
- Check every room carefully & collect all items/ keys inside the building first before going out to the warehouse across the wooden bridge for the last item.
***
#Map 4:
- Check the rooftop carefully.
***
#Map 5:
- Check the lockers somewhere. The lockers don't glow so they can be missed.
- After obtaining janitor's key & unlocking the door, check every room carefully as the switch doesn't have tiny light as indicator or glow so it can be missed.
***

As for the problems that might need fixing, there are some (I mentioned few on the clues above):
- On map 3, A tank's challenge in the river before entering a building where missions to collect items begin might need some balancing. 2 tanks to fight in the river are probably difficult to do in Expert difficulty especially because of the slow movement in the water. Probably reducing it to only 1 tank would still be beatable.
- On map 4, the holdout event probably takes too long. It takes 5 minutes before the holdout event finishes. Probably making it to 3 minutes would balance the holdout event, as 3 minutes are not too long & not too fast either.
- Still on map 4, during tank's challenge near the end of holdout time. There are several tanks spawned at once (they're around 4 or 5 of them. I forgot the exact number). The support bombing doesn't always kill tank so there are still at least 2-3 tanks survive & approach survivors. If possible, making only at least 2 tanks survive would be better by instantly killing other tanks via bombing, as facing at least 3 tanks at once together would be difficult especially in Expert, while fighting 2 tanks would still be possible as there's also plantation house finale on "Swamp Fever" campaign that has 2 tanks spawned & they can still be beaten.
- Many of instructions/ hints cover the screen & to read them, players need to hover the mouse & change the angle. It would be better if the instructions/ hints are changed to smaller templates that can be read more easily.
- Items, keys & switches required to finish the missions only have tiny white light as the indicator instead of glow. That could cause some items/ keys/ switches to be more difficult to find. It would be better to change the tiny white light to glow instead, as glow on items can be more eye-catching & hard to be missed when exploring some areas.
- Some item placement locations might need glow too, like the place where to put the doll near the "special witch" on map 3 & where to put the last item to open the last key in the building.

Aside from those problems, this "Cold Case" campaign is good to play, especially for those who love doing missions about collecting items & solving puzzles.
----------
----------
COLD CASE: FORSAKEN

Well, it can be said that this campaign is the "lite" version of "Cold Case", with easier paths & without the missions about collecting items & solving puzzles. This campaign is perfect for those who want to enjoy a normal campaign & play for fun without having to think about puzzles to solve & items to collect. The routes are also simplified by adding some blockades to some areas so players won't get lost easily. "Cold Case: Forsaken" could also be called "Reverse Cold Case" more or less, because the first map of "Cold Case Forsaken" starts from map 3 of "Cold Case", near the warehouse across the wooden bridge. The bot navigation here also has no problem & the supplies are enough. Directions are clear & paths are simplified so no need to worry about getting lost for minutes.

There are only 2 small problems on this "Cold Case: Forsaken":
- On map 1, near the end of the cutscene in the beginning of map, there's a scripted panic event. This scripted panic event is started even during the last 2-3 seconds of the cutscene where all survivors are still in frozen state. This results in survivors having only less than 3 seconds to grab guns & items before being swarmed by zombies. Probably it would be better to make the scripted panic event get triggered only when the cutscene ends so survivors will have more time to grab items & prepare for horde.
- On the finale, more hints about the location of the rescue unit are needed. In my play, as the radio to start holdout finale was near the tower so I thought the rescue unit would appear not far enough from the tower. But after rescue notification showed up & I stayed near the tower for more than 1 minutes by fighting a tank several times, there's no sign of the rescue unit arriving. Finally I only noticed it when I luckily heard propeller sound & took initiative to go to area that previously had showed a hint covering the screen (the hint was unreadable so I didn't get what it was about).

Well, other than those 2 little problems, this "Cold Case: Forsaken" is worth playing. It's a simpler version of "Cold Case", but it still provides good adventures.
----------
So in short, this "Cold Case Campaign Pack" is worthy as collections, as players can freely choose which "Cold Case" series they want to play. If you love exploring & doing special missions, you can choose "Cold Case", & anytime you want only a normal play without thinking too much of solving puzzles, "Cold Case: Forsaken" will be there for you.
File Details
View Changelog
Version 10 Final