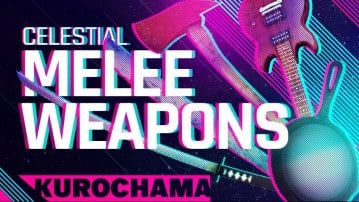 Celestial Melee Weapons
You are downloading as a guest.
The extended gallery contains images from all community members.
The melee weapons were blessed by the heaven, & now they become "Celestial Melee Weapon" that contain certain celestial powers. Now, not only zombies bring chaos to the apocalyptic world, survivors also bring salvation & descended hope from the heaven with the blessed celestial melee weapons scattered all over the world.


.
This idea somehow just came when I thought about Mr. Rec tus' great inventions on custom weapons & what I learned from my master here about vscripts, Everice. I learned many things & tricks from Everice's "Calamity Trigger" mod. As Mr. Rec tus gave permission to use & modify the custom weapons, I decided to help port them into custom campaigns. In other words, this mod works in custom campaigns.
.
In short, certain melee weapons are upgraded with the power of flamethrower, Pipe Shotgun & LAW Rocket Launcher. As it's unreal version, the friendlyfire & self damages are greatly reduced or even disabled. The explosion no longer makes big objects (cars, forklifts etc). & this mod doesn't use any melee scripts, so it won't conflict with any melee script mods. There are 3 types of melee ability:
1. FIRE BREATH TYPE:
>> Short range
>> Flamethrower effects
>> Linear AOE fire damage
.
2. LIGHTNING SPARK TYPE:
>> Medium range
>> Lightning spark effects
>> Linear randomly spread AOE blast damage
>> The closer the deadlier
.
3. EXPLOSION TYPE:
>> Long range
>> Explosion effects
>> Sphere AOE blast damage on targeted object
.
Here's the list of the upgraded melee weapons:
FIRE BREATH TYPE:
1. Fireaxe.
2. Electric Guitar.
3. Knife.
4. Pitchfork (Last Stand melee).
.
LIGHTNING SPARK TYPE:
1. Machete.
2. Frying Pan.
3. Golf Club.
4. Baseball Bat.
.
EXPLOSION TYPE:
1. Katana.
2. Crowbar.
3. Tonfa.
4. Cricket Bat.
5. Shovel (Last Stand melee).
.
There are 3 files inside the zip file that can be used as alternatives in case if this mod conflicts with other vscript mods:
1. "celestial melee weapons.vpk" = This can work together with most mods except "Left 4 Bots" due to unknown errors on console.
2. "celestial melee weapons 2.vpk" = This can work together with "Left 4 Bots" & most mods but will conflict with "Merciless Survivor Bots" because I used the same file to trigger the effects.
3. "celestial melee weapons 3.vpk" = This can work on all mods. Use this if you don't want to sacrifice any mods (still prototype though).
.
Credits:
- Mr. Rec tus for the permission & the great inventions.
- Everice for the great vscript mods that taught me many things.
.
Notes:
- It works in custom campaigns.
- It works in any modes as long as the modes allow mods.
- It won't conflict with melee weapon skin mods, so you can use this together with any melee skin mods without problem.
- You need to host a server, or the server needs to have this mod installed to make this work properly.
08/10/22
========

v2.0:
- Added 2 new custom melee weapon effects on 2 melee weapon from Last Stand version: shovel & pitchfork. Shovel now has explosion type & pitchfork has fire breath
File Details
celestial melee w...
(85.3 KB)
View Changelog
Version 2.0 Complete