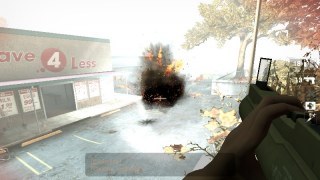 M72 LAW Rocket Launcher replaces Baseball Bat
You are downloading as a guest.
The extended gallery contains images from all community members.
Another great mod of Rectus. I helped him port this to replace the less popular official melee weapon, the baseball bat. The original version (I'll put it on the linked contents) can only spawn on official campaigns. This version was made so that even in custom campaign, the rocket launcher will appear as it replaces baseball bat.


.
There are 4 files & 1 folder in the zip file:
1. "custom weapon base 2.vpk"= Main vpk file required to enable rocket launcher custom weapon.
2. "custom weapon base 3.vpk"= Alternative if the "custom weapon base 2.vpk" conflicts with other mods.
3. "law rocket launcher (normal).vpk"= Main vpk file. Like the original version, I didn't change anything except the number of rocket ammo. I set it like grenade launcher (30 ammo). This version (as well as the original one) has the friendlyfire damage set based on the difficulty. However, a direct hit will instantly kill a survivor & a tank in lower difficulties (7000 damage).
4. "law rocket launcher (unreal version).vpk"= Main vpk file. This one is the heavily modified version. The default ammo is unlimited. Friendly fire is disabled by default, but the shooter still takes 1 damage when hit by the explosion damage or shockwave. The direct hit is greatly reduced to only 10% of current target's health (around 10 hits for a tank with any health. Even a tank with 9999999 health will die in about 10 hits, as it's a percentage-based damage). If you do a direct hit on another survivor by accident, that survivor will lose 10 health.
5. "LAW Rocket Launcher Melee Collection"= this folder contains sub vpk files of all melee weapons. When using one or some of these sub vpk files, certain melee weapons other than baseball bat can also change into rocket launcher. But these sub vpk files only work if the 2 main vpk files ("custom weapon base" & "law rocket launcher - baseball bat") are enabled.
.
With this, the baseball bat got reborn as a scary rocket launcher :D .
.
Early reminders for the rocket launcher:
1. The rocket launcher explosion can bounce the shooter to the opposite direction if shot in very close range.
2. Try not to shoot while jumping. There's a bug that when you shoot while jumping, the rocket will get a direct hit at you (instant death for the normal version, & 10% hp loss for the unreal version). This happened to me once when testing the rocket & I died in vain as a laughing stock :D .
3. This replacement is good for those who want to replace grenade launcher. This rocket launcher is a secondary, so people can still carry their desired primary weapons.
4. Look around before shooting. Some objects can fly when shot or near the explosion location (example: cars, forklift etc).
.
Credits:
- Thanks to Rectus for the permission & great custom weapon mods.
.
Notes:
- To make this mod works properly, you need to enable at least 3 vpk files: the "custom weapon base", the desired rocket launcher version (normal or unreal version), & one or some sub vpk files in "LAW Rocket Launcher Melee Collection" folder (examples: "baseball bat to law rocket launcher.vpk", "crowbar to law rocket launcher.vpk", "katana to law rocket launcher.vpk").
- You need to host a campaign, or the server needs to have this mod to make it work.
- This mod will conflict with melee mods with modified scripts that replace the melee on sub vpk files (examples: katana melee mod with "katana.txt" file in it will conflict with "katana to law rocket launcher.vpk" file).
09/07/22
========

v1.2:
- Fixed ammo bug on "Unreal Version". Previously, the "Unreal Version" could still run out of ammo after 30 shots. Now it has unlimited ammo as it should
File Details
law rocket launch...
(9.2 MB)
View Changelog
Version 1.2 Complete