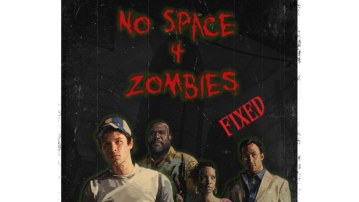 No Space 4 Zombies (Fixed)
You are downloading as a guest.
The extended gallery contains images from all community members.
This is a fixed campaign created by Hunter McJesus back in May 2010. It's a retake on Coald Blood with a much different finale and journey to get there. All models, nav, etc have been fixed - replaced as necessary to get it working correctly. Thanks to Bianca for some assistance with the art and ideas. I fancied up the finale with more items, a really awesome skybox, and redid every safe room as most of them weren't working. All particles are working for the shuttle liftoff

 and you'll love the new skybox. Just note that the finale has 8 different variations and a ton more counting the tank generators that are part of the original authors work. No two finales are the same. Some more or less challenging. Enjoy.

In regards to the finale - The finale is custom by the original creator. You first touch the console (no code to enter, just touch the console) then the keyboard lights up. Touching the keyboard starts the finale. There are three consoles that are on the launch pad in different places. Sometimes something gets stuck with the launch platform and a console will show a message telling you what is wrong and start glowing. This message will show until you clear it by touching the glowing console to make the finale move forward again. If you don't push the console that is alarmed the platform (that goes out to the space shuttle) stops and tanks and common will continue to come until that happens. So make sure and watch for those errors! They don't happen every game, it's totally random. Every game is different. I've played games where 2 errors happen and I've played games where no errors happen. It's totally random. I think a random finale is a good thing. :) Even the tank spawns are on their own timer and random to a degree. I removed the double tank spawns in v2.4 to make the campaign more playable. The double tanks were there since 2010 but with the nav working better and generating lots of zombies double tanks x 2 in older versions could get tedious and un-fun. I want you to play this thing. :) Hope this helps,
06/21/21
========

Changed the way you hunt for the prison keycard in map 4. Much better and less messy. :) Someone asked me a question about shooting the barrels.  If you shoot them all you get a reward in the ending saferoom. Just figured I'd mention it
Very Nice Campaign !!

Just played this with Bots. Very few issues with Bot Navigation. I did recognize the beginning as Coal Blood but then it goes off on it's own with some large maps to go through. A lot of it is industrial or Office interiors with good graphics. The undead are paced well and sufficient supplies are scattered about to aid the players. 

I had no issues with the ending. You do have to bounce from console to console to be able to open the launch bay doors in the roof that get "stuck" and need manual over ride. It's similar to other games so no big deal. By looking up you can see the hangar doors when they open and where the boarding ramp is located. When that door is open that's when it says the your escape is here. Head up to the shuttle. Louis got pounded on and knocked over the side by a tank so I left him. Surprising the other two Bots stayed with me inside the shuttle cabin. Once Louis died we launched and game was over.
I found it to be an enjoyable campaign with a lot of new areas to pass through.

Thanks for uploading another nice campaign to this site! I appreciate the work required to make a nice looking well balanced campaign.

This review was posted before the latest release.

it was originally "Coal'd Blood", yes, from the first "Left 4 Dead".
when the original author decided to do his original first port into Left 4 Dead 2, it became "No Space 4 Zombies" with the infamous shuttle ending.
all Dave and I (and "Bianca") did was try to make various improvements and fixes to it due to its age (and the game's own age).
it was plagued by a  lot of invisible/missing content that's happened to many good maps and campaigns over the years.
unfortunate side effects caused by many updates Valve has made to the game over the years.
glad to see more confirmation the ending works properly as intended.
perhaps some people just simply need to pay more close attention to details and more trial and error to get it right.
i'll have to consult with Dave again, but if I remember correctly, we didn't change the ending much, if at all, from how the author had it.
the finale simply has multiple variations... randomized versions. maybe you also got lucky with an easier one.
we had outlined some advice and tips for other players in the description.

This comment was posted before the latest release.
File Details
ns4z(fixed)v2.8.zip
(146.8 MB)
View Changelog
Version 2.8 Complete