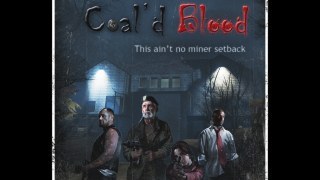 Coald Blood 2 Ext. Mashup
You are downloading as a guest.
The extended gallery contains images from all community members.
Another fun Timelords mashup consisting of 8 maps - (Abandon Hope - ****** Bot) (10000 ft Under - Nigel Moran) (Breakline - Drunkugly) and Coald Blood - Hunter McJesus).  Our crew land at an over run military base and have to work their way through the country side and a multitude of dark damp places to finally get rescued in an abandoned coal mine of all places. I had fun with this. Being from WV the coal mines are a reality. Quite scary places actually. Enjoy.
03/22/21
========
Just changed the name to Coald Blood because you can't search for Coal'd on the Workshop. Just making them both the same. 

Added some new witch and rescue music thanks to axekiller6277 workshop mod. Also
Not really that great

Now I know what mashups are, I wanted to give it another shot and it was a mistake, idk if its just this one or all, i assume if good chapters of diff campaigns were mashed together then itd be fun but this one has the WORST chapters, didnt even make it to ch 2-3+ , its jus a horde fest and tank fest, have static tanks along with director tanks, inf hordes in ch 1, it is horribly unbalanced, w/e campaign it came from, so far 2 mashups i try are bad, Could you recommend one thatd be fun on expert? and not horde/tank fest?

Your video stream is Ninjarose, right? I took a look for awhile & skipped to the moments the team got all incapacitated on map 1. It looks like your team formation was easily spread, so probably that was what made it feel like the campaign was difficult. This campaign could be handled quite well with a close formation covering each other while staying on guard with one or two leading the way. I never have any problems in playing mr. Daywalkerdave's mashup campaigns, as the difficulty is still playable (not too hard but not too easy either) with right strategies. There are many custom campaigns that are more difficult than this one, with more insane horde festivals. Probably you could have been more frustrated if you had played a campaign like "Questionable Ethics" or "Pasiri", as the horde festivals there are more insane, & the expert difficulty can only be played with players, not bots as bots would likely die very early.
.
So maybe you could try a close formation/ defense formation next time, & see if that could help you survive on map 1 & the cave section (because as far as I remember, another challenging horde event is in the cave section during alarm event).

I guess Dave beat me to it, which is fine, I was still at work when I saw your comment.
I'm still willing to explain it further to you later if you want, it's completely fine.

This map has been out for quite awhile and just got a refurb to tone it down.  This is a harder campaign but it has the original events that came with the maps that were added except for the guard tanks in map 1 (I added those to the campaign when I first created it).  I could see on map 1 that you could get the worst situation if the guard tank spawns during the horde event and a director tank shows up. I will just go ahead and remove the guard tanks since this already has a horde event. If you want to play this campaign on expert you'll probably have to have some friends. I've beaten it many times by myself and with friends on advanced. We also just posted Coald Blood and although map 1 still has the original hordes the author put in because of the alarm event the rest of the campaign is straight vanilla. All a mashup is is added maps to an original campaign. I take maps that were incomplete or unfinished and add onto a campaign so they get played. Odds are you'd never play 10000 ft Under as it's only 1 map or Breakline because they don't have a finale. Let me make a modification. Be right back.

I'll discuss it with you over steam later.
I didn't feel right addressing it here.
I saw your and his stream last night.
I didn't want any bias.
It definitely felt like you two were not understanding something.
File Details
coaldbloodextv2.6...
(155.3 MB)
View Changelog
Version 2.6 Complete